BioMinds pioneering use of VR technology in neurological rehabilitation
The current value of the global virtual reality (VR), augmented reality (AR) and mixed reality (MR) market amounts to approximately USD 11 billion. It is expected that the VR market in the coming years will grow at around 13% per year, while AR / MR at a rate of over 20% per year. According to analysts of Goldman Sachs, by 2025 the market of medical VR and AR / MR solutions will be the second most important sector in the entire VR / AR / MR market after the gaming sector. We discussed how to take advantage of these trends in the field of neurological patient rehabilitation with BioMinds Healthcare Ltd., the developer of a unique neurological rehabilitation system embedded in the Metaverse - VR.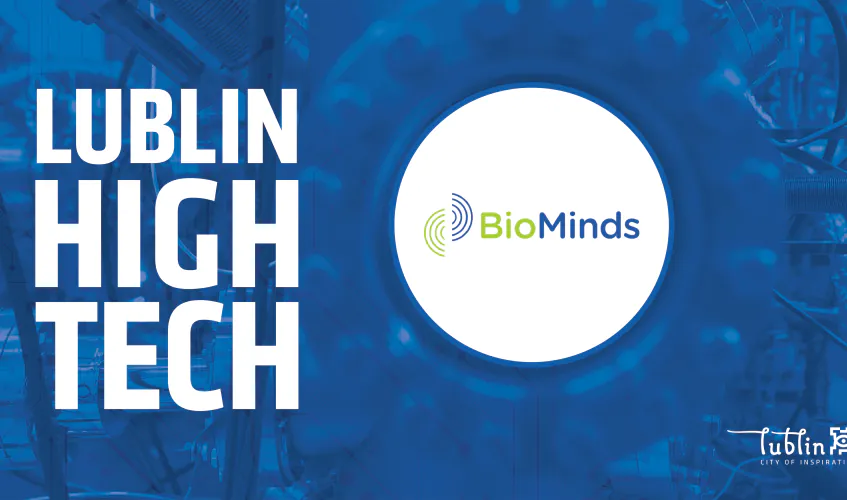 Let's start from the very beginning. What is BioMinds?
BioMinds was founded in 2019, and since then we've been developing a rehabilitation system for patients with neurological conditions such as strokes, brain injuries, Alzheimer, Parkinson, and various types of dementia diseases. Our tool not only supports therapists in their daily work but also speeds up the recovery of patients by providing them with individually tailored physical, psychological and cognitive rehabilitation in a virtual reality environment.
In terms of cognitive functioning, we provide the possibility of virtual reality therapy, including attention function therapy, which is particularly important for neurological patients, such as those who have suffered a stroke or deal with any other neurological conditions. As part of the BioMinds XR therapy system, we have also developed the platform with the Virtual Training Apartment, in which we try to reproduce movement patterns for performing simple and complex activities of daily living. We want to stress that our solution will be a medical product. We have already started the certification process in the full MDR procedure and our product will be ultimately available not only in Poland but also (within the first year after certification) in the European Union. In two years' time, we would like to start FDA certification and thanks to that introduce our therapeutic system to the United States.
Can you tell us briefly how it all started? Where did the idea for your business come from? 
Clinics all over the world, including those in Poland, use various types of technological solutions to treat patients. Very often, however, the products they offer are not medical, which is quite an important aspect in the area of health. What is more, as statistics and studies indicate, the use of virtual reality makes therapies up to 70% more effective than in terms of regular ones. Thanks to our system, patients are constantly monitored while doing certain activities, while artificial intelligence automatically adjusts the complexity of exercises to the progress they make. The usage of such a therapeutic tool will allow medical facilities which struggle with staff shortages to provide therapy for patients who need specialized rehabilitation. Thanks to our solution such therapies can also be carried out at home, which positively affects recovery and increases the availability of rehabilitation for those who for some reasons cannot leave home.
Who your services are dedicated to? 
The product has already been tested on the first group of customers. People expect that the adaptation of this type of modern technology is much faster among young people, but it turns out that elders, aged 70+ and even 80+, are not any worse. The feedback we have received from our patients has been positive. They were involved in the prepared rehabilitation plan and didn't want to leave the virtual world, treating those exercises as an exciting game. This type of rehabilitation has a positive impact on their mental health, as the virtual world allows them to somehow leave their own house, and enter a new reality. Patients have repeatedly said in evaluations that the experience of using this system was so pleasant and memorable that they sometimes dream about the world they had seen in the app. This is also the reason why we put a lot of effort into the design of our product – in addition to the virtual home itself, we can for instance 'stay' in a virtual nature.
Are there any similar solutions available on the market?
Currently, there are many companies on the market creating therapy solutions based on artificial intelligence, but they usually provide psychological therapy and focus on mental health. When it comes to neurological rehabilitation though, we do not see a solution similar to ours in the Polish market at the moment. Our product is definitely more advanced and provides more possibilities both to patients and therapist planning the treatment. It requires a lot of programming work on our part, thanks to which our customers are able to enter a virtual reality which at the very same time replicates many factors of the real world including light, sound, room layout, and the functionality of the equipment used in everyday life, such as a washing machine. What is more, thanks to our system, therapist can verify treatment progress on an ongoing basis and remind patients of particular exercises.
What are the company's further development plans?
We are aware that the ongoing MDR certification process will be time-consuming, and the market is still evolving, but our competitive advantage is undoubtedly the fact that we already have a near-finished product, requiring only fine-tuning and final testing. We expect that at the beginning of 2024, our product will already be available for sale, and we will appear in medical publications. Currently, our solution is based on virtual reality, nevertheless, we observe trends and consider the implementation of augmented reality solutions as well. It is quite a challenge for us to constantly adapt the system to the increasingly technologically advanced devices that appear on the market though. As for now, we plan to make even greater use of analytics and "Big Data" such as automation of analytical and reporting processes, robotization of customer communication processes and brainwave analysis to improve the work of therapists.
We have already acquired the first large international partners who not only are interested in conducting clinical trials with us but also offered their help with the MDR procedure. We're talking about large international networks involved in providing care for the elderly or people after strokes, which are interested in introducing the product to Western European countries in the future.
Relaxation training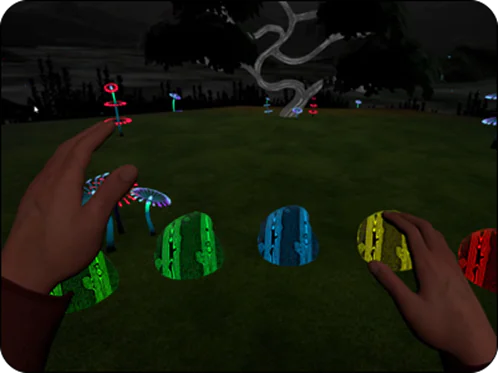 Cognitive training

Virtual Training Apartment