Another step towards the development of Medical Tourism in Lublin and region
Our region can boast another success in the development of Medical Tourism. Recently in the building of Crown Tribunal in Lublin took place official signing of an agreement establishing Lublin Consortium of Medical Tourism.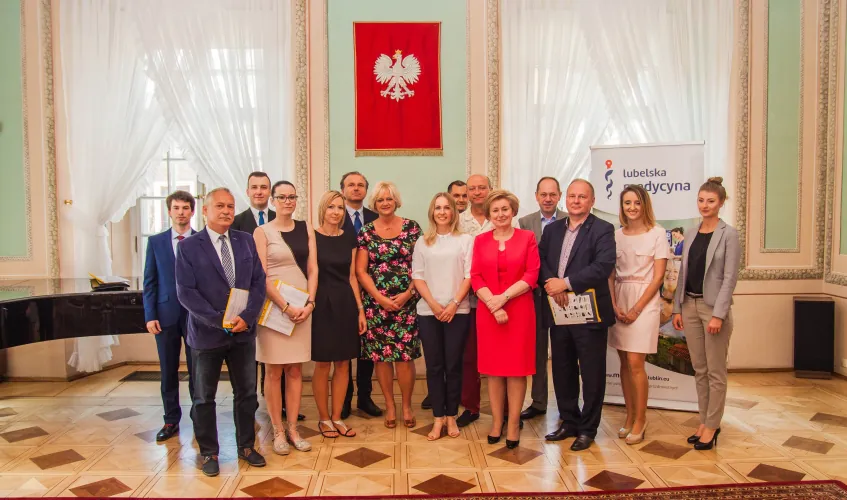 The project aims to encourage patients and tourists from other regions of Poland and from abroad to visit our city and region and take advantage of health and medical services, which would entail exploring tourist offer of Lublin and its surroundings.
Health and medical tourism is dynamically growing trend all over the world. Consortium established in Lublin is one of the first of such projects from our country that had been formalised. It is the first project initiated with direct involvement of private and public entities having various profiles and interested in constant improvement of the services they provide through joint, professional project management.
Due to Lublin's wide array of medical resources and experts that are well-known and respected in the industry, the city has a huge potential regarding the development of services in this field.
Consortium agreement was signed by:
Arthos Sp. z o.o.
Atom Sp. z o.o.
Beauty Dental Clinic Agnieszka Krawczyk
Medical Centre "Luxmed" Sp. o.o.
Medical Centre Medicos S.A.
Medical Centre VITA Paweł Skrętowicz
CRH Żagiel Med Sp Spółka Jawna
Dental Clinic Klinika Pięknego Uśmiechu M. Pucek
Dental Clinical Centre of the Medical University of Lublin
Top-Medical Sp. z o.o.
Company INB Marketing became Consortium Leader, being also responsible for creation of project's website and running its promotional campaign.
This project constitutes a great challenge for the most spirited entities representing regional medical sector that decided to venture together into the unknown and take such innovative initiative. It is a great pleasure for us to work with companies that set new trends in the economic development of the city and region – said Michał Janiszek, President of the Management Board of INB Marketing Sp. z o.o.
An initiative to establish consortium was elaborated in the Cluster of Lublin Medicine that for three years has been successfully working to increase international visibility of Lublin medical sector. Many entities received with interest vision and determination shown by the employees of Cluster's Office and after numerous meetings and negotiations these entities decided to form a consortium.
Medical and wellness services combined with an attractive tourist offer are one of the areas that may contribute to the growth of city and region economic potential. However, it requires professionally managed promotional campaign that would be a response to an increasing competition abroad. Promotional activities to be effective require high expenditures, persistence in undertaken activities, but foremost cooperation among the entities interested in expansion of their offer and constant increase of quality in customer service. We are glad that as a result of cooperation within the Cluster of Lublin Medicine, entities from medical sector resolved to carry out this ambitious project together by taking joint marketing activities, and in particular by co-financing initiatives taken in the framework of the project.