BSS sector summit
On 31 January, annual assembly of representatives of modern business services was held in Lublin. The BSS Forum was attended by over 340 experts and representatives of professional organisations from all over the world. In the evening, in Outsourcing Stars Gala, awards were given to last year's outsourcing leaders in the number of new jobs being created, contracts with new clients being signed, and new office space being provided.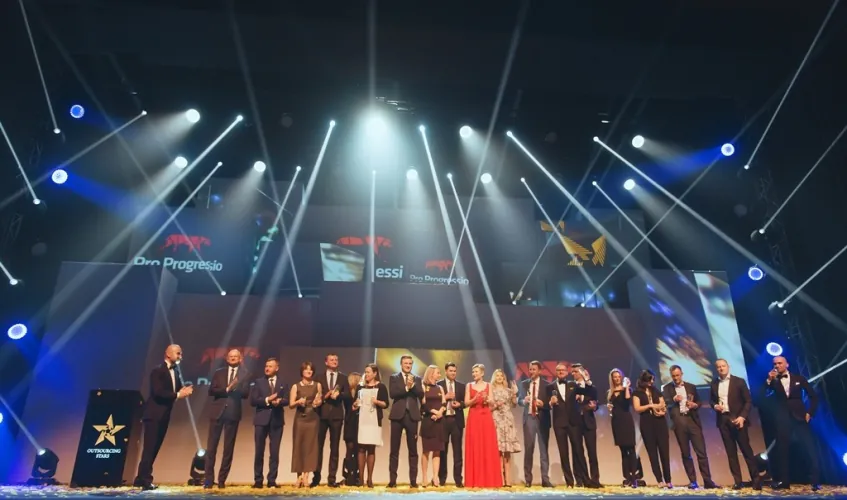 The BSS Forum
The BSS Forum was brought by "We know how" slogan and was held under auspices of Marshall Office of Lublin Region and Municipal Administration of the City of Lublin. In this most rapidly developing city in East Poland, there are 73 outsourcing centres where over 7.5 thousand people are employed. The forum was devoted to current trends in outsourcing, challenges which outsourcing companies may face as well as opportunities which will arise. Until early evening, panel discussions were participated by representatives of international organisations: IAOP (USA), ASPIRE (Polska), Deutscher Outsourcing Verband (Niemcy), NNC Services (Rumunia), Emerging Europe (UK), Lviv IT Cluster (Ukraina), and guests from Ireland, Sweden, Lithuania or Bulgaria. Furthermore, managers of leading BSS companies and business collaboration institutions operating on business service market shared their knowledge and experience with conference participants: BSS, TMF Group, CIMA, Mazars, Randstad, CBRE, Express, Connectis_, Adaptive SAG, SourceOne Advisory, Forum Call Center, Alfavox, Transcom, and Post Bank Operating Centre. During the discussions, many issues of great importance to modern business services were raised: HR, finances and accounting, real estate, call contact centre, managing car fleets, city marketing, and international business.
The BSS Forum was also attended by Investor Relation Managers from the City of Lublin, who met business representatives and established relations with them. The 'City as a product' panel discussion was attended by Łukasz Goś, Deputy Head of Investor Relations Department in the City of Lublin. Mr. Goś was telling not only about the cooperation between the City of Lublin and the businesses but also about how the authorities perceive the city, how the citizens perceive business. The deputy head mentioned development forecasts and the vision of the city of the future. Moreover, Mariusz Sagan, Head of Strategy and Investor Relations Department in the City of Lublin, participated in panel discussion summarizing the conference, 'Business Without Borders', in which he presented the approach of representatives of the City of Lublin to investment projects carried out in the BSS sector. Additionally, he described the sector's important assets and outlined municipal government's plans for development.
2016 Outsourcing Stars
The conference in Lublin was crowned with a gala event in which Outsourcing Stars were announced. It was the third time outsourcing leader awards were handed out. As in the last three years, contest participants competed against each other in twelve categories where such aspects as growth rate in operating activity or the number of new jobs were taken into consideration.
All the criteria applied by contest jury reflect business development. Given the information and data candidate companies submitted last year, it can be said that outsourcing and modern business service sectors are developing – says Wiktor Doktór, President of Pro Progressio Foundation, conference and gala event organiser.
This year, the following companies were awarded this year's prize:
Document archiving – Iron Mountain
BPO – Capita
Call/Contact Center – Armatis-lc
Car Fleet Management – Hitachi Capital Polska
Building Development – Echo Investment
HR / Employee Lease – Adecco
HR / Recruitment – Randstad
IT Contracting – Sii
Accounting / HR / Payroll – TMF Group
City – Poznań
Sales Force Outsourcing – Adecco
Real Estate (Real Estate Consulting) – CBRE