CODEMA grows in strength in Lublin
They started as a small group of a few people, now it is a team of nearly 100 programmers, testers, analysts, developers and managers. CODEMA Software House has been thriving in Lublin since 2020 and from that very moment, the founders set themselves a specific goal: to satisfy their customers with perfectly designed software. Have they succeeded? Read an interview with the company's management: Jakub Kiszczak, Paweł Kosz and Marcin Kiszczak, who reveal, among other things, what the beginnings of the company in Lublin looked like, how much has changed since then, and what their plans for the nearest future are.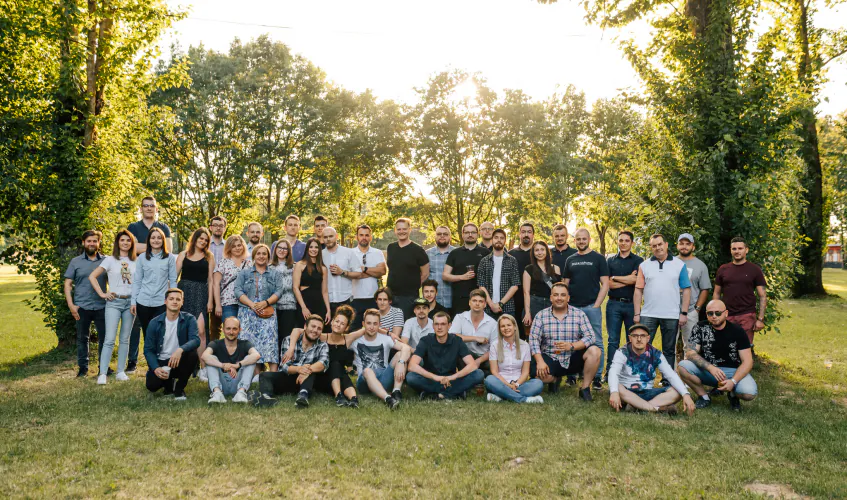 Let's go back in time. Can you tell us briefly how it all started, where did the idea for the business come from? 
Marcin Kiszczak: It was April 2020, the beginning of the pandemic that affected almost every sector of the economy. It was at that time that the vast majority of companies decided to send employees home, thus opting for remote work. We all could observe mass redundancies, halted recruitment processes and blocked vacancies in companies all over the world. People working in IT were also affected by this crisis. We felt it was a good time to look after them. I need to admit that it was quite a risky move, but those who take no risks get nothing. It worked out for us! Today, we are a software house with strong ethics and nearly 100 employees. Vision and values are extremely important to us. They have laid the foundation for our business success and collaboration based on trust. We specialise in providing customised software solutions, consultancy and outsourcing of IT professionals for business. We use innovative thinking and experience to help our clients take advantage of the latest technologies, always striving to create the most tailored solutions for each one of them.
You have been operating in the market for more than two years now and your portfolio already includes more than 40 clients. Who are they and what services do they use?
Jakub Kiszczak: We provide our services to clients from various industries including e-commerce, fintech, healthcare, finance and many others, basing our solutions on their specific needs and guaranteeing security and satisfaction. Our work is based on established, proven practices in project management, IT systems, and programming. Today, we comprise a diverse, multidisciplinary team of top-notch developers, focused on making a positive impact and change for the better. We have extensive experience in designing and implementing dedicated IT systems, web and mobile applications, ERP, CRM and CMS systems, making our team able to work well with both start-ups and large companies. Whether the client needs a unique mobile or web application or would like to hire a team of IT experts to complete a project – CODEMA will take up the challenge and do it right away!
And what are your plans and goals for the near future? 
Paweł Kosz: We are very proud of what we do and how we operate. We are constantly looking for ways to develop our company. In November 2022, we are launching a major project to expand the company's operations into foreign markets. We have already obtained funding for these activities from the Polish Agency for Enterprise Development under the Eastern Poland Operational Programme. As part of the project, we intend to acquire new business contacts in the American, British and Swedish markets. We hope to increase the share of the revenue from sales of new IT services to foreign markets by at least 10% by the end of 2025. Entering foreign markets will certainly bring us new knowledge, opportunities and will provide a significant impulse for further growth.
Marcin Kiszczak: We are well aware that behind the success of every company there are exceptional people, which is why we continuously invest in our team. Today, it consists of programmers, testers, analysts and managers. We want CODEMA Software House to be a place where not only innovative ideas and solutions are created, but we also strive to be an employer that guarantees attractive development conditions for our team. We want to make sure that our employees feel comfortable with us and that they can grow their careers.
Just one final question. Why did you choose Lublin as the location of your company?
Paweł Kosz: Let's start with the fact that Lublin is first and foremost a very intensively developing city. It was also here, that exactly 10 years ago, the Lublin IT Upland (Lubelska Wyżyna IT) was established, as it turned out that this sector has become crucial for the development of our local economy. Another thing worth mentioning is that thanks to the excellent scientific facilities and effective cooperation between the authorities, IT companies and universities, the city has become a European centre for research and development of the latest technologies. What's more, many IT graduates decide to stay in Lublin after graduation, thus providing us with the availability of qualified staff. When deciding on Lublin, we also took into consideration relatively low operating costs, as well as high quality of life and the city's convenient location.