Cooperation of Lublin IT ecosystem – 'Student on the IT Upland'
The labour market in the IT sector in Lublin is dynamically developing. There is constant demand for skilled and well-qualified workers. City of Lublin with locally based IT companies created the ecosystem of the 'IT Upland' to, among other things, address these needs. One of the results of this cooperation are 'Student on the IT Upland' workshops, where young people have the chance to learn about the IT industry.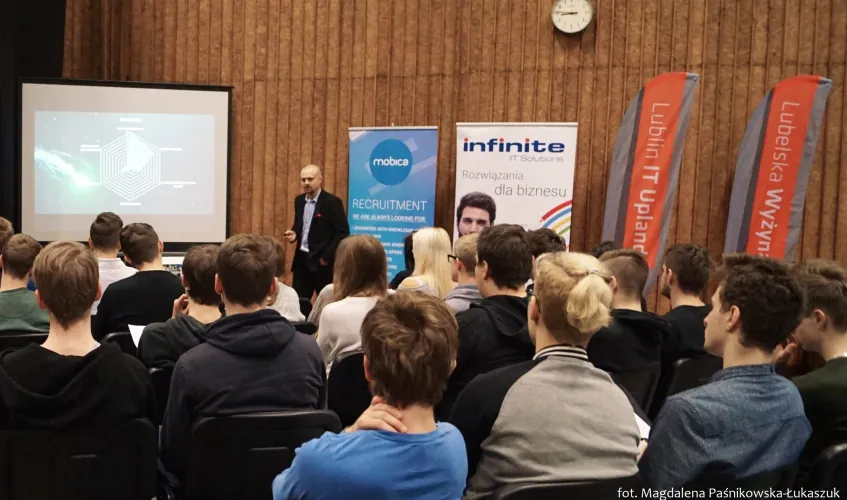 'Student on the IT Upland' is a new initiative initiated by the City of Lublin, many IT companies setting up the ecosystem of the 'IT Upland' and Radio Lublin, where the events are held. Students are invited to one-day workshops exploring  various fields of IT. The objective of this project is to show students of Lublin's high and junior high schools that work in the information technologies industry is not exclusively linked with programming and that everyone has a chance to find their career path in this sector. – Young people learn how the world will look like in the future, how they can find themselves in it and how it will be affected by the IT – says Marcin Grabowiecki, CompuGroup Medical.
– Today's youth is very polarised. Only a narrow group knows this world inside out, is wiser far more than us,  precisely determines what it wants and moves toward it, whereas the most of the population has a very shallow image of the world of IT – claims Mariusz Jastrząb from Mobica. However, he adds, IT sector is not addressed only to students  with science education. – There is a very large field for the humanities and arts in the IT world, for instance in analytics and graphic designing.
To date, two of the four planned workshops took place. Participants had the opportunity to know the requirements for the jobs in IT sector and learned how the work in the industry looks like in practice, with an emphasis on teamwork. – We would like to show young people that both in the IT sector, as well as in the other industries, a large part of work is done with a team. They must be aware that personal success often depends on whether you will adapt well in a team, in which we have to work every day – points out Paweł Łukawski, Altkom Software & Consulting.