Expansion of the "Poland. Business Harbour" to new countries
The government programme "Poland. Business Harbour", which initially had been available only to Belarusian specialists and companies from the ICT sector, has opened door to additional countries.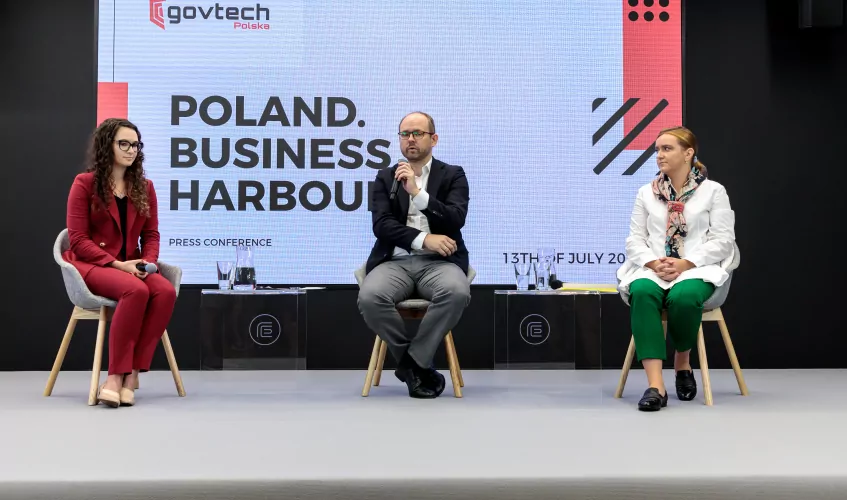 First introduced in September 2020, as a response to the situation in Belarus and the need to provide a safe haven and growth opportunity for a thriving Belarusian IT sector, "Poland. Business Harbour" (PBH) programme is a comprehensive package designed to help IT specialists, owners of small and medium companies as well as large enterprises to relocate to Poland.
Due its great success, on July 13, 2021, the Poland Business Harbour program expanded its reach to the following countries: Russia, Armenia, Ukraine, Georgia and Moldova.
As part of the programme, citizens of these countries can benefit from many privileges, including facilitated visa path, support in setting up and running a business and access to an acceleration scheme for start-ups.
What is more, the programme provides support in the relocation of employees and their families, there are also certain initiatives undertaken to help them to acclimate to the new environment. For instance, children who will continue their education in Polish schools will be provided with additional Polish lessons. Another element of the package is facilitation of contacts between entrepreneurs and investors. Under the programme, potential participants can also apply for grants for research and development (R&D) activities.
There are three paths of participation in the programme:
for SMEs and large companies,
for start-ups,
for individual IT specialists (freelancers).
Every small and medium-sized enterprise, as well as large company that represent the IT industry can relocate to Poland. The whole process is assisted by a team of experts who provide so called 'business concierge services' and make the process of business relocation as smooth as possible.
As part of the second path, the StartupHubPoland foundation, which supports international businesses by bringing them together with public partners, corporations and business angels, has launched a special programme called "Poland prize". The aim is to select start-ups with the greatest potential and support them in relocation. Under PBH, new start-ups can apply for funding of up to PLN 300,000. So far, the programme has provided 20 start-ups, selected from out of 150 entries, with financial support and access to Poland's acceleration ecosystem.
Under the updated programme, anyone who documented a technical education, one year of experience in the IT sector, or has a letter of intent from one of the Polish companies that participate in the programme and are eager to hire foreign employees, can obtain a special PBH visa. There are already around 200 of them today, but the list remains open and is available on the programme's website.
Furthermore foreigners who want to set up a start-up are required to have documents confirming qualification for participation in the programme by the Start-up Hub Poland Foundation. Similarly owners of a small, medium or large enterprise need to present a document confirming qualification to the programme by the Polish Investment and Trade Agency.
Why is Lublin an attractive location to establish and grow an IT company?
With its thriving IT sector, Lublin has become an attractive location for businesses operating in this industry. One of the biggest strengths of the city that attracts investors is human capital, which to a great extent is created by 9 universities. It is worth mentioning that Lublin is among leaders in Poland in terms of the number of foreign students. Interestingly in the academic year 2019/2020 the two largest groups of international students came from Ukraine and Belarus. Proximity and connectivity are another competitive advantages of the city recognized by foreign investors, especially those from eastern countries. Thanks to express road S17 that connects Lublin with the Ukrainian border and S19, the construction of which is scheduled for completion in 2024, the travelling time to Terespol and the Polish-Belarusian border will be shortened from 2h 15 min to about 90 minutes. If we add to this dynamic development of the office space market, competitive wages, and high quality of life that is the result of good access to medical services, sense of security and low traffic density but also various cultural events and modern sports infrastructure, we've got an image of a medium-sized citizen-friendly city with great opportunities for business.
If you need more arguments why Lublin is a good choice or a guide on how to start up in Poland, just to reach out to us: