"Export-Invest Lubelskie" Conference
"Export - Invest Lubelskie" Conference organised by the Marshall's Office of Lubelskie Voivodeship took place on 17 March 2017 in Lublin Conference Centre. The aim of the conference was to present the opportunities for development of enterprises from Lubelskie region and launch the discussion on strengthening investment and export potential of Lubelskie region in the light of the current opportunities and challenges.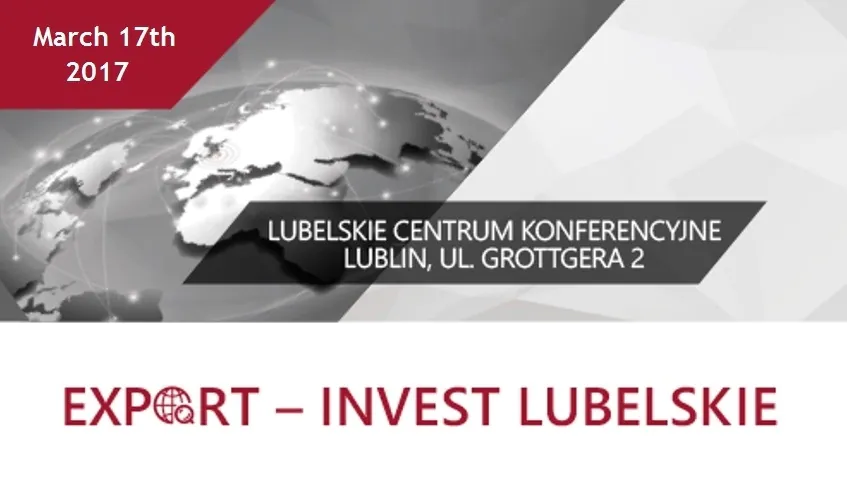 The event was addressed both to the representatives of the administration, science, and business, including business undertaking export activities. They discussed the opportunities for cooperation and business development based on the example of Lubelskie region. The main part of the event included three thematic panels which covered the most relevant issues related to economic development, investment and exports. The conference and scheduled debates were the opportunity to exchange experiences in the field of economic promotion, to attract and support investment and export. Hence, it was possible to discuss new ideas and solutions for different regions that could be transferred.
Moreover, during the conference, the representatives of the regional and national institutions supporting investment projects, such as Polish Investment and Trade Agency, Agricultural Market Agency, Export Credit Insurance Corporation Joint Stock Company, BZWBK, Polish Ecology, and Enterprise Europe Network took part in B2B discussions with the participants.
Finally, the cooperation agreement between Lubelskie Voivodeship and  Polish Investment and Trade Agency was signed by Sławomir Sosnowski, Marshal of the Lubelskie Voivodship, and Krzysztof Senger, PhD, Deputy Head of Polish Investment and Trade Agency. This is the first agreement of this kind in Poland – none of the voivodeships has previously signed a similar document confirming their willingness to cooperate and take on new activities in the area of trade and investments. Both signatories emphasised the importance of cooperation between the regions and central government institutions.