From start-up struggles to software success: Dogtronic's journey in Lublin
17 years of IT industry experience, mixed with a pinch of passion and a whole lot of determination - that's what brought Dogtronic, Lublin's thriving software house to life. In a conversation with Invest in Lublin, Marek Golan, the company's founder and CEO, shares valuable insights into the evolution of the tech scene in our city and the significant changes he has witnessed over the years. He also spills the beans on the company's most challenging projects and future plans. Enjoy the read!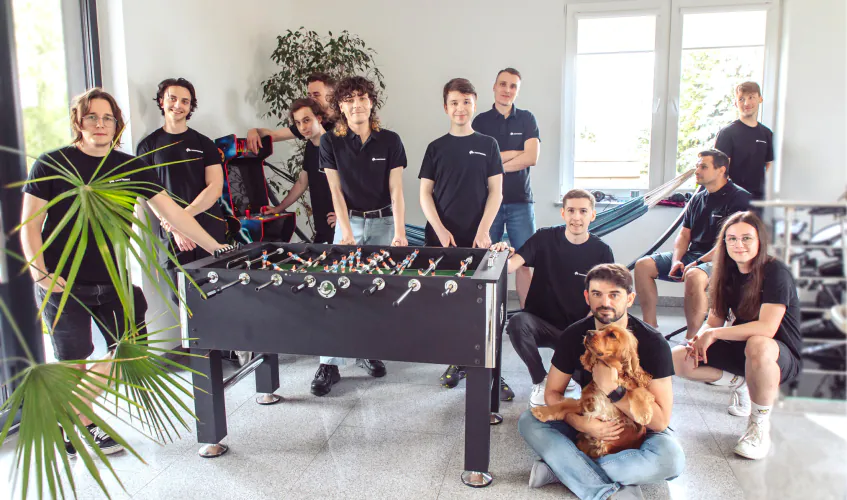 Let's take a trip down memory lane. Tell us how it all started. Where did the idea for your business come from?
I've been involved in the IT industry for 17 years. In 2006 I started my first business. As a young man without any commercial experience, I was…. well, doomed to fail. A lot has changed since then. I worked as a programmer and also co-managed a couple more companies. Based on my experience, full of both successes and failures, I've decided to build something new from the ground up. And that's how, in 2021, Dogtronic came to be. It's a software house that is built on the foundation of my 17 years of experience, and quite frankly I'm incredibly proud of this company.
So you have been present in the market for 17 years now. Have you noticed any significant changes during this time? How has the tech scene in Lublin evolved over the years?
A lot has changed. I remember when my friends used to move to Warsaw, Poznań or Cracow for work. The main reason for their choice? Salary. The differences in earnings between Lublin and larger cities were huge, up to 50%. I made a similar decision in 2013 and moved to Wrocław for two years. I came back because I missed my friends and family. Besides, I believe that Lublin became a great place to live and run a business. Especially now when most of the work is done remotely. Lublin has great infrastructure, and it's only 1:15 h away from Warsaw airport… a game changer for me.
For the last 10 years, a lot of great companies have developed in Lublin and also many renowned firms created their offices here. It's a great opportunity for programmers. The creation of new workplaces caused competition between companies to get new employees, which caused wages to increase. It's also a great challenge for businesses, which have to put more energy into growth to remain competitive. As a result, both employers and employees have to consistently improve the quality of their services. Everyone thrives on that. The free market works.
It has been one year and a half since Dogtronic launched in Lublin. Was it a good year for you? How would you summarize this period in a few words?
Despite the undeniable crisis in the IT industry, the past one-and-a-half years have been exceptionally good. We are determined. We've started as a four-person team, today we have 16 employees… and of course, a dog.
We work on more and more interesting projects. For instance, we've created a new website for PERŁA – a local brewery and one of the largest breweries in Poland. This collaboration was really satisfying. We've also worked for startups, developed new image recognition technologies, created hardware and worked for widely known Polish companies. Our team also works on large projects for clients from UAE, Germany and the USA.
I believe we've done a lot in that one and a half years. We also took part in a few business conferences and even helped to organize some of them. We work hard on our marketing and brand recognition. We strive to spread the message that Dogronic is a reliable company with valuable and cool personnel. Based on market response it seems everything is going in the right direction. We can't wait to see what the next year brings.  Looking back there is only one question that I can't seem to find an answer for. How did we manage to find the time for all of that?
Do you collaborate with other businesses or organizations in Lublin to further develop the city's technology industry?
Yes, of course. We gladly participate in periodic meetings of Lubelska Wyżyna IT. I gave lectures during a few conferences, for example, CheckIT and "Lublin IT Days". It helps us build a good image of our brand among potential clients and employees. We are also co-creating a cluster of IT companies, especially those based in Lublin. There are a couple of similar groups in Poland but none of them focuses on Lublin. We are changing it by creating a nationwide association of IT companies with Lublin as its centre.
Can you give us an example of a particularly challenging project that your team has worked on and how it was successfully completed?
There have been many projects that fit this description, but one of the most exciting ones involved working for one of the leading companies in the grocery store industry in Poland. Our task was to connect to monitoring systems of individual stores and based on images from the cameras observe and count the amount of hot dogs on a hot dog grill. This project posed great technical challenges, requiring expertise in image recognition and handling vast amounts of data. The technology we developed achieved an impressive 99.5% accuracy and provided valuable strategic analytical data to our client.
We've also created a mobile application that, among others, measures the growth of tomato plant stems based on a photograph, with a precision requirement of 1mm. This application is part of a larger system designed to manage tomato plantations.
Looking ahead, what are your future plans and goals for Dogtronic? Are there any upcoming projects or innovations that you're particularly excited about?
Right now the IT industry is in a temporary decline. There is less going on than a year ago. Back then the main issue was the lack of employees, today – less clients. Right now there are more employees looking for a job. The trend has reversed. At times like these, it's especially important to be cautious and make the right decisions. I realize that in the near future, many companies will shrink or even cease to exist.
That's why we focus on strengthening our company. We create corporate structures, work on organization, plan and implement new marketing strategies, educate ourselves, look for new partnerships and prepare to search for new clients – also from abroad. In my opinion, this is the perfect time to work on the internal structure of the company. But as soon as we'll be ready and the market will stabilize we will surely further scale up the company. We aim to be a known and appreciated brand. We have ambitious plans for the future and determination to realize them. One thing is for sure, Lublin will always remain our main headquarters.