Handling HR. Lublin style
Soulab is a Lublin-based IT company focused on delivering complete SaaS services. In a conversation with Invest-in-Lublin, Paweł Niedziółka, founder and CEO of Soulab talks about the company's key product - HRappka - an all in one HR system, and sheds some light on the company's plans.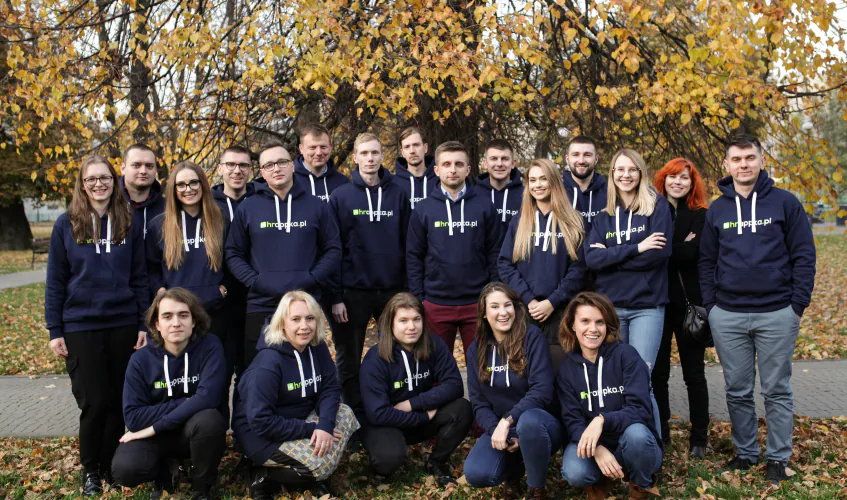 So let's start from the very beginning. What made you decide to start the business in Lublin?
I am a native resident of Lublin. I love "cebularz" and everything that is associated with this city. I have started my educational and professional life here, so setting up the company in this very place was a natural choice. I think that my attachment to Lublin and desire to contribute to its development helped me to make this decision.
Soulab's key product is called 'HRappka'. What is it?
HRappka is a comprehensive HR system that supports key processes related to human resource management. We don't want the word "comprehensive" to be associated with "difficult" though. The programme is indeed equipped with a wide range of solutions, but because of its intuitive functionalities, it is easy to use. The main goal of HRappka is to support the full spectrum of the HR process. Starting from the moment an HR manager receives a new position request. The HRappka system assists the whole recruitment process (publication, application tracking, communication with candidates and hiring managers), and the entire employment cycle in the organisation, until the end of cooperation. What is more, HRappka facilitates the process of legalization of stay and employment matters (obtaining permissions) for foreigners. Additionally, it deals with documentation matters such as automation of sending government documents, electronic signature contracts, occupational health and safety training certificates, and many more.
Where did the idea for HRappka come from?
The history of HRappka began in Lublin out of local customers' needs and a vision of a Lublin supplier. A few years ago, an employment agency needed software for managing employees and settlements. Those requirements were just a fraction of what we offer today, but it was a significant incentive to begin. In response to the client's needs, we decided to create a product using a SaaS solution which has been additionally extended by HR processes such as recruitment, onboarding, HR, payroll, and employee assessment.
HRappka has recently got involved in supporting Ukrainian refugees seeking employment. Tell us a bit more about this initiative.
We wanted to give refugees from Ukraine a foothold in Lublin, a perspective to build an independent life, so when the city came up with an initiative to create a tool that is to help Ukrainian citizens find a job, we have decided to provide them with our tool to facilitate this process.
The tool is available on https://lnkd.in/ecE4N37f. Thanks to it, Ukrainian citizens can apply for a job in Lublin, specifying their competences, language skills and experience, which will help them to find a job adequate to their education and competences.
What are the challenges HRappka faces these days?
Our main challenge is to meet the needs of the HR industry. We are aware that our product is not the best system in the world yet, that's why we are constantly trying to perfect it. Currently, our improvements are focused on employees' values and their development in the organisation.
Does Lublin have a good business ecosystem for running a business?
That's a very good question. On the one hand, Lublin is a good place to establish an office. It abounds in qualified human resources thanks to as many as 9 universities and colleges and more than 60 000 students. We can also highlight the benefits of having an airport and an expressway to Warsaw. What is more, there are lots of funds and other forms of support for startups. Initiatives like TEDxLublin and FuckUp Nights Lublin, are a good start, but certainly, there is much more that can be done to make this city even more attractive for investors. I think that, especially in the time of a pandemic, Lublin's authorities must show that Lublin is a good place to live and find a way to encourage entrepreneurs to invest in the city.
In recent years, many new IT companies have been established in Lublin. You have been in this market for 6 years now. Have you noticed any significant change in the Lublin IT market?
Indeed, Lublin has changed a lot in recent years. The IT market is certainly growing. Therefore, candidates have many offers to choose from, starting with global companies hiring hundreds of people to smaller startups. As we are still a relatively small start-up, sometimes it's challenging to find a worker willing to choose our company, so to attract and encourage qualified employees to join us we offer a lot of benefits like free English lessons, Wednesday dinners, parties, and new equipment. We are really proud because we have come a long way since the time when we were content with warm water in a tap and a kettle.
Does Soulab have an appetite for more?
Of course, we have an appetite for more, that's our main strategy since the very beginning. We want to extend our portfolio and create a bigger team. Our goal is to be more recognisable not only in Lublin but in the whole of Poland.