Innovative place to better address needs of the disabled
Centre of Wheelchairs is about to move to a new location to better meet the growing needs and expectations of people with disabilities. The centre is due to open at the end of March.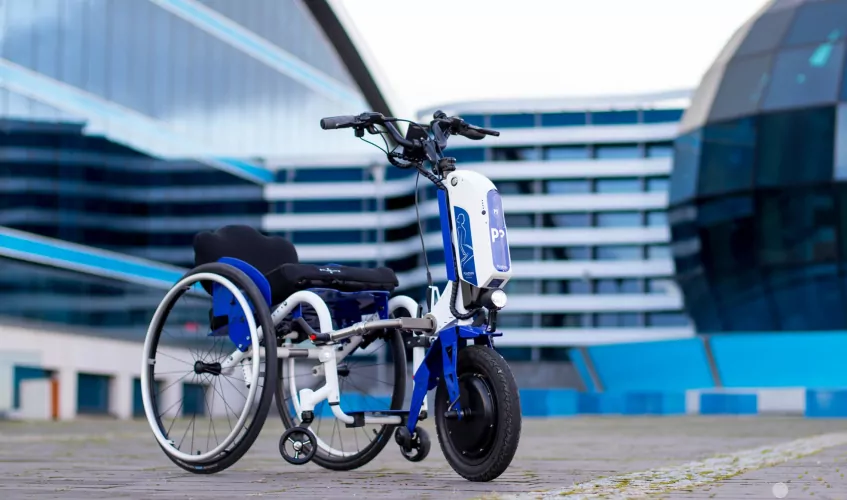 The new Centre of Wheelchairs at 1 Okólna Street is a development project of the shop that has been operated for many years by CWI owner Rafał Kowalski at 74A Lubartowska Street. The new, spacious building will house a showroom with over 100 wheelchair models and amenities that no one has offered before. The decision to expand is the result of the owner's observation that people with disabilities struggle to make the right purchases.
Buying a wheelchair is a serious decision, and each product meets the needs of a particular customer. Therefore, it is crucial to test and check if a wheelchair is tall and wide enough, if the seat has the right angle, etc. Every person is different and needs a vehicle that is well-suited. Usually, people look for a wheelchair in small stores that have one or two sample wheelchairs for testing, or they ask representatives of different manufacturers to bring a specific model to their home for testing. In both cases, the choice is very limited, says Rafał Kowalski, owner of CWI.
The new Centre of Wheelchairs will offer the opportunity to take a real test drive, with many obstacles to overcome, different surfaces, including grass or kerbs to check how a wheelchair performs. In addition, there will be doctors and physiotherapists at the center to advise on choosing the right wheelchair, as well as dedicated staff to help with the paperwork to obtain co-funding. The place will also accommodate a café to meet with friends and a conference room to organise various trainings for caretakers, physiotherapists, doctors, parents, etc. to raise awareness about disabilities, which is still quite low in Poland. The centre will also have a playroom for children on wheelchairs, and it will offer free pick-up and transport to the centre by a special car. New CWI is said to be the largest place of this kind in Europe.
I've done analysis on what's going on in the European market, and indeed this will be the largest wheelchair store in Europe. I'm glad it is happening in Lublin, where I live and raise my children. The city, just like the entire country, needs improvements in terms of accessibility for the disabled. That's why I decided to respond to them and create something that not only levels but surpasses the solutions offered in Western Europe, adds Rafał Kowalski.
The grand opening is scheduled for March 20 and the owner hopes it will be attended by CWI's ambassador Krzysztof Cegielski, a former speedway racer who had a serious accident and has been wheelchair-bound ever since.