Job-platform launched to help refugees from Ukraine
Many of those seeking shelter from the war in Ukraine have decided to start a new life in Lublin. The city is trying to support them in many ways. In addition to relief supplies, psychological and financial help, the people now need one thing above all: a perspective in the place where they have found refuge. This also includes a job to be able to build an independent life.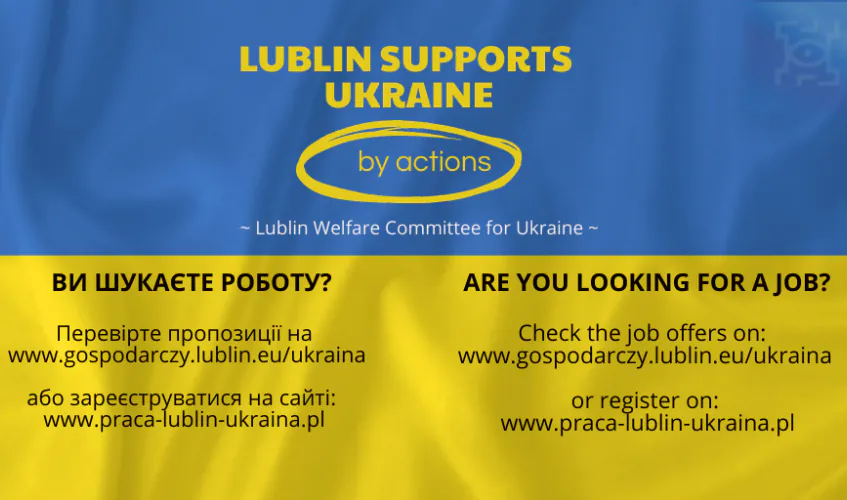 The City of Lublin and the Lublin Metropolitan Tourism Organisation, supported by the Lublin Welfare Committee for Ukraine, launched a tool that will help Ukrainian citizens find a job adequate to their education and competences. The necessary substantive support in creating the platform was provided by the Municipal Labour Office in Lublin and the HRappka company.
The unregulated form of assistance to Ukrainian citizens on the labour market has become an impulse to undertake joint efforts, the result of which is the launched portal. Since the beginning of March, we have been collecting job offers from companies based in Lublin and the region, and now we are starting to build an information base about potential employees. The role of volunteer-recruiters will be to facilitate the first contact and exchange between jobseekers and employers, while all the formalities concerning the legal employment of a candidate are to be regulated directly between the interested parties, says Krzysztof Żuk, Mayor of Lublin.
The need to create such a tool came from employers, who, despite their willingness to hire Ukrainian refugees, are unable to find candidates with appropriate qualifications on their own. The Lublin Metropolitan Tourism Organisation created a tool available on the website www.praca-lublin-ukraina.pl, where Ukrainian citizens can apply for a job in Lublin, specifying their competences, language skills and experience. Volunteers involved in the project are going to analyse the collected applications and match them with job offers submitted by employers on www.gospodarczy.lublin.eu/ukraina as well as support the first contact between interested sides.
During the first 10 days, through a special online form, 120 employers submitted over 800 job offers.
Since the very beginning of the war, we have been strongly involved in supporting the Ukrainians, e.g. by providing the Lublin Welfare Committee for Ukraine with our hotline 533 391 569. In the Tourist Inspiration Centre, we focus on helping refugees to find their way around the city. In the course of these activities, we got to know the stories of people who are looking for any kind of work, often below their competences. While there are many vacancies in various sectors offered by Lublin based companies that can match the experience and education of the Ukrainian jobseekers, says Krzysztof Raganowicz, President of Lublin Metropolitan Tourism Organisation
Currently, citizens of Ukraine cannot register as unemployed at the labour office, which means that employers do not have access to information about their professional potential.