Lublin abounds in talent pool
The investment potential of cities is strongly connected with human capital created primarily by students and graduates with solid knowledge in various fields. A well-developed educational infrastructure translates into a large resource pool of highly skilled staff, which simultaneously makes the region attractive to investors who want to be sure that the market in which they want to establish their business offers employers with skills they are searching for.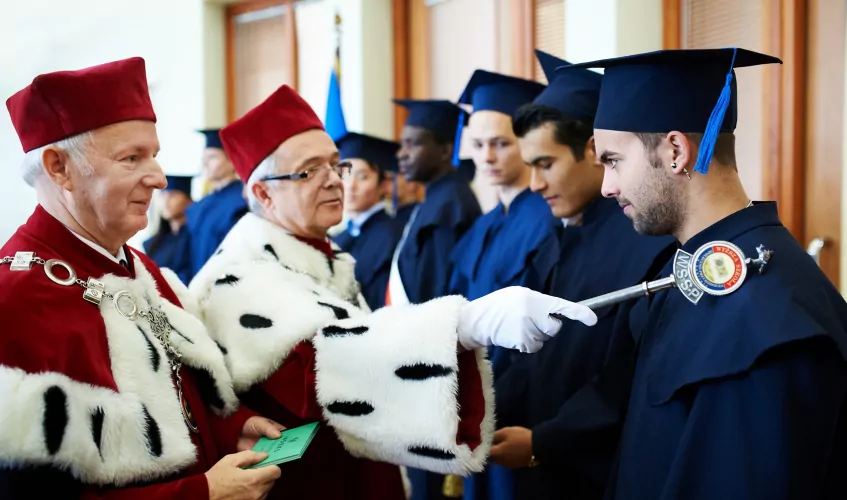 Undoubtedly, human capital is Lublin's great asset. There are 9 private and public universities and colleges that offer a comprehensive range of academic courses. The most recent majors that enriched Lublin's educational offer are among others: Beekeeping in Agroecosystems, Oenology and Cider Industry, Ecobusiness or Artificial Intelligence. This list is constantly being extended with new and innovative courses, which in turn creates great professional perspectives in the rapidly growing market. That's why every year Lublin attracts more and more young and talented people from all over the world. In the academic year 2020/2021, Lublin hosted 60,722 students and 15,722 graduates.
It is worth mentioning that Lublin's universities work closely together in order to improve the quality of education and encourage young people to study in Lublin. This can be proved by the creation of the Lublin Universities Association which was established by agreement of the University of Life Sciences in Lublin, Maria Curie-Skłodowska University, the Lublin University of Technology and the Medical University of Lublin. These four higher education institutions have joined forces to carry out teaching initiatives, training courses, workshops, webinars and various projects and competitions, such as the recently announced 'Internships beyond borders' project, which is to offer academics a three-month internship at one of the universities, or the 'Interproject', which will enable academics to form interuniversity interdisciplinary teams. Such groups are to consist of employees of at least three universities, and each university will support the implementation of joint works with an amount of up to PLN 10,000.
Lublin's research infrastructure
In recent years Lublin's research infrastructure has been intensively developed and modernized, providing students and scientists with a proper research base and well-equipped laboratories. One of the largest investments in this matter involves the creation of an Ecotech-Complex centre, which promotes interdisciplinary research for advanced environmentally friendly technologies including UMCS, but also a number of other partners. Specialized units like Lublin Science and Technology Park, or Witold Chodźki Institute of Rural Health in Lublin also play a big role in shaping the scientific potential of the city, supporting entrepreneurship and innovation in higher education. Thanks to such a well-developed research infrastructure, Lublin can boast of impressive scientific and research achievements in various fields that are recognized not only in Poland but also worldwide. The invention of artificial bone by scientists from the Medical University of Lublin, or numerous patents created by researchers from the Lublin University of Technology including a numerically controlled inclined rolling mill, a device for plasma treatment of plants or a sound transducer are just a few of the many examples showing the scientific potential of the city.
Commercialization of intellectual and technical potential of Lublin universities is possible thanks to the Lublin knowledge transfer centres. Those units not only promote the achievements of Lublin scientists and provide them with professional support in getting patents and protection rights but also create the opportunity to meet and collaborate with the business environment. For years, Lublin's universities have been working with business partners on research works, as well as the commercialization of knowledge. A great example of such partnership can be implemented by UMCS and Billennium company project regarding the creation of a system for early diagnosis of brain tumours or a solution introduced by scientists from the Lublin University of Technology regarding self-service car wash with a compact system for recovering and saving water and energy designed for the company 'Tixewash Poland'.
Knowledge transfer centres:
The Centre for Knowledge and Technology Transfer of UMCS
The Technology Transfer Centre of the University of Life Sciences in Lublin
The Knowledge Transfer Centre of the John Paul II Catholic University of Lublin
The Knowledge Transfer Centre of the Medical University of Lublin
The Innovation and Technology Transfer Centre of the Lublin Science and Technology Park
Lublin Center for Technology Transfer of the Lublin University of Technology
Language potential
Lubelskie voivodeship is also an attractive location for internationals. In the academic year 2020/2021, 7,289 out of 60,722 students came to Lublin from 115 foreign countries, which makes our city the most internationalized metropolis in Poland (11.12%). The process of internationalization of Lublin's universities is supported by programmes such as 'Study in Lublin' that by the implementation of various initiatives encourages, in particular, foreigners to live and educate in Lublin. Another project that serves internationals is recently opened by Maria Curie Skłodowska University, 'Welcome Centre', which provides assistance to newly enrolled students from abroad and helps them to fully integrate into life at Maria Curie-Sklodowska University in Lublin. The main tasks carried out within the unit include creating an information point for foreign students, providing them with assistance and mentorship, but also organizing integration and educational events.
What is more, 3,529 students and graduates, when deciding on their educational path, chose to study foreign language majors, mainly applied linguistics, English, German, French, and Dutch philology, but also Spanish and Portuguese studies, or sinology. Apart from that, almost 30,000 students learn foreign languages in additional courses. This multinational dimension of academic life translates into the availability of specialists with linguistics competences. They are excellent candidates for employees of international companies which have decided to establish their branches in Lublin.
A sector of modern business services is developing intensively throughout Poland, so it's not surprising that dynamic development is also taking place in Lublin. In recent years, we have been observing a growing demand for specialists in IT, finance and foreign languages. Local universities offer various studies that are of key importance for the BBS sector and attract young IT talents to our city. Today, the Lublin IT companies give employment to over 8,000 people, while Lublin universities educate over 7,000 people studying IT and IT-related faculties.
The growing potential of the IT sector is also supported by an initiative called 'Lublin IT Upland', which through active cooperation with business, science and administration, creates a favourable environment for the further development of this industry in our city. One of the initiatives undertaken within the 'Lublin IT Upland' was a cooperation of Lublin IT/ICT companies with local universities to adjust their education programmes to the needs of Lublin's labour market. As a result, Lublin's educational offer was enriched with two additional majors: Data Science at Maria Curie-Skłodowska University (UMCS) and Data engineering and analysis at the Lublin University of Technology.

Lublin is also a place of development for many branches of industry. Of particular significance to this sector is access to engineers and production employees of lower levels who, according to the most recent Antal report on the investment potential of Lublin, are of high availability.

Undoubtedly, Lublin, thanks to the wide range of courses offered by local universities and the high quality of education, is at the forefront in terms of the employment potential of qualified staff in Poland. What is more, Lublin's local market is characterised by low employee turnover. According to Antal, every fifth Lublin resident has changed their employer only once in their lifetime, and every third resident works in the same place all their life. All of that, along with relatively lower employment and operational costs, well-developed transport infrastructure, and high quality of life, creates excellent conditions to run a business here.