Lublin educates programmers
The fifth edition of the CHECK IT conference has come to an end. This year the turnout and interest once more exceeded our expectations. The event drew a croud of over 1000 people, not only from the Lubelskie Voivodship, but also from other regions.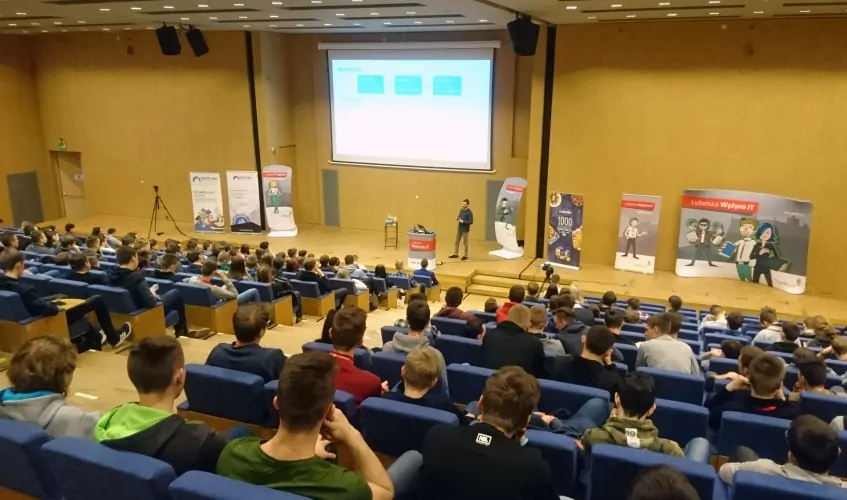 Check IT is an annually taking place event organised by the Strategy and Investor Relations Department of the City of Lublin in cooperation with universities and the IT community. This year's edition took place on 6th March in the Lublin Science and Technology Park, ul. Dobrzańskiego 3. The enrolment started at 8am, but some groups appeared earlier in order to put the time to good use.
At the exhibition stands learners had the opportunity to see how scientific circles at universities work. Students presented robots, thermal network cameras, 3D printers, projects created by using Oculus Riff. They also told a few words about the development opportunities in the academic community. Speaking of exhibition stands there are two of them worth mentioning. They were exposed by schoolkids from Kraśnik and Poniatowa who showed the effects of extracurricular exercises. In the lecture hall representatives of companies, students and bloggers gave lectures concerning among others: cryptocurrencies, paths of development in the IT sector, cybersecurity and social media.
Students had prepared 24 workshops where attendees could deepen their knowledge in robotics, programming in Python, animation, 3D graphics, designing video games, editing movies, internet applications. For the whole time schoolkids had a game zone to their disposal. There was also a contest during the conference. Awards where founded by the City Hall of Lublin and companies from Lublin – Billennium, Edge One Solutions, eduLAB, Lubella, Lubelska Liga Escape Room, Laser City.