Lublin July '80 – where the path to freedom and Solidarity started
Forty years ago, a wave of strikes and workers' protests swept through Lublin and the Lubelskie Region, which by July 1980 involved over 150 facilities throughout the province. These events marked Poland's path to freedom and, as a result, political changes and the fall of the communist regime. The strikes of July 1980 changed not only the shape of our country, but also that of the whole of Europe and the world.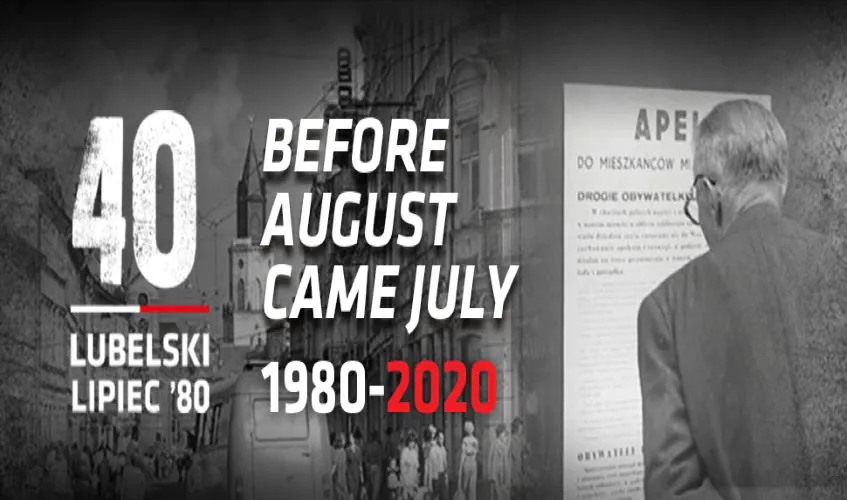 In the 1970s, the growing economic crisis caused by inept policies of the communist authorities led to economic stagnation. The economic turmoil contributed to the rise in prices and the decreased wages, which aggravated social discontent. In 1980, confronted with the activities of the inefficient system, workers of the Communication Equipment Factory in Świdnik near Lublin started a series of nationwide strikes. The first documented protest in Lublin began in the Agromet Agricultural Machinery Factory, and within a dozen or so days the strike wave spread to 91 enterprises.
Wage and price demands prevailed – protesters called for wage increases, reduction of food prices, but also demanded the improvement of their working conditions. Apart from the economic dimension of better living conditions, the protest of tens of thousands of workers was an expression of the widespread social discontent and the rebellion against the authoritarian power in the fight for freedom and democracy.
Thanks to Radio Free Europe, the whole of Poland learned about the course and success of the Lublin strikes. As a result of the events in Lublin, the strikes spread to the entire country. The following month saw the beginning of August 1980 strikes on the coast of the Baltic Sea, which was joined by delegations of striking factories from other cities. These events led to the creation of Solidarity and the first free elections, which resulted in the fall of the communist regime.
Today, on the 40th anniversary of Lublin July, we want to recall the past events. We owe the political changes and the present shape of our country to the courage and determination of the heroes of that time, the ordinary inhabitants of our small homeland. The success of Lublin July '80 paved the way for a nationwide burst of Poles fighting for better living conditions, freedom and democracy. The strikes of 1980 and the events that followed have changed not only the face of Poland, but the whole world.

Krzysztof Żuk, Mayor of Lublin
Find out more about the history and celebration of the events at:
https://lublin.eu/en/what-to-see-do/lublin-1980-july-strikes/