Lublin – logical choice for logistics
Experts across the country agree that the warehouse market in Poland and globally is more than just fine. The pandemic has not slowed its growth and, in fact, it's quite the opposite – shortened supply chains and the boom of e-commerce facilitate the construction of new industrial facilities. The key element of this process is the careful selection of a site for a new venture. So, what is the reasoning of investors when choosing a location and why is Lublin on the short list of decision-makers in the logistics market? This article will attempt to answer these questions.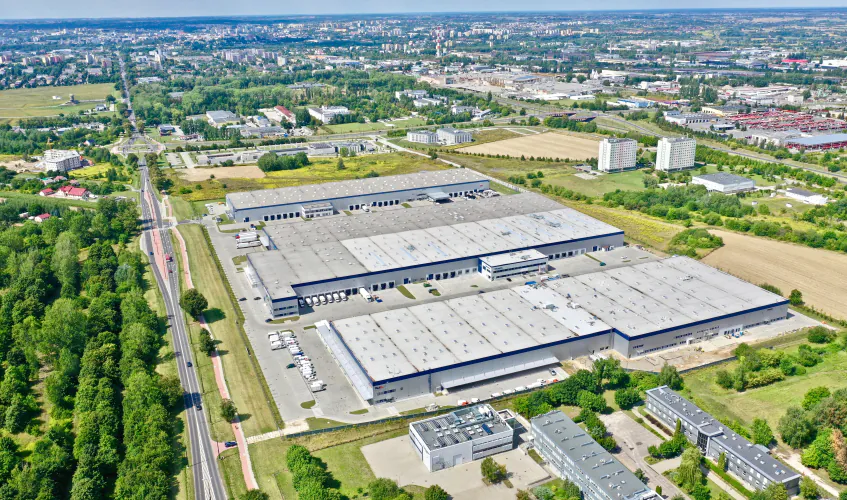 Accessibility is the key
One of the first elements of an investment proposal is a map showing a city's location in the relation to a road network, including motorways and expressways. Lublin owes its incredible transformation in this regard to massive investments in road infrastructure over the past decade. The city ring road, which is part of S12, S17 and S19 express roads, enables smooth access to logistics parks from all directions, both domestic and international. From the West, S17 linking Lublin with Warsaw is of paramount importance for the city's connectivity. After its completion in the first half of 2021, the capital can be reached within 90 minutes by car. Looking east, S17 that now ends in Piaski near Lublin, will be further extended to the Ukrainian border in Hrebenne, which is scheduled for 2027. May 2022 saw the completion of S19 express road between Lublin and Rzeszów, and at the same time with A4 motorway. The delivery of the artery has reduced the travelling time to Rzeszów and Cracow to 1.5 and 3 hours respectively. In addition, by 2025 S19 will also reach the northern city of Białystok. Currently, S19 sections in this direction are either designed, or are in a tendering process. It should be stressed that the entire S19 express road in part of the Via Carpathia transportation corridor, which connects the Baltic Sea region with Black Sea ports.
E-commerce & Small Business Units
The trend of online shopping, which recorded the strongest sales figures during the pandemic, shows no signs of slowing down its momentum. Consumers' and consignees' expectations for quick delivery times, ideally within a day or two of ordering, are making warehouses situated within city boundaries even more in demand. Also the features of the object are changing due to supply chain optimisation and so-called last-mile delivery. Developers' solutions to meet these demands are increasingly often Small Business Units (SBUs). In Lublin there are more than 77,000 sqm of space under construction or in the pipeline, including SBUs.
Access to talent
One of the major challenges businesses of all sizes face these days is access to well-qualified employees, and Lublin has become one of the most attractive locations to meet this talent demand. As the largest city in Eastern Poland, Lublin is inhabited by almost 338,000 people, 58% of whom are of working age. Undoubtedly, human capital is the city's greatest asset, created primarily by local universities and colleges. Lublin is a real academic hub of the eastern part of Poland – 9 public and private universities and colleges educate 60,722 students, which translated into 15,116 graduates entering the labour market in academic year 2020/2021. Five of these institutions offer degree programmes related to transport and logistics: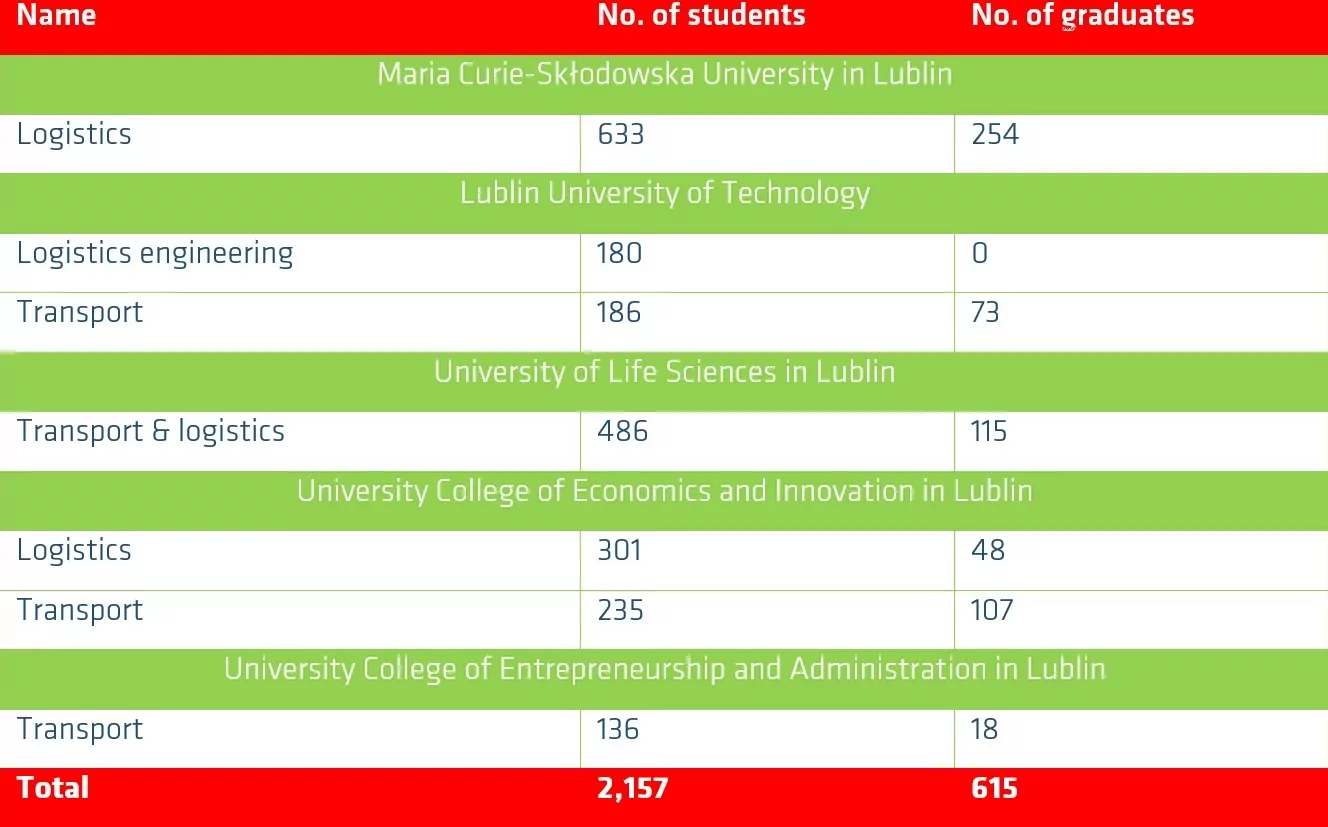 Source: Investor Relations Office own study based on Central Statistical Office data (2021)
A multi-skilled workforce is also developed and nurtured through a solid vocational education system in Lublin. The city is home to many excellent schools, such as the Lublin Centre for Vocational Education, or the Complex of Transport and Communication Schools, to name a few. Each of them trains a wide range of technicians who are prepared for work directly after graduation. Every year, about 6,200 technical schools students learn in Lublin, while the number of graduates hovers around 1,200.
Source: Department of Education, Lublin City Hall, 2021
Competitive costs
What can be neglected when choosing a location is the operational and employment costs that a future investor will have to bear, and this is yet another advantage Lublin has over cities of similar size and larger locations. In April 2022, the average gross wage in the enterprise sector in Lublin was PLN 5,654.96, which was about 85% of the national average (PLN 6,626.95). Depending on the sector, these differences may even exceed 30% compared to major cities across Poland. In addition, Lublin-based businesses can also make savings due to considerably lower staff turnover than in cities in central and western Poland. According to statistics, 20% of employees in Lublin changes employers only once in their lifetime, and one in three works for the same company throughout their career. Lower turnover rates translate into business stability, continuity of implemented projects, but also lower recruitment and onboarding costs. The table below gives examples of wage expectations of logistics professionals in Lublin: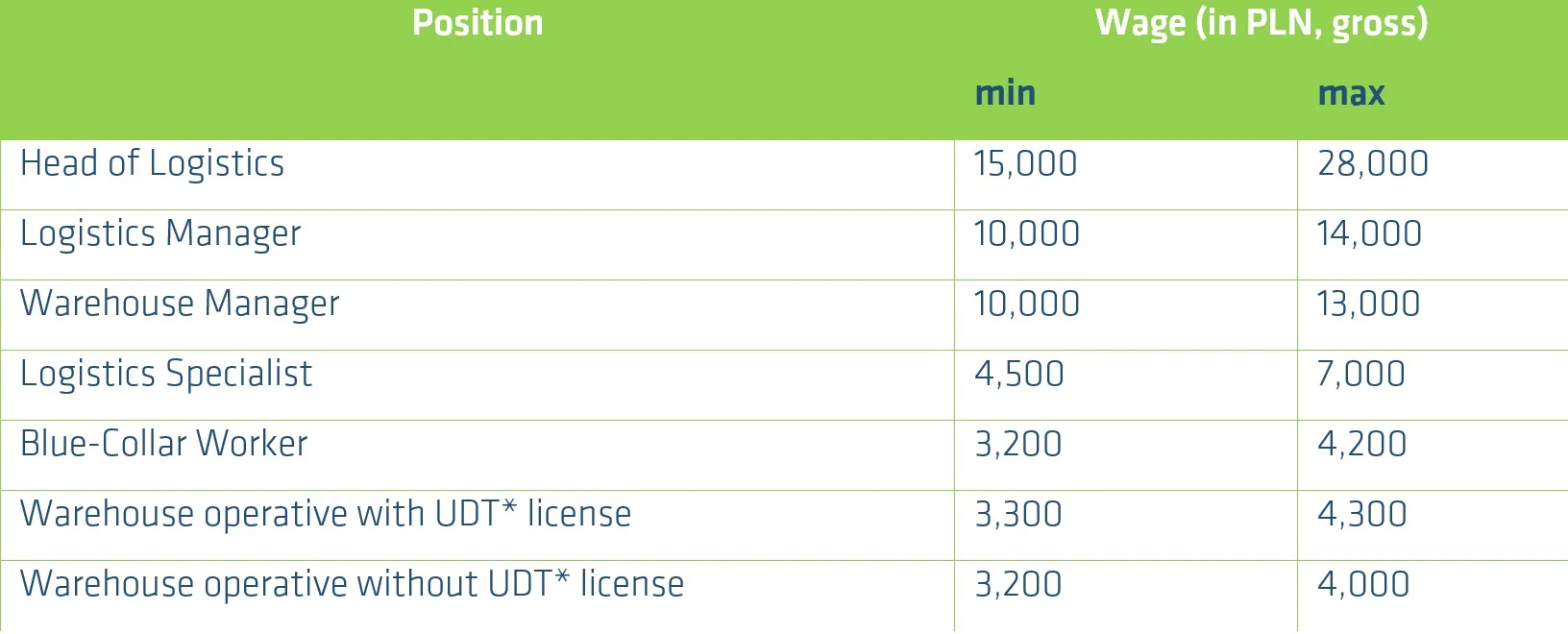 *UDT – Office of Technical Inspection
Source: Randstad, 1H 2022
Positive investment climate
Innovative logistics is one of the sectors of economy that has very good conditions to grow, and thus has been included in the Lublin Development Strategy 2030 as one of the city's priority sectors. According to City Hall's estimates, the sector provides employment to over 2,100 people in companies with at least 10 people. The largest businesses in the transportation and logistics industry in Lublin include Raben, Eurocash, Bury Sp. z o.o., Spiżarnia Sp. J., Poczta Polska SA Centrum Logistyki oraz Rohling SUUS Logistics SA.
Over the past 7 year the warehouse market in Lublin has grown dynamically. Until 2014, the total stock of modern industrial space stood at a mere 40,000 sqm, spread over many small units developed to cater the needs of specific clients. With the turn of 2014/2015, the situation started to change. Thanks to efforts of the then municipal Department of Strategy and Investor Relations, Lublin quite quickly became interesting for market leaders such as MPL Group and Panattoni Europe, while Stock Polska, which was already present in Lublin, entered into a partnership with Goodman to deliver a new distribution centre in the city. Subsequently, Lublin became a construction site for the first large industrial parks erected by renowned international developers. In 2021, 7R joined this group with its construction of a logistics and production park totalling nearly 110,000 sqm.
Incentives
For those considering investing in Lublin, the local authorities offer real estate tax exemption for a period of 2-3 years, depending on the size of the company and the investment parameters. This tax exemption applies to new investment projects pertaining to both greenfield sites and buildings constructed as part of the investment project.Of equal importance in the context of investment incentives is the level of regional state aid allowed in a given location. Investments in Eastern Poland are entitled to the highest tax exemptions, which can be up to 50% of eligible costs, while investors in Wrocław, Poznań oraz Poznań subregion can only receive aid of only 20%. From 1 January 2025 this level will be even reduced to 15%. What's more, according to the new state aid map for the years 2022-2027, Warsaw and its surrounding districts are completely excluded from this type of aid.
Investor-friendly city
The transformation Lublin is undergoing proves that its authorities care about creating preferential conditions for running a business, which is one of the key aspects for the development of our metropolis. The city's efforts were once again recognised at an international level, this time in ranking of European Cities and Regions of the Future 2022/2023 by fDi Intelligence, which examined cities with 100,000 to 350,000 residents. The city was awarded in the categories of FDI strategy and Business-Friendliness, ranking sixth and ninth respectively. For the local authorities, this is an inspiring award and something to be really proud of.
The Investor Relations Office of Lublin City Hall is, as the name suggests, an institution focused on assisting investors. The team provides comprehensive support for businesses in the pre-investment phase, during the implementation stage, and after the investment. The office is a one-stop-shop, which means its services are truly comprehensive. Each new investor is assigned a dedicated project manager who helps with the process from the very beginning, including assistance in finding a greenfield site, an office or a hall, delivering up-to-date economic data on conditions for running a business, investment incentives available, or establishing contacts between the investor and representatives of universities or colleges, vocational schools, potential business partners or local authorities. The scope of Investor Relations Office support also includes assistance in obtaining necessary permits, which fall under the jurisdiction of the Mayor of Lublin, or in marketing activities that streamline recruitment processes and raise awareness of the investor's brand on the local market.
The office consists of two teams of specialists, one responsible for supporting business services investors, and the other dedicated to industrial and warehouse projects. They are coordinated by the office head, who is also responsible for internal communication with other departments of the City Hall. Furthermore, the team is supported by a marketing manager, who is responsible for the promotion of us and the companies we serve.
In Lublin ,we act in line with the principle that no investor is left alone, regardless of the size of his company. The Investor Relations Office works according to standards set by business, on time, with the right commitment, and with the ultimate goal of building partner relations with the companies.
Summing up, Lublin is an attractive location for logistics companies, as its key assets include communication accessibility thanks to a growing express roads network, availability of talents and a business-friendly investment climate. Lublin is a place for both existing businesses to grow, and for new companies to move in. All of them can count on local authorities' support.