Lublin Municipal Labour Office invests in local business
Lublin voivodeship currently has the lowest unemployment rate (5.2%) since 1990. To a large extent, this is a result of constant efforts made by the Lublin Municipal Labour Office that for years has been implementing programmes and activities to promote employment, mitigate the effects of unemployment and assist investors in setting up a business through various financial and non-financial forms of support.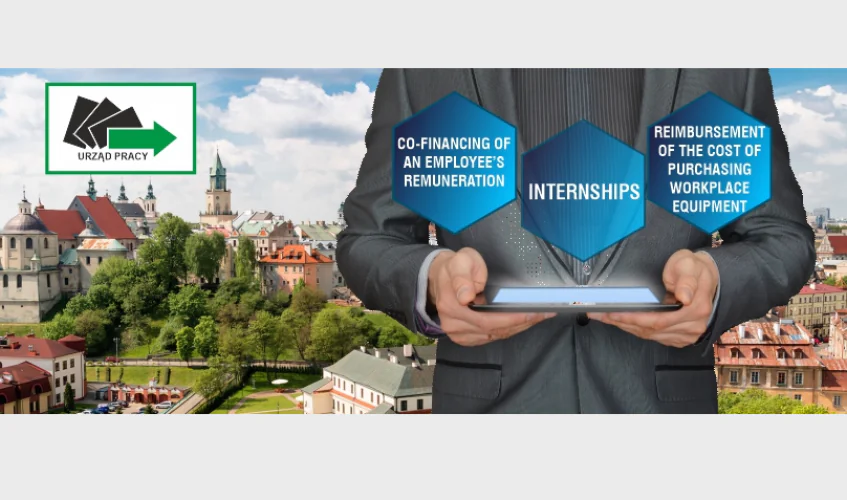 Last year brought positive results of measures undertaken to fight unemployment. More than 13.5 million PLN was allocated to support local businesses. Additionally, 34,098 entities received approximately PLN 215.5 million in individual instruments granted under the anti-crisis shield, introduced to mitagate the impact of pandemic.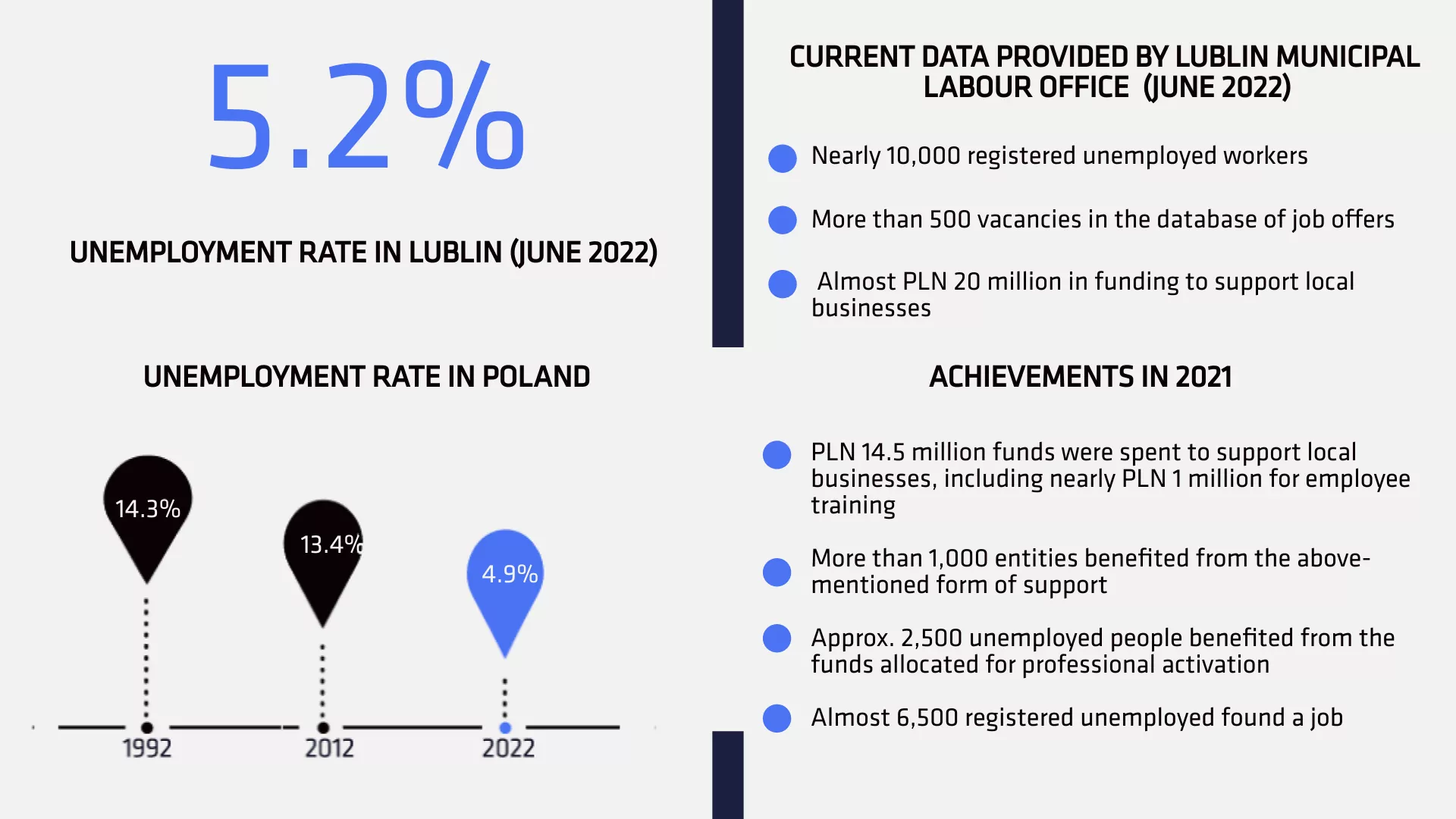 The Lublin unemployment rate has been steadily dropping for nearly a decade, which is a result of the city's solid economic growth and its attractiveness to foreign and local investors who in recent years have located their companies here. Even if we clearly experience the employee market, employers and business owners have access to a great source of talent pool provided by more than 60,000 students and approx. 10,000 technical and vocational pupils who are ready to take up jobs right after graduation. Recently the number of people registered in the Lublin Municipal Labour Office has increased, thanks in part to refugees from Ukraine. Currently, there are 9,646 registered jobseekers, with more to come due to collective redundancies at Sulzer Turbo Services Poland Sp. z o.o.  Over 130 highly qualified employees already are or soon will be looking for opportunities to return to the labour market. This is a great time for local businesses to hire experienced staff qualified in the field of quality control, maintenance, supply and warehousing, finance and administration, but also welders, assemblers, turners, and locksmiths.
Those who will decide to do so may apply for various financial and non-financial forms of assistance provided by the Lublin Municipal Labour Office.
Non-financial forms of support
Job placement services (Lublin Municipal Labour Office supports job-seekers in finding suitable work and helps employers recruit skilled workers for their business by posting their job offers in the Central Job Offer Database and providing on-the-job training services for potential employees),
Professional development and career advisory services.
Financial forms of support
Organisation of specialised courses and training for future employees, including courses and postgraduate studies taken up on the employer's initiative
In the case of hiring a significant number of the unemployed, the Municipal Labour Office may organise a specialist group training adjusted to the needs of the employer and related to the activity and technology required.
The Lublin Municipal Labour Office may finance the costs of employee training in the amount of:
– 80% of documented costs, however, not more than 300% of the average monthly salary per participant yearly.
– In the case of a micro-enterprise, 100% of documented costs, however, not more than 300% of the average monthly salary per participant yearly.
The aim of such training is to ensure that work-seekers are equipped with the necessary skills that are needed to close the skills gap and meet requirements of the labour market. In 2021, PLN 980,100 were spent on that objective and around 400 people benefited from it.
Organisation of internships
Internships are organised by labour offices, which redirect candidates to those employers who declared themselves willing to organise internships. A vocational internship can take 1-12 months. Its duration depends on the employer, age of interns and their registration status in a respective employment office. The amount of the grant corresponds to 120% of the current unemployment benefit.
Preparation of new workplaces
A subsidy can be offered as reimbursement for providing equipment for a work-stand. The amount of this reimbursement is limited and cannot be higher than six times the average monthly salary in Poland.
Intervention works
Due to the funds provided by the Ministry of Family and Social Policy, labour offices will also co-finance part of a wage of each unemployed person who participates in intervention works for up to 12 months.
Wage subsidies for employees aged over 50
If you hire workers who are 50 years of age and older, you may be eligible for a wage subsidy.
Moreover, there is a range of instruments dedicated to registered unemployed persons which enable them to:
Gain professional experience through referrals to internships or vocational preparation for adults conducted by employers,
Take up subsidised employment,
Start a business.
In order to take advantage of the three above-mentioned services and forms of support, it is necessary to register as unemployed and gather all the necessary documents specified by the Lublin Municipal Labour Office.