Lublin on the IV Polish Entrepreneurship Congress
Synergy, i.e. cooperation, was the main subject of the Fourth Business Congress organised on 27-28 October in Lublin. Several dozen panel discussions and debates were organised for over one thousand participants from different Polish cities. In the event, the most effective forms of cooperation between businesses, academia, and local government institutions were presented.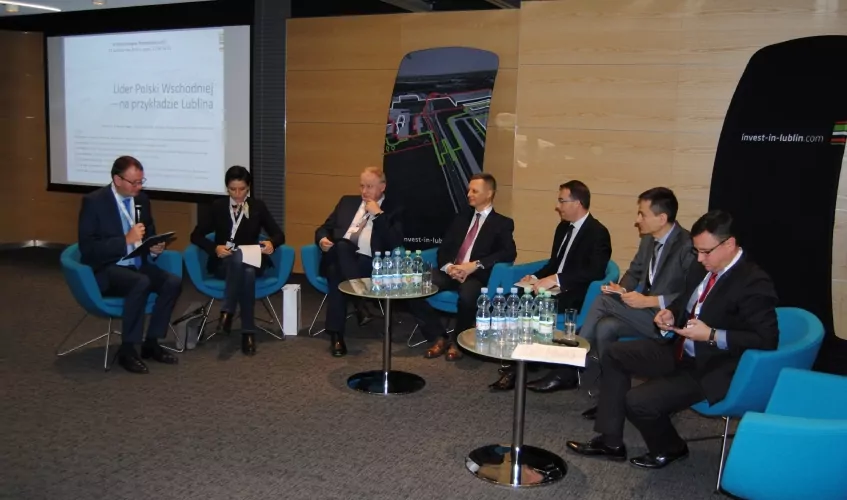 Lublin was not chosen accidentally as the venue for the event. Considerable scientific and academic potential that the citizens of Lublin show encourages companies to cooperate with universities. In the recent years, scientists have been cooperating closely with businesses. They have been working to their mutual benefit – businesses can hire experts specialised in specific fields and these professionals are provided with job vacancies matching their qualifications.
The first day of the congress was opened with a presentation entitled "Three Pillars of Polish Economy: Business – Science – Local Government" in which the Mayor of Lublin, Krzysztof Żuk, Ph.D., presented activities taken by the teams of Municipal Administration of the City of Lublin and gave examples showing how successful cooperation results in innovative development of the city. Furthermore, in the panel discussion entitled "Leading City in Eastern Poland – example of Lublin", the Head of Investor Relations Department, Mariusz Sagan, Ph.D. hosted a debate on Lublin – the 3.0 City, i.e. a city which is innovative and modern, where the quality of life is high, city infrastructure is citizen-friendly, ecosystems stimulate development of industry and services, and internationalisation ratio in higher institutions is constantly increasing. At the end, Michał Furmanek, Investment Marketing Manager in Investor Relations Department presented Lublin's investment marketing communication approach to international investors via Invest-in-Lublin.com.
"Lublin Start-up Meeting" panel discussion on running one's own business was held at the beginning of the second day of the conference. Actions taken in this field by representatives of Municipal Government Administration of the City of Lublin were presented by Marcin Kęćko, Mayor's Representative responsible for startups. Mr Kęćko introduced a 'Startup Lublin' project and 'Connect Start Platform' organised in Lublin Science and Technology Park. In the afternoon, conference participants attended session on Smart Cities. Sebastian Kawałko, Adviser to the Mayor, presented Lublin's aspirations to become a real intelligent city of the future.
The discussions held on the congress provided the participants with opportunities to share best practices and opinions on a variety of topics. In this two-day event, visitors from different Polish cities presented their views and learnt about mechanisms which could help their cities cooperate with academia and businesses more effectively.