Lublin's airport as engine of economic development
Airports are so much more than places to catch planes or do some duty-free shopping, they are among the largest investments a city can make. They facilitate trade, create jobs and generate revenue for the local economy. Today together with the commercial director of Lublin Airport, Marek Pierściński, we will take a close look at how the Lublin airport affects the economic growth and development of our city and region.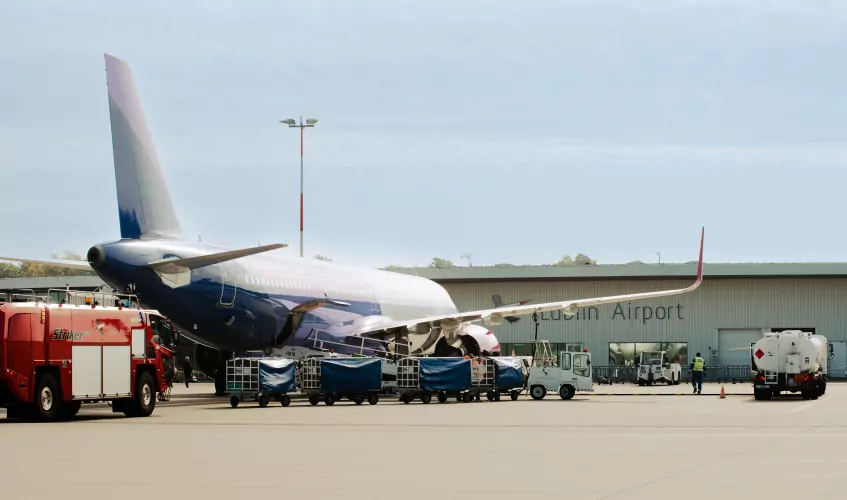 How does Lublin airport contribute to the regional economy? 
Lublin airport serves many various functions for the region, bringing quantifiable benefits to the locals and economy. It improves the quality of life of Lublin's residents, providing them with a wide choice of holiday destinations around the world and an affordable means to visit distant family and friends. The most important function of the airport though is its influence on the economic development of the region. Many foreign companies, while making a decision to locate their operations in a given city, consider how it is connected with the world. In other words, how fast they can reach their branches from the headquarters. The availability of the airport helps retain and attract investors to the city and thus provides jobs and economic prosperity. What is more, the airport generates the development of aviation-related business. The entire chain of producers and service providers is involved in servicing the airport, authorities and companies operating here. I believe that Lublin has a lot to offer for people coming here also for purely tourist purposes. Therefore, it is important to focus on inbound tourism, because it will benefit local producers, as well as the entire tourism, hotel and catering industries. The money left by visitors can be used for the further development of the region, improvement of its infrastructure, services and tourist offer.
Why do you think the location of the airport in the Lublin region is the right one? What is its advantage over other airports?
As I have already mentioned, the role of the airport is to improve transport and communication accessibility of the region. At the time when Lublin Airport was being built, it took over three hours to get to Warsaw by car. If investors from Frankfurt wanted to locate their business in Lublin, they had to first fly to Warsaw and then drive to Lublin, losing practically the whole day. Travelling by plane, even with a stopover in the capital, has significantly shortened this time. One of the great advantages of the Lublin Airport is its central geographical location in relation to all towns in our region. There are important national and international routes running through our region, just like the Berlin-Warsaw-Kyiv route that gives the citizens of Ukraine the possibility to travel, which is of great importance for war refugees, especially now when Ukrainian airports are not functioning. We are putting lots of effort into making our airport passenger-friendly. It takes literally several minutes to reach the terminal building from the car park, check-in and go through security control to the gate. Passengers can reach us by their own car, use the car park, which is very reasonably priced or by taxi, bus and train, which stops practically in front of the airport terminal.
What flight destinations are currently available from the Lublin Airport?  
We consistently work on building an offer meeting the needs of the city and the region, both for tourist, work and business purposes. Currently, there are regular flights from our airport to Dublin, London Luton, Oslo, Eindhoven, Warsaw and Gdansk. In addition, we successively expand our holiday offer. This year, the region's residents can relax in Croatia and Bulgaria, where we offer 2 flights per week each. Cooperation with travel agencies TUI and Coral Travel has also resulted in connections to Antalya in Turkey. There are three flights a week. The number of passengers choosing those options proves that this idea was a hit. Flights to the Polish coastal city of Gdansk have also enjoyed great popularity this summer. Due to huge demand, two carriers LOT and Ryanair operate them. We have plans to make this offer even wider in upcoming years. In the 2023 season, our customers will be able to fly to the Greek island of Rhodes. Of course, we also take care of regular connections. We know what the residents' needs are, but negotiations with carriers are not easy, especially at a time when air traffic over Europe has come to almost a complete halt for a year and a half, and the price of fuel makes airlines very cautious about launching new connections. Our task is to present analyses indicating that a particular route will be popular among customers. However, it is an airline that always makes its own decision considering not only the number of potential passengers, but also fuel prices, crew rotation, and maintenance costs.
How does the airport make money?
Each company would like to earn money on all the services it offers. Revenues of the airport can be divided into two components – aeronautical and non-aeronautical.
Aeronautical revenue comprises the majority of airport income and includes money that comes directly from carriers for airline landing and parking fees, access to airport infrastructure, and ground handling staff (baggage, passengers, toilets, water, cleaning). Non-aeronautical revenues also constitute a vital component of an airport's income and include parking revenues, space rentals, and sales of advertising space. However, these sources of income work only when there are flights and passengers. The pandemic times have shown that no connections means no passengers, and no passengers means losses in both revenue sectors. That pushed us to look for ways to create additional sources of income that are independent of passengers and will support the port's statutory operations. As a result, in 2021, we launched a cargo service. Recently, we have obtained another certificate that allows us to handle virtually any type of shipment. We also plan to create necessary conditions for aircraft maintenance. In order to generate additional income, we will have hangars for private jets as these become increasingly popular in Poland.
What does air cargo handling look like? What are the benefits of such services?
This is a very good question because not everyone understands the role of the airport and cargo terminal in the entire logistics process of delivering the product from a producer to a buyer. We only deal with a part of the entire process, but a very important part. The services we offer include acceptance of goods to a warehouse, if necessary, their storage for a fixed period of time, packages control in terms of documentation, safety and the possibility of loading them on a plane. Often, such shipments need to be consolidated on airline pallets so that they fit into the plane both in terms of size and volume as well as weight and pressure on the floor of the cargo hold of the plane. Recently, we have obtained permission to handle dangerous goods, the so-called DGR. This means we can transport materials that may pose a risk to health, safety, property or the environment, but only if they are either inadequately secured, their permissible quantity is exceeded, or if they are not properly separated from each other. The knowledge and experience of our staff allow us to avoid such situations. It is also worth mentioning that we handle not only the goods from the Lublin airport. If a shipping company plans to transport goods to an airport, for example, in Amsterdam, from which the shipment will then fly to Brazil, our airport can facilitate this process. Thanks to the fact that the parcel will be formally checked and introduced in the so-called secure supply chain, it will not have to go through all the procedures in the Amsterdam airport, which will significantly reduce costs and save time.
We know that the airport has been helping Ukraine. Can you please say a bit more about it?
Information about the Russian invasion of the territory of Ukraine encouraged us to immediately start preparations for extensive aid activities for the citizens of Ukraine. Multiple times we were organizing charter flights with passengers from Ukraine to European cities. We have also accepted planes with humanitarian aid for the war-torn country, and our staff was personally very involved in helping Ukrainian refugees. Ukrainian Post has used our cargo services many times, even sending parcels overseas.
How would you summarise activities of the airport from the beginning of its existence?
This year we are celebrating the tenth anniversary of the launch of the Lublin Airport. It was the most desired investment in Lublin. Today we can see that it fulfils its role in the transport of passengers, in the handling of goods, and being the main catalyst for the development of the region's economy. In July this year, we handled over 43.5 thousand passengers and 459 flight operations. This is the highest result since July 2017, when we compare this summer month from all the years. And it's a proof that the Lublin Airport is thriving. We develop new business segments, and I am convinced that the airport will serve future generations. Without the airport, we cannot talk about the development of the region, it is an absolute must-have.