Lublin – steel jungle where warehouses are made of
Compared to other sectors of commercial real estate in Poland, the warehouse market came out of pandemic almost unscathed. Many businesses were forced to switch from traditional channels to online sales, which is inextricably linked to the increased demand for warehouse spaces. Lublin responds to the situation on the market by delivering a total of ca. 170 000 sqm in developers' investments, either under construction, or in the planning phase.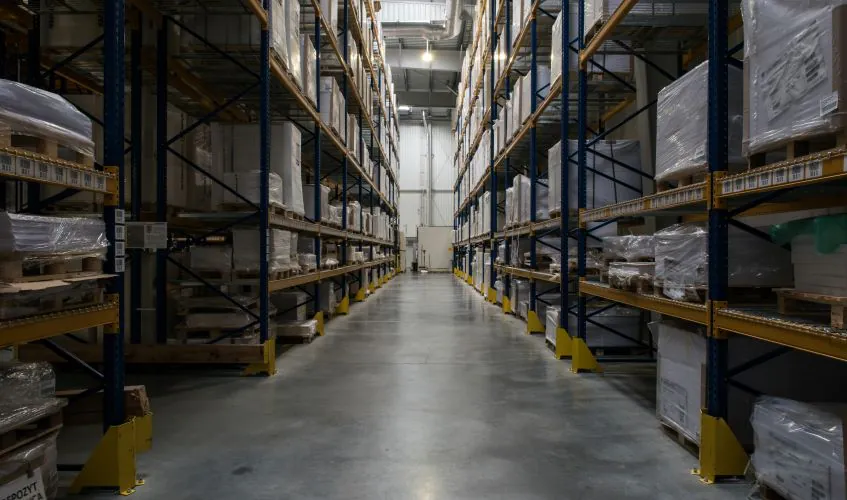 The biggest project planned in Lublin is a modern 7R Park Lublin logistics park of a total area of ca. 111,000 sqm. The park will offer multifunctional facilities, both spacious warehouses, spaces prepared for production, as well as small City Flex modules of about 2,000 sqm typical for projects located within cities. 7R's decision to choose Lublin for its new investment, which is the first project of the company in our city, was motivated by its attractive location in the heart of the Lubelskie Region, as well as by the perfect location of the selected plot in eastern part of the city, only 3 km from the ring road providing access to express roads S12 and S19.
(…) The enormous potential of this site results from the combination of its proximity to the city centre and its ideal connection to the ring road. Undoubtedly, these factors guarantee the success of our project on this very promising market"1– says Wojciech Kosiór, Director, Head of BTS & Integrated Services at CBRE, who advised the developer on the analysis of the economic potential and selection of location for this specific project.
New reality on the map of warehouse locations in Poland
Without a doubt, location is one of the critical factors that determine the choice of a site for warehouse construction. Until recently, developers' interest in locations outside the five largest regions, the so-called "Big Five" (Warsaw, Central Poland, Lower Silesia, Poznań, Upper Silesia) has been somewhat limited. However, with the rapid development of road infrastructure on emerging markets and the growing challenges of recruiting staff in Poland's largest agglomerations, locations like Lublin are becoming increasingly attractive for lessors. What is more, the global lock-down caused by the pandemic, closed borders and the unprecedented shift to online shopping have led to a shortening of supply chain. This is clearly an opportunity for growth of local markets.
Lublin closer and faster than ever
In a report entitled "Small town, big deal"2 drawn up by JLL, Hillwood and Manpower in October 2019, experts assessed warehouse and industrial locations in Poland taking into account 5 criteria that are crucial for the selection of an investment site in this particular industry. Lublin ranked very well in terms of labour market and regional competences (both 100%), as well as financial conditions (80%). To be fair, though, the city scored below average in transport and accessibility (40%) and maturity of the market (also 40%). The authors of the report think, however, that bearing in mind investments in communication infrastructure (mainly roads) to be completed within a couple of years, cities in Eastern Poland, including Lublin, will certainly gain in importance.
For Lublin, the most significant road investment is the construction of S17 express road from Lublin to Warsaw, the last section of which is scheduled for completion in Q3 2020. The availability of this connection will be essential also in the context of reduced delivery times for the logistics industry. Another crucial communication route is S19 express road, which connects Lublin with the south of Poland, including Rzeszów. The road is part of the Via Carpatia pan-European transit corridor creating the bridge between the north and south of Europe, from Lithuania via Białystok, Lublin, Rzeszów down to Greece. The new infrastructure will effectively connect Polish cities and regions with the rest of the country, with Europe and the world.
Positive investment climate in Lublin
The last of 5 criteria analysed in the report was an attempt to assess a soft, but still relevant factor, namely the investment climate. The subjective assessment was made by JLL experts who work daily with companies that seek new premises, developers, owners of investment sites and local governments. They evaluated general conditions for the implementation of investment projects in a given location, especially considering the speed and ease of completing an investment process, as well as the attitude of local authorities towards new investors. The locations with the best investment climate in Poland include Stryków, Olsztyn and Lublin, while the most difficult conditions for investing are observed in Warsaw and Cracow.
The future belongs to Lublin
In view of the dynamic growth of Eastern Poland, it comes as no surprise that many businesses are increasingly interested in investing in Lublin. According to Artur Malarski, Director of Contract Logistics at Rohling Suus Logistics, who spoke to rynekinfrastruktury.pl, there is a growing interest of logistics companies in smaller, previously overlooked locations. The case of Lublin is a perfect confirmation of this trend.
Favourable geographical location of Lublin together with attractive rents for warehouse space generate increased importance of this region in the context of the whole country"3– adds Artur Malarski.
The authors of the "Small town, big deal" report also share the opinion that with the development and modernization of economy, the demand for modern warehouse and industrial space will be generated in ever smaller locations.
E-commerce as a driving force behind the growth of the warehouse market
According to the report "How to get the hang of e-commerce in warehouses"4 by Cushman & Wakefield, which presents the market situation before the epidemic, the Polish e-commerce market records an annual growth of 18%, which means it is developing better than in any other country in Europe. In Poland 21 online stores are created every day, and their total number has just exceeded 30,000. Before the unforeseen global economic downturn we're struggling with now, market analysts estimated that in 2020 Poles will spend online as much as PLN 70 million, compared to PLN 50 million last year. According to data from the Polish Payment Standard, which created the BLIK mobile payment system, in some sectors online sales recorder a staggering growth by more than 200%.
As the results of the C&W report reveal, factors like cost-attractive labour market and a relatively low share of online in total retail sales compared to a European average, will contribute to a steady growth of e-commerce in Poland. As a result, this sector will have a growing influence on the warehouse landscape, increased demand for logistics space, as well as higher requirements for the technical specifications of facilities, equipment and automation.
Additionally, smaller modules ranging from a few hundred to a few thousand squared metres (so-called "city logistics"), which are located within city borders, will gain in popularity. Such facilities offer multifunctionality and can serve as warehouses, centres for handling returns or order picking points. A small warehouse in the city can be also used as a showroom, or even as a centre for value-added services or light production. It is exactly this type of warehouse space that will be developed in Metalurgiczna Business Park in Lublin, which will be a modern park offering its tenants 11 modules of a total area of 1,000 sqm each, fully adapted to the customers' needs. The park is scheduled for completion in Q3/Q4 2020, and is developed by a local company J.J.K. Property.
According to the authors of the report on e-commerce in Poland, a change in approach and automation of processes are necessary, but they will rather supplement manual processes than be an alternative for human work. Additionally, majority of experts and representatives of developers and operators interviewed for the needs of the report claim that the number of required employees will rise. E-commerce operations require a considerable commitment of human resources, at the same time are subject to enormous employment fluctuations, sudden changes in demand and seasonal peaks. In this context, new locations beyond Central and Western Poland will gain in popularity because of their competitiveness in terms of availability of human resources. Lublin is the largest city in Eastern Poland with the population of almost 340,000 citizens. More than 61,000 students at 9 universities and colleges translate into around 17,000 graduates entering the job market every year. What is more, the employee turnover ratio oscillates around a few percent, whereas in Central and Western agglomerations is sometimes close to 30%.
Modern warehouse space market in Lublin
Let's take a look at the situation on the modern warehouse space market in Lublin these days. With about 194,000 sqm Lublin is Eastern Poland's leader in terms of existing warehouse space. This market has been growing dynamically for the last 5 years, when developers of warehouse and production space like Panattoni, MLP or Goodman recognised Lublin's huge potential of growth, which resulted in the delivery of over 150,000 sqm of modern space in this period. At present, in Lublin there are ca.170,000 sqm of warehouse and production space, which is either prepared or under construction. A considerable part of this space is prepared for the needs of the logistics sector. In a newly developed Panattoni Park III at Mełgiewska St, PEKAES SA, the leading logistics operator in Poland, decided to open a modern terminal as part of continuous expansion of its distribution network. Another hall, which is still under construction, will soon house another logistics tycoon InPost, which will open its sorting facility of a total of 8,100 sqm.
Although the total area used by e-commerce in Lublin is relatively low (only 3% of the total warehouse space on the market), it should be stressed that 100% of developers interviewed in the Cushman&Wakefield report believe that companies representing the e-commerce industry will open their facilities in new locations in the next few years (55% – rather yes, 45% – definitely yes), including in Lublin.
Investments in express roads linking eastern cities and the rest of Poland are opening the door to success for locations like Lublin, Białystok, Olsztyn and Kielce. Warehouse developers remain optimistic about the outlook for these markets. The planned road investments and connections with cities in eastern Poland are boosting the confidence of entrepreneurs and international companies in this region"5 – says Urszula Rasmussen, Senior Negotiator from the Industrial & Logistics Agency at Cushman&Wakefield summing up the results of the report.