Mayor of Lublin handed over the Economic Awards
Ten companies were awarded this year's Lublin Mayor's Economic Award. The statuettes were handed over during the 10th Jubilee Entrepreneurship Gala, crowning the competition.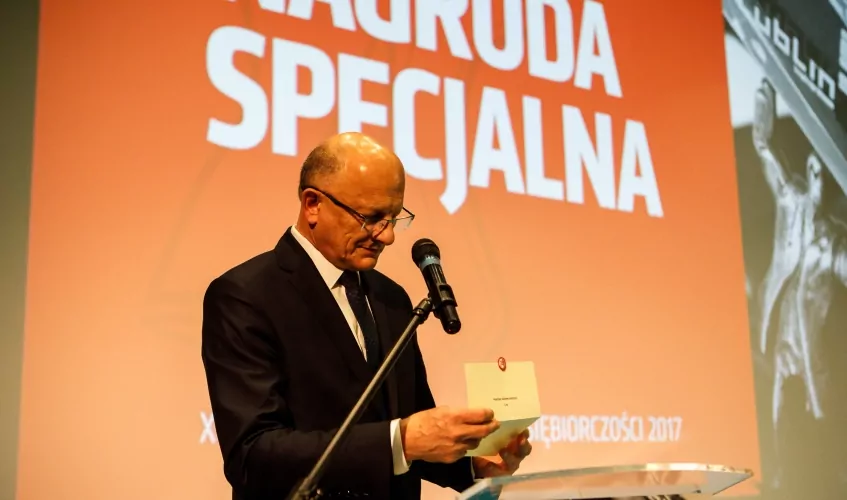 In this year's edition, Lublin's entrepreneurs were awarded in 5 categories.
INNOVATION: Instytut Genetyki i Immunologii "GENIM", and GT85 Polska (honourable mentions)
GLOBAL MARKETING STRATEGY: Modern-Expo (main award), Aliplast (honourable mention)
YOUNG COMPANIES: C2C, KS engineering technology (honourable mentions)
LARGE COMPANIES DRIVING THE CITY'S ECONOMY: PERŁA – Browary Lubelskie (main award) and PKO BP, Sii (honourable mentions)
SPECIAL AWARD: Lubella
Traditionally, the awards have also been granted to the authors of the best diploma papers and the best employers. The aim of the competition remains invariably to promote enterprises which are characterised by stable development, excellent financial results and at the same time act transparently also for the benefit of their environment. Over a decade more than 400 companies from Lublin have entered the competition, and more than 60 of them have been awarded. The common denominator of all of them is to contribute to the development of Lublin's economic potential.
Winners of the Lublin Mayor's Economic Award in particular categories of selecting the Competition Chapter, composed of representatives of the business community, the world of science, media and local government.