Phlexglobal – flexible TMF experts with a global reach
Phlexglobal is a worldwide leader and specialist in the provision of local and global technology-enabled eTMF (electronic Trial Master File) document management solutions and support services. It offers a unique combination of expert clinical trial knowledge, document management skills, regulatory understanding, technical expertise and training to deliver clinical research support solutions to the pharmaceutical, biotechnology, medical device, CRO and healthcare industries. With the headquarters in the United Kingdom, the company has its branches in the United States and Poland (Lublin).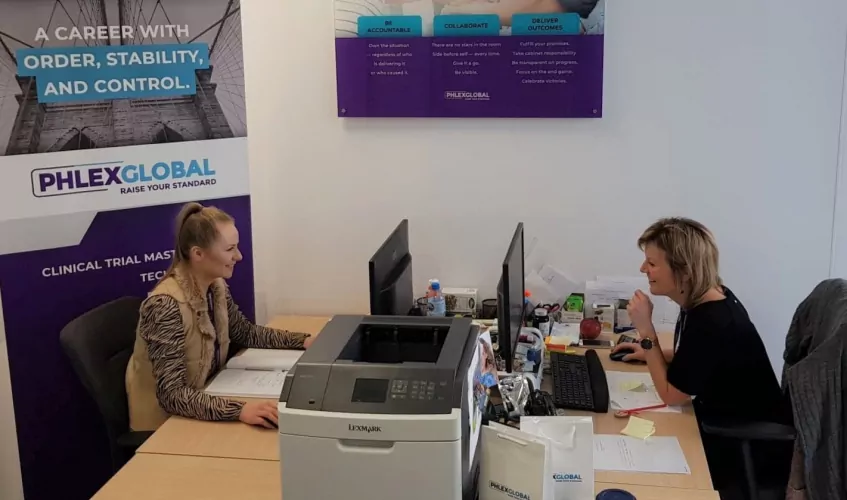 Phlexglobal opened the Lublin branch in May 2016, and it is located in an office building at Szeligowskiego Street. In the beginning, the headcount was 20 people. Today, with 110 employees on board the company is planning further employment in 2020.
Why did Phlexglobal choose Lublin? Several factors played its role, including convenient air connections from the Lublin Airport in Świdnik with the headquarters in the UK, availability of qualified university graduates fluent in foreign languages ​​and the readiness of local government authorities to provide specific investment support in locating Phlexglobal in Lublin.
The company offers its employees a package of additional benefits, including private healthcare, MyBenefit programme and extra insurance. In addition, English and Spanish lessons, as well as opportunities for professional training in the UK are other perks the employees can expect.
What does Phlexglobal do?
Phlexglobal provides a unique balance of document processing expertise, scalable global resources, and advanced technologies to ensure medical documents are processed according to the time frame and SOPs. Highly precise and efficient end-to-end process for scanning, indexing, and remapping clinical research documentation incorporates thorough quality control and compliance checks at every step. The company has established the industry benchmark for the efficient and accurate processing of electronic trial documentation. What's more, a key component of Phlexglobal's document processing services is the experience in the remapping and indexing of TMF documents. Whether consolidating multiple sources, structures, and file formats to a single TMF utilizing the TMF Reference Model, converting paper documents to a compliant eTMF, or adding additional filing structures and indexing metadata for greater search granularity, Phlexglobal has the right expertise. Regardless of customers' records retention needs, the company provides highly secure and reliable options compliant with the latest regulatory mandates, allowing for ready access to secure short-term records and ensuring that long-term TMF archives can be retrieved according to applicable regional directives.