PKF Poland enters Lublin market
In today's dynamically changing world, business management has taken on a whole new dimension. Effective operations of an organization requires specialized knowledge from various fields. Businesses not only have to keep up with the development of the economy and clients' needs, but also with the constant legal, tax, economic and technological changes. Due to the complexity of regulations and the dynamics of their modifications, companies more and more frequently work with external advisors.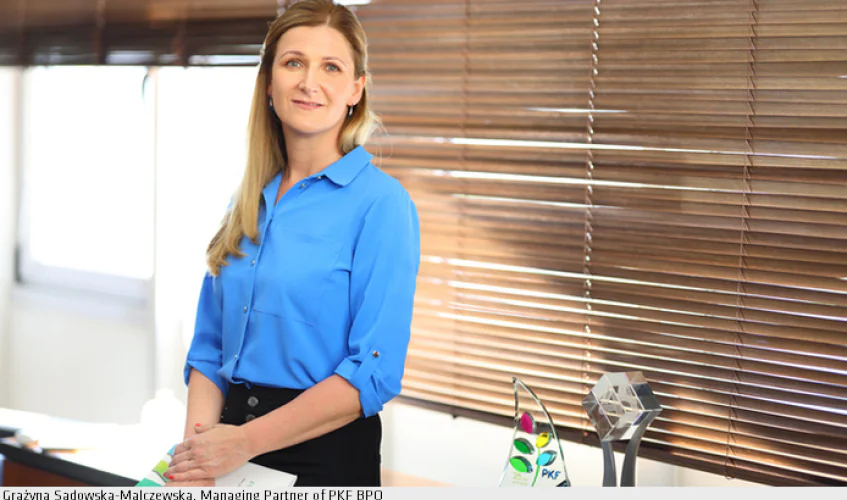 Such assistance is provided by PFK Poland, one of the largest auditing and consulting companies in Poland. The firm started its operations nearly 30 years ago in a small Warsaw office. Since then, it has not only expanded the range of provided services, but also the geographical scope of its activity conquering new markets. PKF Poland has its offices in Gdańsk, Warsaw, Łódź, Wrocław, Opole, Katowice and Poznań, and since recently also in Lublin!
We had a chance to talk with Managing Partner of PKF BPO Grażyna Sadowska Malczewska about the company's recent milestone – a newly opened branch in Lublin. We will find out why the company decided to choose our city as a new investment destination and how it will affect Lublin's development and increase employment opportunities.
PKF is one of the largest auditing and consulting companies in Poland. Please tell us a bit more about the services you provide. 
We are more than an auditing and consulting company. We call ourselves a multidisciplinary business partner. For 30 years, our teams of experts, including auditors, certified accountants, human resources managers, tax advisers, lawyers, legal advisers, and financial analysts, have supported entrepreneurs in making strategic decisions.
Our goal is to comprehensively support the implementation of effective business strategies as well as strengthen the competitiveness, innovation, and credibility of enterprises. We are here to support the transparency of Polish businesses and build trust that will translate into the economic situation of Poland. We operate in the largest cities of Poland, such as Warsaw, Łódź, Poznań, Wrocław, Opole, Katowice, Gdańsk. In the fall of 2021, we opened the eighth branch of our company in Lublin.
 What made you decide to open the new branch in Lublin?
I am glad you ask. There were various factors that determined the choice of Lublin. When deciding on the location of the new office, we analysed economic data about individual cities in Poland. Lublin's results and achievements in this respect are superb.
It is impressive that Lublin took sixth place in the category of acquiring direct foreign investments and ninth place in the category of business-friendliness among European cities with a population of 100-350 thousand. Lublin ranks first in the country in terms of capital expenditure per person. The city's investment expenses from 2010 to 2018 amounted to as much as PLN 3.5 billion! Lublin's economy is developing dynamically, as evidenced by the fact that over 1,000 new companies register their business here annually. The last statistics known to me show that the city boasts over 50,000 registered companies. Additional important factor, that determined the choice of Lublin were inhabitants and the scientific base. More than half of Lublin's citizens are under 40, and almost 2/3 of the population is in the working age. There are over 60,000 students in Lublin and 15,000 graduates from 9 Lublin universities each year. Many of them look for opportunities to gain work experience. Lublin's labour market is a market of people who are young, ambitious, highly qualified, and willing to work.
There is one more thing that is worth emphasizing, that Lublin can be proud of, namely the reputation of Lublin's universities, including Maria Curie-Skłodowska University, Lublin University of Technology, Catholic University of Lublin, University College of Entrepreneurship and Administration, or University College of Economics and Innovation.
All the above factors persuaded us to open our new branch in Lublin. We believe that the city gives us a very good foundation for the development of our business in this region. At the same time, we are sure that we will attract valuable employees here in Lublin, with whom we will develop the local market.
What conditions, in your opinion, must be met in order to successfully implement and develop the company's strategy in Lublin?
Currently, there is an outsourcing line for bookkeeping, human resources, and payroll, as well as financial and management accounting in Lublin. Preparations are underway to launch new business lines so that we can provide comprehensive services in Lublin. We are aware that nowadays the stationary provision of services is no longer necessary. Nevertheless, we would like to be close to our clients and work as a team of experts from many fields.
We want to systematically build awareness of our brand on the Lublin's market so that we can be recognized as a reliable business partner who delivers comprehensive services. We are aware that this is a time-consuming process and the portfolio of companies that trust us will not appear immediately.
An important determinant of success for us will be the acquisition of appropriate employees and experts, as well as focusing on their development. Our motto at PKF is: "People create success, therefore we care about your development". It is not the logo and the name of the company that deliver services to our clients and provide them with added value. We believe that people – our experts – are behind every, even the smallest, success. That is why we invest our time, energy and, let's face it, our finances to attract good employees and train them.
What competences in terms of employment are you looking for among your employees? Could you indicate specific fields of study, graduates of which are welcome in the company?
We are a team of experts. We employ over 200 employees all over Poland. Some of them joined us taking their first professional steps, while some have many years of experience gained in other companies. We employ experienced economists, accountants, financiers, lawyers, and tax advisers in senior positions. Completed studies in finance, law and management are an asset among younger candidates, but it is definitely not a decisive condition. It is important to have the right attitude and willingness to learn and expand knowledge. We offer and finance numerous courses and professional training, as well as language learning. I would like to emphasize at this point that a large part of our employees, including the current managerial staff, gained their experience in our company starting immediately after graduation, and then being promoted to higher and higher positions. We have many employees on board PKF with over 20 years of experience. We highly appreciate the employees who took their first professional steps in PKF, developing and gradually taking the next steps in their career ladder. We hope that we will also recruit such ambitious people in Lublin and that in a few years we will celebrate their next jubilees with PKF.
We are glad that Lublin's graduates will have a chance to gain experience in such a prestigious company. Please tell me about the employment levels planned for in the Lublin branch?
In Lublin, we launched an outsourcing line providing accounting, HR and payroll services, and management accounting, i.e. broadly understood support for business processes. This year, we are developing the department of financial reporting projects for audited companies, including listed companies. We are looking for people who have graduated, for example, from professional accounting technical schools, as well as university graduates, and novice specialists who want to broaden their knowledge and gain experience among professionals. Recently we employed 4 people, and we keep accelerating. As I mentioned earlier, the departments of other PKF business lines are already being launched in order to expand the range of our services in Lublin with tax and legal consulting, auditing of financial statements, and economic consulting.
We create jobs for inhabitants of the region and graduates of local universities. Considering how good universities Lublin prides itself on, the benefit will be mutual. We give young people a chance to stay in the city and develop their careers, we provide them with our know-how gained over 30 years. In return, we will have well-qualified employees who will help us provide the best quality services. We believe that we will recruit specialists who, having gained experience with us, used our knowledge and technology, will  join the managerial staff in local enterprises in the future. Together, we can develop the Lublin region by reducing unemployment, developing the local economy and innovation – working together for success.
Thank you for your time.