PolSource – Salesforce Cloud Technology Partner
PolSource has its roots in Kraków, but its range can be proudly called global. It provides IT services for the world's leading brands in the sales, automotive and electronics industries.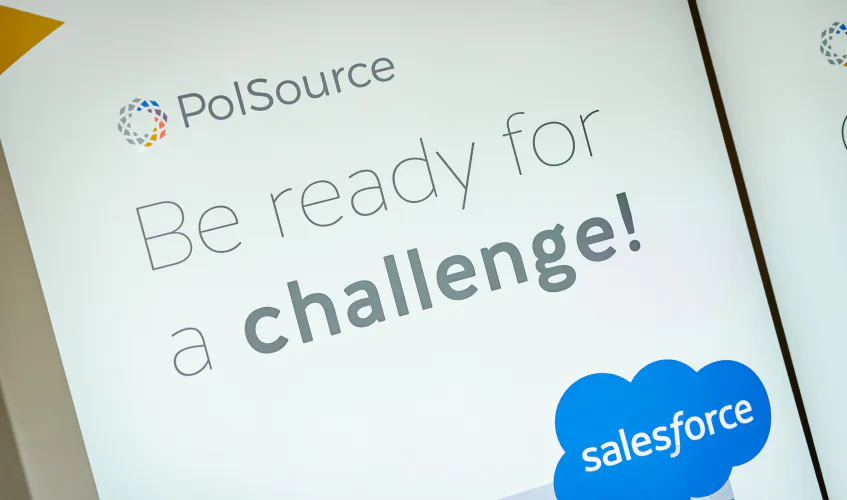 PolSource is a Polish IT company, founded in 2005 with offices in Poland and the United States. The company operates also on the British market, where it employs specialists in sales of services and management field. The company's activity is based on creating IT solutions for business using cloud-based Salesforce technology, of which we are an official Platinum Partner. Therefore, we have a tool available in every place on Earth and enriched with all the components needed to build a comprehensive application. This is what attracted to us global brands such as eBay, Volvo, Spotify, Converse, Nike, and Sony PlayStation.
The Lublin office was established in 2017. Initially, I worked remotely alone, but soon, a few good programmers, who were ready to take up exciting challenges offered by PolSource joined us. This is how a small team was formed, and then grew to almost 30 people. Projects in our company are conducted globally, which means that specialists from different locations are assigned to each of them. This makes that PolSource employees must have extensive IT knowledge as well as the common use of English, demonstrate communication skills while talking to clients, or support work teammates responsible for more business roles (Project Manager, Business Analyst, etc.). The multitude of orders allows us to make real plans for new jobs soon.
Lublin turned out to be an excellent location for investments due to its dynamic development, also in the IT sector. Apart from that, the city's great asset is the rich academic background. We cooperate, among others, with the Lublin University of Technology – we conduct lectures and workshops on IT faculties to familiarize students with Salesforce technology. For the best, we offer paid internships, which usually transform into permanent cooperation. We also acquire talents among IT enthusiasts during boot camps.