Productive Edge with safe harbor in Poland
A short while ago, the government program Poland.Business Harbor thanks to its great popularity among foreigners has been extended to include all countries in the world. There are numerous success stories of companies that managed to relocate their operations to Poland due to the facilitated visa path available within the program. Today we will take a closer look at one of them – 'Productive Edge' that even though it has only recently entered the Lublin market, it's already thriving!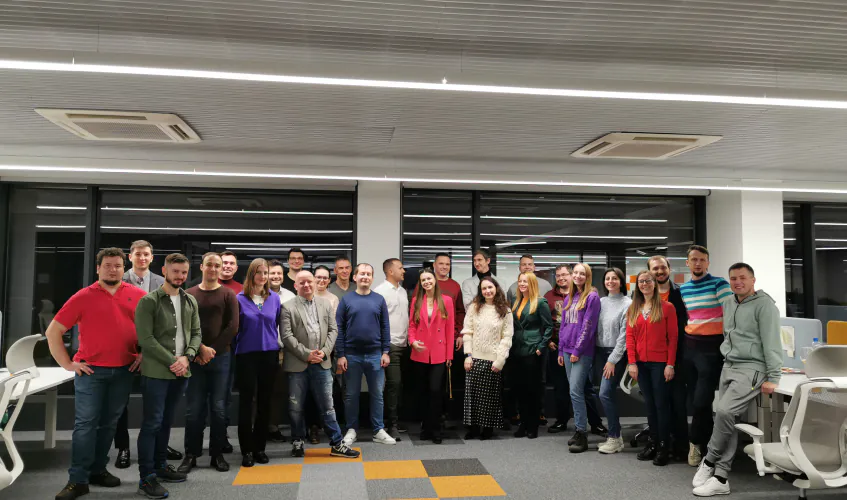 Productive Edge is an end-to-end global digital strategy consulting and engineering company that was founded in 2008 in Chicago, Illinois. Since then, it successfully cooperates with companies and their leaders to reimagine and transform their business with best-in-class technology solutions. The company provides solutions for businesses operating in a variety of verticals including healthcare, retail, financial services, education, and travel and has worked on some of the largest enterprise software implementations in the world cooperating with companies such as Vitality, Humana, Medela, Microsoft, Cleared4, Bamboo Health and much more.
In 2021 we established a business entity in Poland. The key differentiator was the Poland.Business Harbor program launched by the Polish government in 2020. At that time we did not have strong plans related to Poland. However at the beginning of 2022, it became obvious that we couldn't continue business in Belarus, and at the same time we still had dozens of brilliant engineers in Belarus and we could not leave them. It appeared that many of our employees did not have visas at that time and it's how we met professionals from the Polish Investment and Trade Agency (PAIH) who supported businesses during the relocation and had a fast-track P.B.H. program. Thanks to that we were able to provide visas to all our Belarusian employees and their families; many of them are already part of the PE Poland family and we're expecting more to come! says General Manager at Productive Edge,  Nadia Svirnovskaya.
Until recently the biggest development center was located in Belarus, but the company was forced to relocate their operations and decided that Poland or more precisely Lublin with its dynamic IT ecosystem in the east of the country would be a perfect choice. The new location supports the company's national growth and expansion as it continues broadening its digital business consulting and technology solution offerings.
Many companies go to the big cities and then face different issues as well as their employees: high prices for office lease and the inability to find a good office in the city centre, high prices for renting apartments, a long commute to/from the office and constant traffic jams, high competition in the labour market, lack of government support. We wanted to prevent these challenges and were looking for a fast-growing city, with good economic potential. Key factors for us were: good city infrastructure, economic potential, capacity of real estate market, quantity of universities and labour market potential. After deep analysis, we chose Lublin as the headquarter for our PE Poland company, explained  Nadia Svirnovskaya.
Currently, Productive Edge employs 65 talents in Poland and more than 250 talents worldwide specialising in Enterprise Custom Software, Modern Mobility, Artificial Intelligence, Cloud, Digital Experience, Blockchain and Virtual and Augmented Reality, and they are still hiring. The company is looking for talents who will grow and develop together with an international team in its newly opened office in Lublin, offering them numerous benefits like competitive salary, education and career-growth opportunities, as well as flexible schedules, and remote work options.
We believe that behind the success of every company stand the people that create it, we take care of our employees, offer them numerous development opportunities, help them to grow and grow as a company with their support. We are currently hiring for numerous positions. We  are particularly looking for Java, .Net developers and QA engineers. Because of our global nature and international environment, we are open for applications from all over the world and at all of our locations. Nevertheless, we hope to find good candidates here in Lublin, so we can create a team that can cooperate and bond while seeing each other at our modern and cosy office, says  Nadia Svirnovskaya.
The positive working environment at Productive Edge provides opportunities for up-and-coming young professionals to further the impact of emerging technologies on businesses around the world. Over the past several years, Productive Edge has been cooperating with universities and their students, giving them opportunities for growth and development through dedicated internship programmes. Similarly, Productive Edge emphasises the importance of hiring recent college graduates as full-time associates.
We're hoping to partner with Lublin technical universities to attract young talents to our company. Recently we launched a 'Testing Academy internship program' in our nearshore office and it was very successful. We already hired 5 graduates who successfully accomplished a 3 months intensive practical program! With the support of local Universities, we're counting on organising similar internship programs here in Lublin for students and graduates who are seeing themselves in the IT industry, stated Nadia Svirnovskaya.