PwC expands its presence in Lublin with launch of Financial Crime Unit
PwC's Financial Crime Unit (FCU) competence centre is expanding to Lublin, with plans to hire 300 people by the end of 2025. The FCU supports PwC's clients from all over the world in countering money laundering and terrorist financing.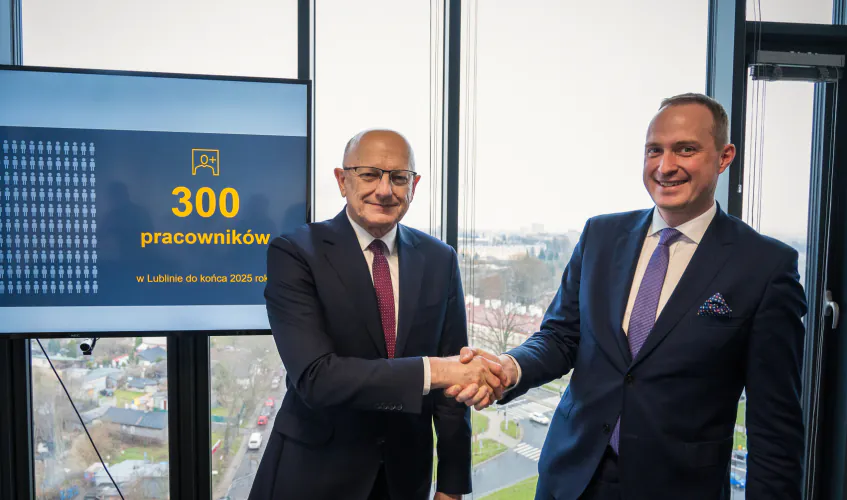 A strong academic environment, immense potential of Lublin's IT industry, and the city's professional support in investment processes are driving forces that attract investors in the business and technology consulting industry to Lublin. The opening of another branch of a recognizable and reputable brand such as PwC confirms that efforts made by the local government to build a business-friendly climate, bring expected results. This is PwC's second investment in our city, following the technology services branch, says Krzysztof Żuk, the Mayor of Lublin.
The projects carried out in the FCU are very diverse and are conducted for both large, global banks and smaller local financial institutions, including Polish ones. The FCU experts provide specialized consulting services to ensure that banks comply with current and new legal regulations. These activities involve developing and implementing policies, procedures, and complex operational models. Additionally, the FCU offers operational support services to clients in the banking sector. This sector is an important part of further sustainable economic development, reflected in the continuing growth of PwC FCU. This time we have expanded our operations to Lublin, says Bartłomiej Styrnik, PwC Poland partner, Financial Crime Unit.
PwC FCU specialists assess the potential of banks to be exploited for money laundering and terrorist financing using methods such as Know Your Client (KYC). Additionally, they detect suspicious transactions using Transaction Monitoring, ensure banks comply with sanctions from international organizations, and identify individuals at risk of corruption, including those holding politically exposed positions. The FCU's technology group combines their expertise in financial crime prevention with technological solutions to enhance the effectiveness of its operations.
Working at the FCU involves projects related to information acquisition and data analysis. Our employees are part of truly interdisciplinary and international groups of consultants. We prioritize improving their skills and providing opportunities for growth and advancement. What is more, the growing importance of the FCU in the PwC network, provides great opportunities for development and career progression. The team aims to grow further, which resulted in the establishment of a new branch in Lublin, where we plan to employ at least 300 people in the upcoming years, says Hubert Skotkowski, chief operating officer of the Financial Crime Unit at PwC Poland.
The FCU uses various IT tools such as those provided by artificial intelligence to scan and evaluate datasets, and presents analysts with relevant information related to financial crimes or terrorist financing. PwC recruits professionals with experience, as well as graduates and students from various fields of study, such as law, linguistics, or economics. The FCU has its own developed system of training and certification, so specialized knowledge in AML is not required from candidates. The FCU employs people from Poland and other European Union countries, as well as India, South Africa, and the USA. Due to the international environment and numerous projects conducted for foreign clients, English is the dominant language within the team, and its proficiency is a basic requirement for candidates applying for a job at the competence centre.
Lublin holds immense potential, with over 60,000 students, most of whom are fluent in English. This is essential for working in the FCU PwC team. Our employees undergo a specialized training program to acquire industry-specific knowledge, covering topics such as digital crime, virtual currency risks, and the use of specific software and tools. Moreover, the Financial Crime Unit assists employees in obtaining international certifications, says Maciej Dudkowski, PwC Poland Manager for the Financial Crime Unit and leader of the Lublin office.