Support during hardship. Meet Philip and his #TalkToPhill initiative.
Phillip, a recruiter from Lublin, supports people who lost their job due to the coronavirus crisis and helps to increase their visibility on LinkedIn. His tools are a camera, social media and a friendly conversation The current epidemic in Poland results in dramatic changes on the labour market. Increasingly more people are laid off despite their extensive experience and high qualifications. Phillip Poynton works as a Senior IT Recruiter at Lublin-based PwC IT Services, and his main responsibility is the recruitment of Salesforce professionals. For more than a week already, we have been observing his LinkedIn initiative called #TalkToPhill (PL #PogadajzPhillem), which aims to present people together with their experience and share their profiles with fellow recruiters and businesses that are hiring. Phillip's interviews are a kind of a résumé, which helps recognise talents and qualifications of interviewees.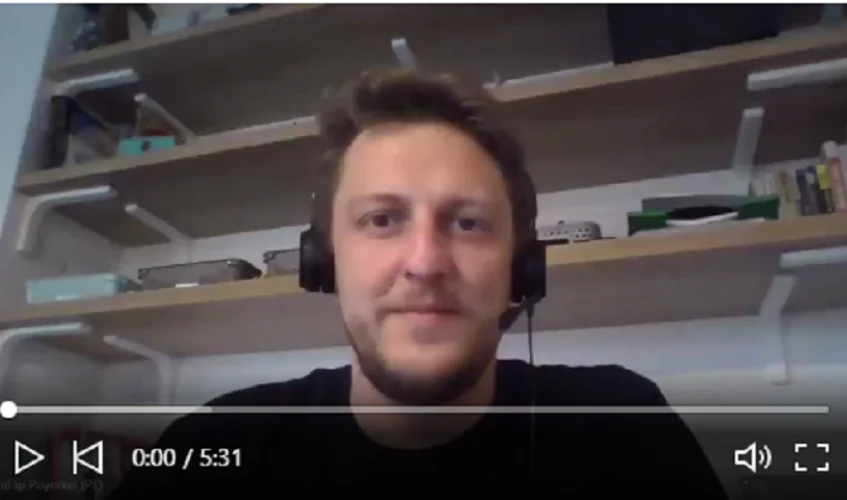 Investor Relations Office: What is your series of interviews #TalkToPhill really about?
Phillip Poynton: First of all, thank you for your interest in this initiative. The idea behind #TalkToPhill obviously came from current developments on the job market. For more than 10 years now I've been active in recruitment, advising on how to find the right people, or simply helping friends who want to talk to me before changing their job. Like everyone I see what's happening in our country and I know this situation is a huge challenge for so many people, including my friends. Since I've been actively using LinkedIn for many years, I've decided to utilize my network and support those who found themselves in a tough position, and who are brave enough to talk about it and present themselves during a brief, informal chat with me.
IRO: Is your initiative only the outcome of this current pandemic, or did you plan to do something similar before?
PP: As I mentioned before, I have experience in recruitment, but in recent years nobody had to deal with a situation like this before. We had the employer's market, then the employee's market, but the changes were gradual. This situation is totally different. On the one hand, we see that day by day companies are making difficult decisions in order to survive this challenging time. A large number of them are deciding to reduce their headcount. On the other hand, this is an unpredicted and difficult decision for employees who become redundant. Lots of my friends experienced it, so this was a big stimulus for me to act. Additionally, I'm pretty confident in this field and I feel I can really help. I was definitely not planning this before, it was a spur-of-the-moment decision.
IRO: Do interviewees ask you for a chat like this or do you invite them to give it a try?
PP: Actually, it's not an interview as such, but I do agree that our conversation is a step towards serious consideration of a job seeker by potential employers. It's a kind of a résumé with my recommendation. And I think all my interviewees are fantastic people, who have the guts to present themselves publicly, which alone puts them in a good light. During job interviews many people declare openness, creativity, or ability to cope with stress. The people I talk to are literally demonstrating such attributes. It requires bravery too, because content on social media are rather about successes and achievements, and not about challenges or failures. My guests are facing this challenging situation head-on and were open to my invitation.
IRO: We see there is much interest in your interviews, lots of activity in the comments below your posts and the real will to help. What is it like in practice? Do employers really come to you and say they're interested in any of your interviewees?
PP: I'm really amazed by the reach of these posts, which proves that I'm not the only one who wants to help. I record these conversations using simple tools, I try to prepare them the best I can and then it's about sharing. Others help tremendously by liking, commenting or sharing what I've published. And it's happening. Effects are very quick and my guests immediately get invitations for job interviews. We need to remember that many businesses struggle now, but there are also companies which need great, open and brave people. As I've already mentioned, acceptance of my invitation requires bravery, and this proves such a person really has attributes employers need, especially now.
IRO: Do you think you will continue this initiative after the pandemic ceases? If so, will it have the same form?
PP: If there's a need, I'll be happy to continue recording such interviews. With each one I'm gaining  more experience and introducing minor modifications, but the most important thing is that this form of candidate presentation remains effective.
IRO: Did you think about engaging employers in your action too?
PP: Yes, I thought about it and maybe I'll present the current situation from the employers' perspective as well, but for now I'm focusing on those looking for work.
IRO: Based on your recruitment experience, what would be the advice you can give to those who have lost their job due to the coronavirus crisis?
PP: As I said, this is a completely new reality we face now, but I believe it's important to gain new knowledge, acquire new qualifications, or reskill. We are witnessing a massive change related to digitization of most businesses, and increasing their online activities. Those who operated online before will expand this activity, while it might be do-or-die for those who remain offline. I believe these will be some of the areas where we will be seeing an increase in demand.
IRO: From the labour market perspective, how long do you think it will take for the Polish and global economy to recover?
PP: I'm not an economist, but having read commentaries of many experts I think when we emerge, the world will be different, and so will we. The process of changes in operations of both SMEs and large enterprises has started, and it will continue. Many entrepreneurs I know had to change their business model, and some of them entered new industries, introduced new products or services, which requires huge creativity and entrepreneurial spirit. In my opinion, the increased significance of technology will result in the greater importance of people who are experts in this field. I expect there will be shifts in managerial positions, in management boards, as well as greater use of external experts and advisors, because getting to know what and how to change within an organisation and adapt to this new reality takes time. And time is the key now.
IRO: Thank you for your time and congratulations on your amazing initiative.