The Centre for the Meeting of Cultures – the culture, creativity and conference hub
The Centre for the Meeting of Cultures (CSK) is Lublin's largest culture, creativity and experience hub. This is a place which generates new ideas, where a variety of cultural and art activities are performed and where a dialogue in the spirit of tolerance and openness to the world outside takes place.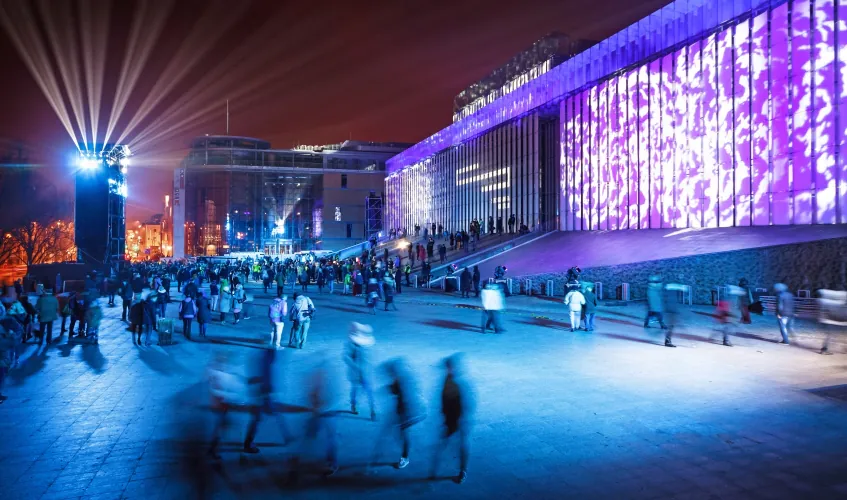 In a highly competitive and globalized economy, creativity is the factor that offers the greatest advantage, and thus one of our tasks is to create a comfortable environment for the meeting of culture and business in an interesting and inspiring location. By doing so we are becoming a material stakeholder in the business, cultural and social ecosystem. Visitors to CSK constitute a diverse group. Our statistics indicate that nearly half of them are newcomers. We assume that a significant part of those visitors are entrepreneurs and business representatives, who combine culture with their business meetings, inspiring themselves and undertaking business-related activities.
To strong academic circles, well-developed transport links and hotel facilities, we are now adding a new space featuring world-class architecture – an opera and performance hall, capable of hosting any large event. As a centre for culture, we are also gaining credibility by working with the world's major cultural institutions, such as the National Opera, the British Museum and the Barbican Centre. We are able to guarantee a quality artistic program, which is a very important part of the convention sector. We also place a strong emphasis on the value of local culture, which is built on the interface between Eastern and Western Europe.
Our unique strength is in approaching culture by contrasting "high" art, be it opera, drama or exposition, with "low" art – that which is popular, entertaining or even performed in the streets. The innovative formula of our institution – offering high quality, exploring the heritage of Eastern and Central Europe, an openness to the world, great intellectual resources and competitive prices as compared with similar facilities – make both CSK and Lublin very attractive places.