We support businesses from Lublin
On Tuseday, 21 February 2017, members of staff of Investor Relations Department organised a meeting for businessmen running companies in the Special Economic Zone - Lublin Subzone. The conference was devoted to different forms of financial support available for business owners.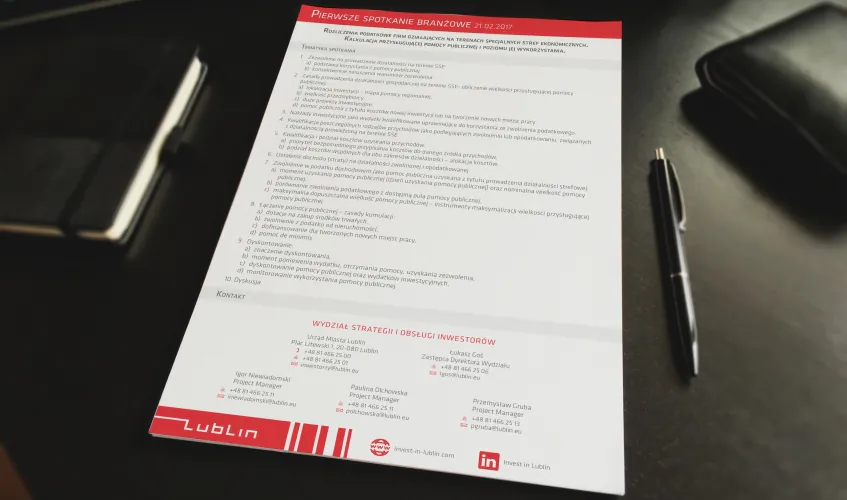 The meeting was attended by over twenty representatives of companies being run in EURO-PARK MIELEC Special Economic Zone, Lublin Subzone. Paulina Olchowska, Przemysław Gruba and Igor Niewiadomski, the Investor Relations team supporting businesses operating on such markets as Advanced Engineering, Food Processing, Biotech & Pharma, and Industrial & Logistics, made business representatives familiar with the latest legal regulations pertaining to the methods of combining different forms of support provided by the state government, local government, and EU. The aim of such strategies is to stimulate and develop the local labour market. Furthermore, the meeting participants were provided with opportunity to discuss the subject matter of the presentation and share their experience of receiving financial aid as entities registered in the SEZ.
We are responsible for providing business owners running their companies in Lublin with comprehensive support – both in the process of carrying out an investment project as well as in further stages of running their activities. Due to this, we organise regular meetings which contribute to creating a business-friendly ecosystem and, therefore, business owners can cooperate with each other and share best practices in investing in Lublin Subzone. The meeting held on Tuesday proved it. Business owners consider these conferences particularly useful and hence, the world can hear how business-friendly Lublin is. Consequently, 90% of the area in SEZ has already been occupied – says Przemysław Gruba, Investor Relations Manager responsible for Industrial & Logistics sector.