Digital transformation support for Lublin's SMEs
In an era where digital transformation is a driving force, companies are increasingly focusing on digitization and process automation. This shift is fueled by the widespread adoption of artificial intelligence-based technologies and is essential for achieving efficiency improvements, sustainable development, and resource conservation.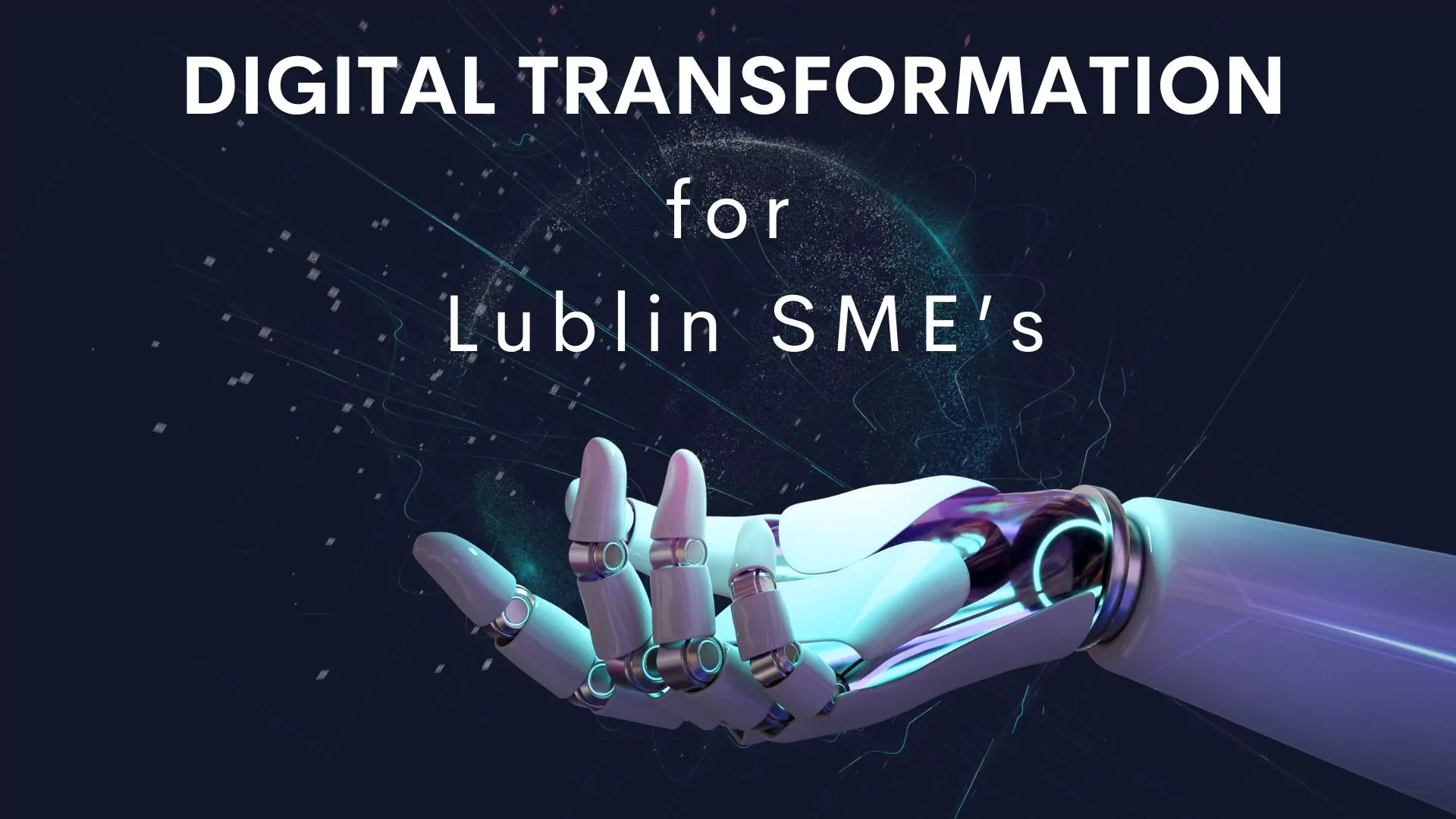 The good news is that business owners in Lublin now have the chance to harness public funding to bolster their pursuit of such transformative projects. With the support of the European Union, entrepreneurs in our region can access financial assistance for the acquisition of specialized digital solutions. The maximum grant available is 800,000 PLN. The application window opened on September 4th and will remain active until November 30th, offering a valuable opportunity for local businesses to embark on their digital journey. Let's dive into the specifics of this promising initiative.
As part of the competition, support will be provided for the digitalisation of SMEs, including e-commerce, e-business, and networked business processes, digital innovation centres, living laboratories, internet entrepreneurs, and start-up ICT companies, B2B services.
Who Is Eligible? Small and medium-sized enterprises (SMEs) based in Lublin Voivodeship can apply for support. This includes micro, small, and medium-sized businesses.
What can the funding be used for?
Project Type: Projects in the field of digital transformation of SMEs as an additional element of projects to support the development of digital competencies.
The supported projects in the field of digital transformation of SMEs encompass the following:
Implementation of specialised digital solutions ("tailor-made" solutions), especially changing business models towards Industry 4.0 and data-based economy.
Digitalisation of businesses.
Increasing the utilisation of process systems.
Transitioning companies to a digital supply chain.
Introducing ICT-based products and services into daily operations.
Digitisation of export processes.
Strengthening the capacity of enterprises to reuse information or share resources.
Cybersecurity solutions.
Eligible Costs:
Intangible and Legal Assets: This includes copyrights, licenses, patents, trademarks, and know-how. Acquiring these assets is a mandatory part of the project, and it can be done in two ways:

Purchasing ready-made digital solutions from the market and customizing them to fit your needs.
Procuring digital solutions developed specifically for your business, with the order placed after submitting the funding application.

Tangible Assets: Up to 10% of the total eligible costs can be used to acquire new tangible assets that are essential for your digital transformation.
De Minimis Aid: This covers costs related to adapting digital solutions to your business, especially integrating these solutions with your processes.
Advisory Services for SMEs: Training costs provided by external experts to develop digital competencies for your staff. These services should not be part of your regular operational costs.
Funding Details:
The competition budget is 5,000,000 EUR (around 22 million PLN).
The maximum grant value is 800,000 PLN.
The maximum grant rate is 70%.
There are no specific limits on project or eligible costs.
The grant intensity varies depending on your business size and the type of aid:

Regional investment aid:

Micro and small enterprises: 70%
Medium-sized enterprises: 60%

De minimis aid:

Micro and small enterprises: 70%
Medium-sized enterprises: 60%

Advisory services for SMEs:

Micro, small, and medium-sized enterprises: 50%
Additional Information:
Only specialized digital solutions tailored to your business are eligible for funding. Standard office software, accounting software, and widely available technologies are not covered.
Your project should align with the Regional Innovation Strategy of Lublin Voivodeship until 2030, and support is provided only for projects in the areas of Regional Smart Specialization in Lublin Voivodeship.