Eco-innovations for the public sector – seminar
You are kindly invited to a scientific seminar on the topic of eco-innovation for the public sector, which will be held on September 11th at 9:00 am at the ECOTECH-COMPLEX Analytical and Programme Centre for Advanced Environmentally-Friendly Technologies. Registration for the event is required: Eco-innovations – registration for seminar.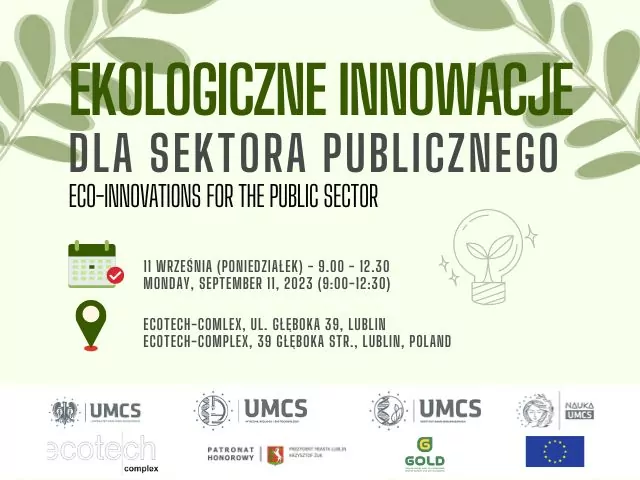 The seminar will address relevant issues that are part of regional, European and global policy, such as: "Green Deal", "Zero Waste", Sustainable Development Goals, Circular Economy and Environmental Education. The main objective of the seminar is to present innovative ecological solutions, as well as to create a platform for networking and exchange of experiences between the scientific community and the socio-economic environment, including local government units and state institutions responsible for environmental problems, as well as companies applying ecological innovations in practice. Participation in the seminar is free of charge.
The event will be attended by people from the world of science and ecobusiness. The group of researchers will be represented by dr. Małgorzata Wójcik, prof. UMCS, and prof. Jaco Vangronsveld from the Department of Plant Physiology and Biophysics at UMCS. Prof. Vangronsveld is also the leader of the Environmental Biology research group at Hasselt University, Belgium. The group of invited entrepreneurs who will talk about their experiences will include Randy Mott, president of Phytoremedia Sp. z o.o, a company engaged in environmentally friendly remediation of contaminated land, and Marcel Nowosielski, co-founder of C2C Sp z o.o., a Lublin-based manufacturer of recycled eco bags and biodegradable and compostable packaging. Also speaking about environmentally beneficial solutions for the public sector will be Tomasz Małocha, key account director at Cleanbacter Sp. z o.o., a company that produces biotechnological cleaning and disposal products with effective microorganisms, and Piotr Pietras, Managing Partner of Green Lanes Sp. z o.o., a company that creates environmentally friendly solutions based on fiber hemp.The seminar is held under the honorary patronage of the Mayor of the City of Lublin and Maria Curie-Skłodowska University Rector Magnificus prof. dr. hab. Radoslaw Dobrowolski.
_________________________________________________________________________
AGENDA
9.00 – 9.15      Welcome
(representatives of the UMCS and Lublin City Hall)
9.15 – 9.30      dr hab. Małgorzata Wójcik, prof. UMCS
Alternative management of contaminated sites – benefits for the environment, agriculture and industry (GOLD project)
9.30 – 9.50      prof. Jaco Vangronsveld (UMCS/Hasselt University)
Bio/phytoremediation of organic pollutants – challenges and solutions
9.50 – 10.10    Randy Mott (Phytoremedia Sp. z o.o.)
Commercial applications of phytoremediation
10.10 – 10.30  coffee break
10.30 – 10.50  Tomasz Małocha  (CleanBacter Sp. z o.o.)
Using beneficial microbial consortia to protect the environment
10.50 – 11.10 Marcel Nowosielski (C2C Sp. z o.o.)
Evolution, examples and implementation potential of biodegradable films (biodegradable films, a closed-loop economy)
11.10 – 11.30 Piotr Pietras (Green Lanes Sp. z o.o.)
The full power of using hemp to benefit the environment
11.30 – 12.30 Summary of the seminar, discussion, snacks