HMTS Conference
The City of Lublin - the coordinator of Lublin Medicine Cluster - invites entrepreneurs and institutions interested in the development of inbound medical tourism in Eastern Europe to take part in the Conference "Health and Medical Tourism Summit 2018" that will take place on 12 June 2018 in Lublin.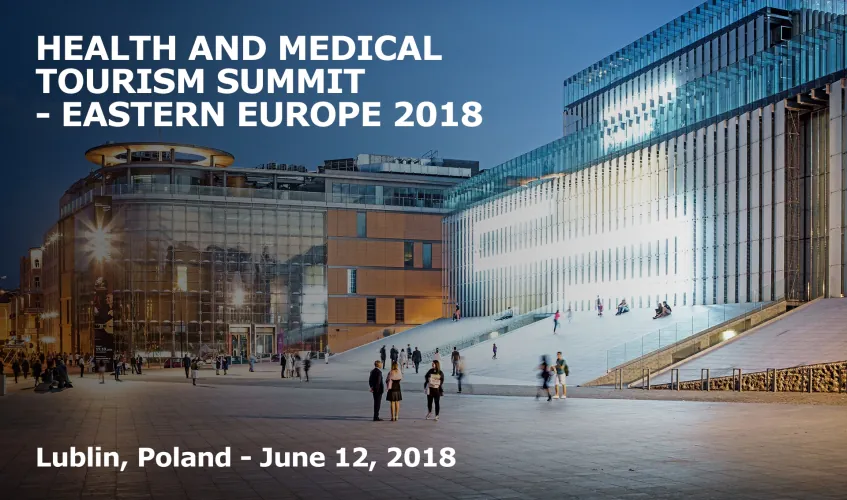 The conference will be attended by 250 participants from over 25 countries, approximately 30 panelists – medical tourism experts, representatives of local and government administration, clusters and medical tourism associations, over 20 intermediaries recognisable on medical tourism market, over 20 representatives of local, national and international media, approximately 150 entities from Eastern Europe providing health care, medical and wellness services.
The Conference will be accompanied by B2B meetings, expositions of the conference partners, individual meetings and an opportunity to get acquainted with the tourist offer of Lublin and region.
Why Lublin?
International activity and multicultural character of Lublin form an important part of the City's history and tradition. It is here where for ages the East has been meeting with the West.
Lublin also implements a development programme of United Nations – Centre of Eastern Competences. It is the first and unique think-tank created with the participation of Lublin City, Lublin Region Government and international organisations belonging to the United Nations.
For a few years there have been organised Eastern Partnership Culture Congresses and Eastern Europe Initiatives Congresses that each year are attended by about 1500 persons from over 20 countries.
We would to build on these experiences while cooperating for the benefit of health and medical inbound tourism with our partners: 25 twin cities and 16 friend cities, clusters and associations, entrepreneurs from the industry and representatives of governmental and local administration from Eastern Europe.