Integrating international students: perspectives from cities, civil society and academia
We are pleased to invite you to attend the conference organized by the Department of Strategy and Investor Relations which concerns integration of international students on the 3rd and the 4th of November in Lublin (Poland).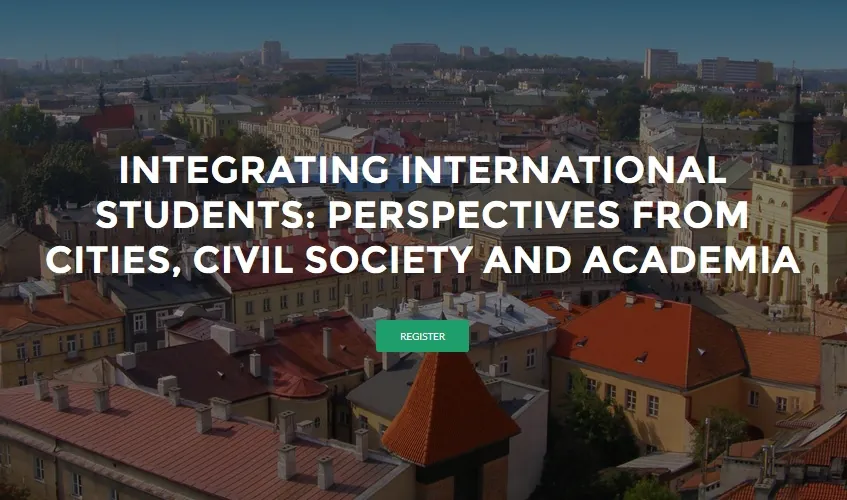 Internationalization of higher education is a global trend developing in academic and local communities in Poland. Migration of international students is a complex process involving students, academia, cities, civil society and business community. We would be delighted to see you on conference on various aspects of international students integration organized by the team of the Department of Strategy and Investor Relations in the City of Lublin in close cooperation with Lublin universities and non-government organizations dealing with international students. The main themes of the conference include problems of academic migrations and internationalization of higher education, building strategies for academic cities, development of support systems for international students as well as development of legal, institutional, and cultural infrastructure and policies for international education.
The City of Lublin is the capital city of Lublin Region in south-eastern Poland. Its geographical location near the eastern border of the EU and historical experience of cultural crossroads makes Lublin an important center of cooperation between Eastern and Western Europe. With the population of about 350,000 inhabitants, Lublin is the largest city in the region and the biggest academic center in Eastern Poland.
Lublin is also home to over 70,000 students, many of them coming from abroad. Higher education institutions located in Lublin include five internationally recognized public universities and four private university colleges. Always open to the culture of the East, Lublin has also become the seat of the European College of Polish and Ukrainian Universities. High number of students makes Lublin a city full of young and dynamic people whose creative potential is used by Lublin research centers and companies in the sector of new technologies.
Representatives of the City of Lublin have included internationalization of higher education in its strategy and has actively encouraged international students to study in Lublin. As a result of city programs, e.g. "Study in Lublin" as well as cooperation of various local partners with universities, the number of international students in Lublin has increased to over 6 thousand in the current academic year (the highest rate of international students in Poland). Lublin has therefore focused on creating optimal environment for international student.
On the conference, you will not only explore matters pertaining to benefits and experiences resulting from the presence of international students in the city but you will also discuss various aspects of cooperation between municipal institutions, universities, business communities, and NGOs in the area of integration. We hope that our conference will help you to develop new strategies for success in academic internationalization and developing cooperation of international education networks. Furthermore, you will be provided with an excellent opportunity to join workshops on different international education skills as well as you will have a chance to listen to speeches delivered by outstanding experts and practitioners of international education. This will be followed by a discussion panel in which you are welcome to participate.The conference will be also an opportunity to discuss, share best practices, and network within international education community.
The conference will be of interest to a wide spectrum of international education professionals. We are excited to invite members of faculties and staff from all types of higher education institutions, representatives of international students' services (international programs coordinators, foreign students offices, recruitment offices and other organizations providing assistance to foreign students), teams of marketing departments at universities, non-government organizations supporting international visitors, international students studying in Poland and their organizations, representatives of public administration bodies involved in shaping educational policies and members of the public administration bodies dealing with integration of international students.
Our partner universities in Lublin welcome all partners willing to talk about cooperation opportunities.