Lublin Tech Mixer. Empowering IT-Industry networking for business success
We cordially invite you to join us for a business breakfast titled "Synergy of Industry and IT: Nowy Styl and Solet on the path of growth and digital transformation," which marks the beginning of the Lublin Tech Mixer series.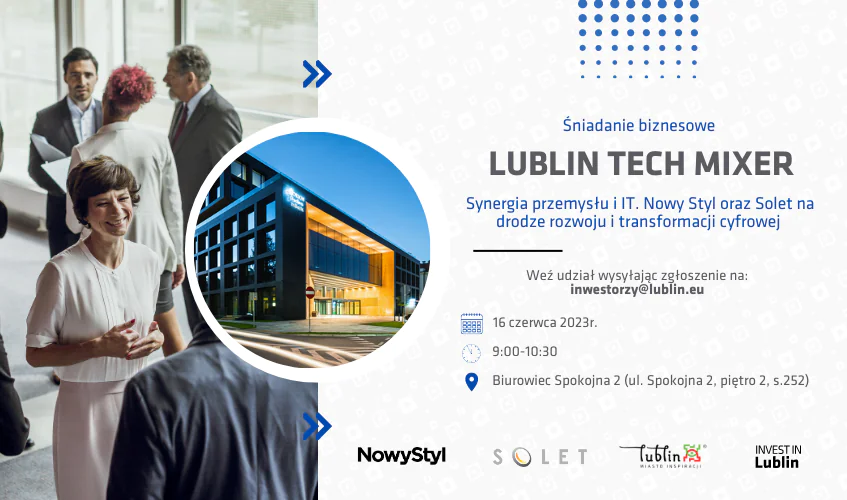 The aim of the event is to not only share knowledge and experiences. Our primary goal is to foster lasting and fruitful business relationships across various sectors of the local economy. We welcome both IT companies' management teams and businesses in the manufacturing, logistics, and service sectors, who either currently use IT solutions, considering implementing them to improve their processes or simply wish to expand their business networks.
During this business breakfast, you will have the opportunity to delve into the inspiring collaboration story of Nowy Styl and Solet. Their representatives will share their remarkable journey, transforming a small family business into a global powerhouse, largely thanks to their embrace of digital transformation. While there will be a brief presentation, the main focus of the gathering is networking.
Please note that the event will be held in Polish.
---
Serdecznie zapraszamy do udziału w śniadaniu biznesowym pt. "Synergia przemysłu i IT: Nowy Styl i Solet na drodze rozwoju i transformacji cyfrowej" inaugurującym cykl Lublin Tech Mixer, którego celem jest stworzenie platformy integrującej przedstawicieli lubelskich spółek technologicznych i przemysłowych.
Wydarzenie ma na celu nie tylko wymianę wiedzy i doświadczeń, ale przede wszystkim budowanie trwałych i owocnych relacji biznesowych między różnymi branżami lokalnej gospodarki. Zaproszenie to kierujemy do kadry zarządzającej firm IT, a także przedsiębiorstw produkcyjnych, logistycznych i usługowo-handlowych, które na co dzień korzystają z rozwiązań IT, rozważają ich wdrożenie w celu usprawnienia procesów w swojej organizacji lub po prostu chcących poszerzyć sieć swoich kontaktów biznesowych.
Podczas śniadania będą Państwo mieli okazję poznać inspirującą historię współpracy firm Nowy Styl i Solet, których przedstawiciele opowiedzą o wspólnej drodze zmieniającej małą rodzinną firmę w globalnego potentata, m.in. dzięki transformacji cyfrowej. Spotkanie będzie miało jednak przede wszystkim charakter networkingowy, więc po krótkiej prezentacji będzie czas na poznanie się i rozmowy w kuluarach.