Support for R&D activities of IT companies
Investor Relations Office, Lublin IT Upland and KPMG have pleasure to invite representatives of IT companies for a free training on opportunities to obtain support for R&D activities.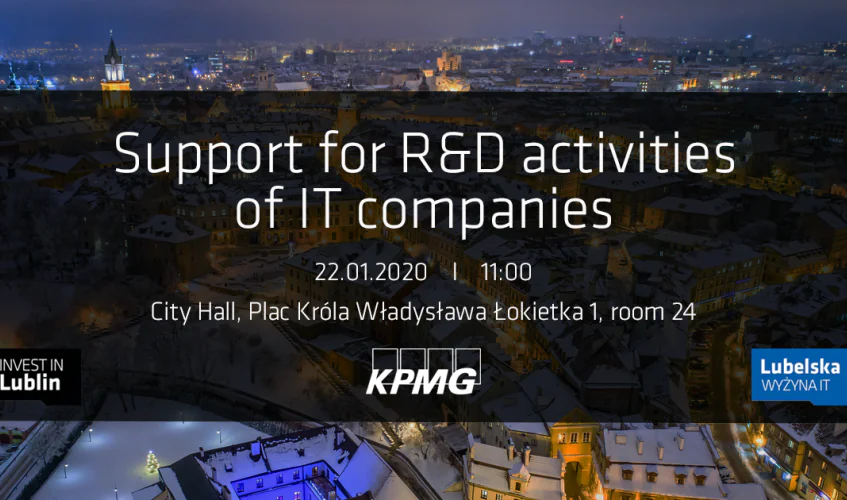 In Poland, IT is a leading sector in terms of innovativeness. Polish specialists in this field develop and deliver modern solutions to many different countries worldwide. Solutions within the broadly understood IT sector (both software and hardware) are an indispensable part of products and processes in other industries, e.g. medical, automotive, chemical or aviation. A lot of support instruments have been established to facilitate the growth of the IT sector, including relieves and grants which help IT companies significantly reduce operating costs and develop improved solutions.
Such incentives include:
Co-financing of engineers' and developers' salaries
Tax relief for the development of software and hardware
Reduced tax rate of 5% of CIT/PIT for the income from the sale of software/license (IP Box)
Grants and tax breaks for setting up and expanding IT centres
The training will be led by:
Kiejstut Żagun – Director at KPMG, Head of Innovation & Grants
Marcin Mańkowski – Manager at KPMG, Innovation & Grants, responsible for IT sector
Agenda
11:00 Welcome and opening – Łukasz Goś, Head of Investor Relations Office, Lublin City Hall
11:10 Possibilities of support under the Lublin IT Upland project – Oliwia Wójtowicz, Department of Strategy and Entrepreneurship, Lublin City Hall
11:20 Principles of obtaining tax relief for R&D activities
How to define R&D works in IT sector?
Eligible costs
Formalities
Documentation obligations
Exclusions
Application examples
Innovation Box
For whom?
For what? Intellectual property rights (including the rights to a computer program)
Calculations – income, tax base, Nexus indicator
Record and documentation obligations
How to use IP Box – procedure
50% rate of tax deductible expenses – higher salaries for R&D staff and developers
Grants for R&D projects
Sources of support
Co-financing levels
Selection criteria
Examples of projects
Polish Investment Zone
12:30 Workshop, Q&A session – case studies, possibility to discuss specific cases and issues
The event will be held in Polish. To participate, please register at https://evenea.pl/event/850258-1/ .