YOKOTEN Conference
'Yokoten – Lean Management and Automation in Production. Good Industry Practices Upland 2018' is a business forum organised by the Automotive & Machinery Upland Cluster Organisation – a unique event during which the latest technological solutions will be presented in the context of the challenges related to the development and optimisation of industrial production.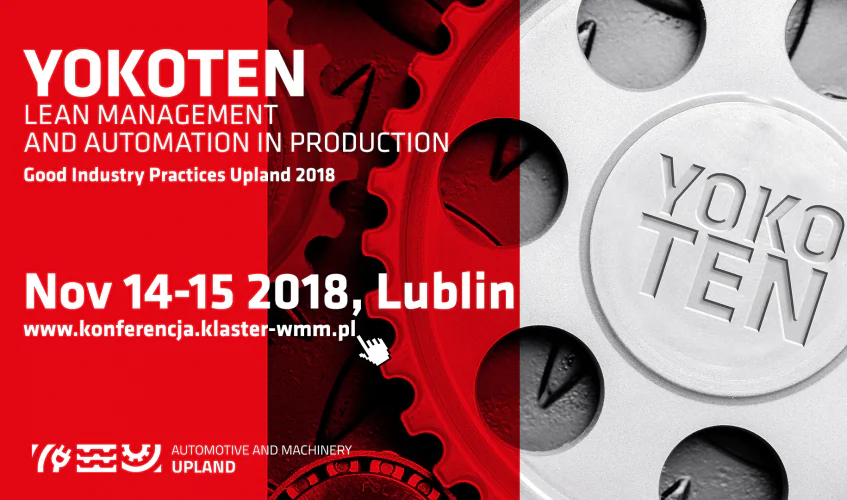 International experts and representatives of enterprises involved in the implementation of industry 4.0, automation and robotisation will present how to prepare for the challenges related to the pace of technological changes in production, as well as how to use organisational changes in order to build competitive advantages.
The idea of YOKOTEN is based on sharing good practices. The Forum will be focused on issues such as optimisation of production processes, implementation of modern management systems or Lean leadership based on the management system used in Toyota (TPS). Participants of the conference do not have to go to Japan to learn about the most advanced ways of managing and running a business. The introductory lecture will be given by Mr Carl Klemm, former President of Toyota Motor Manufacturing Poland, whose entire professional career at Toyota was connected with the practical implementation of the Toyota Production System and the lean manufacturing philosophy, implemented in order to achieve built-in quality.
The event will be focused on the implementation elements and practical benefits achieved by the company while improving organisation of production. The confrontation of various philosophies of product development will be combined with a workshop and study visits to companies operating in Lublin, where an expert will talk about specific case studies.
The Forum will confront two worlds: TPS and Industry 4.0. Will the latest technologies in production completely replace TPS-style management? Is Lean Management needed in the factory of the future?