Contact Center System – another step towards Smart City
As the world becomes increasingly interconnected and technology-dependent, the digitization of public administration should come as no surprise to anyone as it is a natural and inevitable process in modern digital society. It enhances the quality, performance, and interactivity of urban services but also facilitates contact between citizens and city stakeholders. Considering the above Lublin authorities are constantly investing in the digital sphere and expanding e-services and IT facilities through various projects. Such actions are in line with the idea of a smart city which primary purpose is to improve the quality of life of the inhabitants and business entities.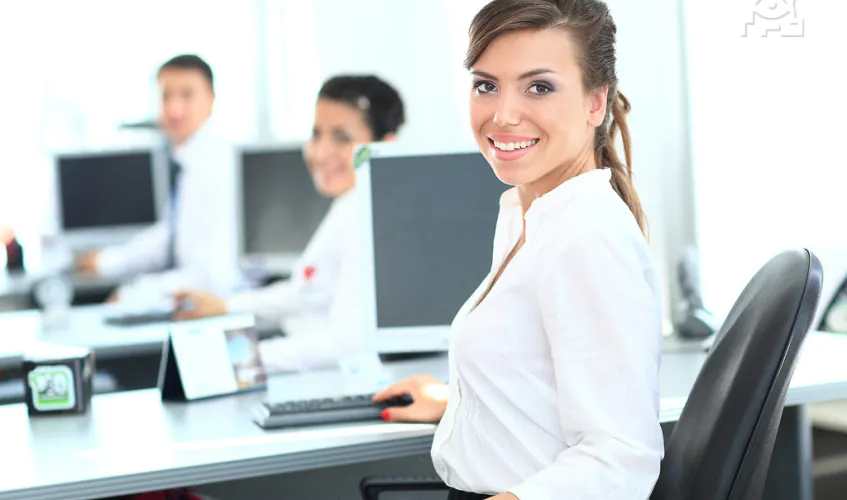 One of the initiatives following this policy is the recently launched 'Contact Center' system, which allows you to reach the City Hall via various channels such as telephone, e-mail, mobile application, SMS, fax, and chat, consequently improving the efficiency and quality of service delivery. Implemented solutions allow residents to actively participate in the work of local government, officials – facilitate the performance of duties, and investors – help to complete the formalities related to starting a business without leaving home.
The Contact Center, a new tool aimed directly at residents was created to facilitate communication with the City Hall. Thanks to it, it is possible to quickly and efficiently contact a competent team using the selected communication channel and obtain information on particular public services provided by the City Hall. The new tool has also the function of reporting certain problems that appeared in the city space or comments on various areas concerning city management. The Contact Center System is just one of the elements of the e-service expansion project that we have been working on for three years now and we are currently at the implementation stage. Its main goal is to increase the use of information and communication technologies in public administration. Thanks to this, our residents were given the opportunity to settle many official affairs without having to leave their homes which in the time of Pandemic is of particular importance – says Andrzej Wojewódzki, Secretary of the City of Lublin
Growing e-content and e-services offer alternative possibilities for elders and people with disabilities as they will be able to access various offices and settle some of their administrative affairs without leaving their homes. This is more important than ever in light of the new challenges brought about by COVID-19. What is more the implementation of e-government solutions  promote better communication between government and  entrepreneurs as well as potential investors considering locating a business. Hence, one of the most important benefits of e-government is creating an open and transparent market and a stronger economy.
The new tool as well as other e-services such as booking visits to the Office, PLIP payment platform or applications for students, parents and teachers are available at e.lublin.eu.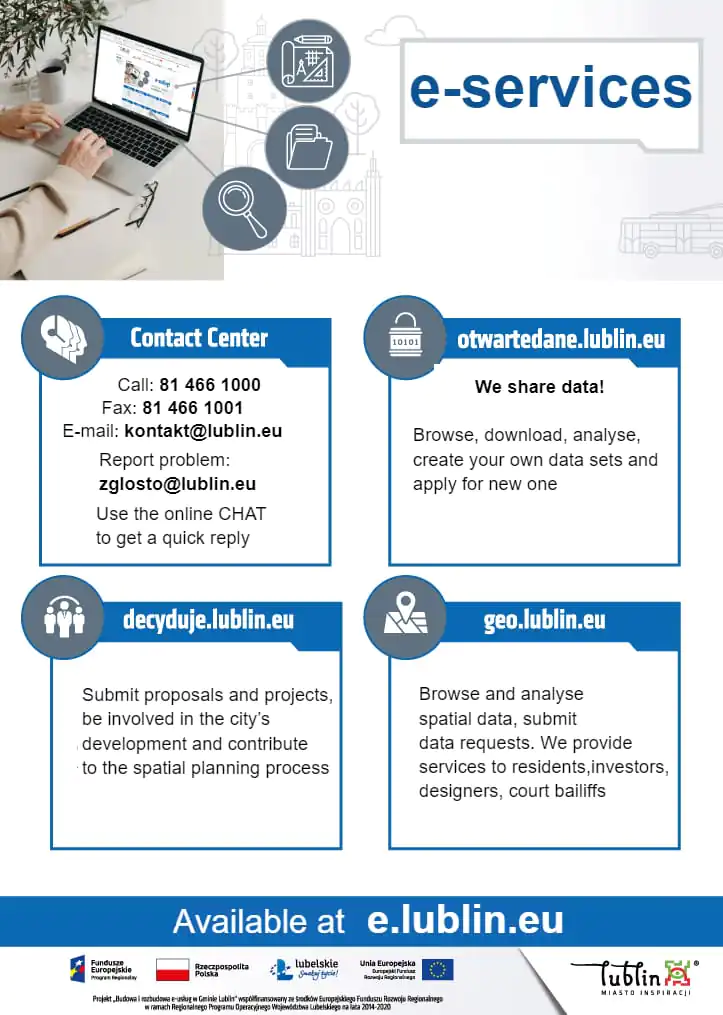 The new available IT solutions include:
• Contact Center System for managing contact between City Hall and citizens via phone: 81 466 1000, fax 81 466 1001, e-mail kontakt@lublin.eu, chat, contact form and an alert at: zglosto.lublin.eu,
• 'Open data' portal at otwartedane.lublin.eu that enables anyone to access, use and redistribute the data uploaded to it. The database is systematically expanding, currently contains 51 sets of information from several categories, incl. spatial data, lists of office and warehouse spaces. The database allows for performing operations such as browsing, analyzing, downloading, compiling lists and creating simple applications.
• Spatial e-services which allow you to settle the matter in the field of geodesy. The tool will serve Lublin's residents but also particular groups of recipients including authorized surveyors, designers, real-estate appraisers, court bailiffs and notaries. Thanks to the platform, you can make payments online, receive or submit documents by using your Trusted Profile (Profil Zaufany), which verifies your identity online and acts as an electronic signature.
• decyduje.lublin.eu which is an engagement platform where citizens of Lublin have a chance to actively participate in the city development processes.
• city geoportal – enrichment of already existing tools with new technical possibilities, functionalities and data.
The above-mentioned solutions allow easy access to administrative services, improve turnaround times, and most importantly strengthen accountability and responsiveness, as well  transparency of procedures and their automation. In the long run, the computerization of public administration increases citizens' involvement in democratic processes and generates true advantages for entrepreneurs and investors. Therefore, it is not surprising that Lublin authorities are looking for ways to digitalize the public administration and exploit the potential of ICT technologies to promote innovation, sustainability, economic growth and progress.