Different angle of Lublin
From now on you can look at Lublin from different perspectives without leaving home as new digital spatial data of our city is already available. It creates new possibilities for architects, urban planners, and citizens but also for potential investors as it will boost the business offer of Lublin which we present to them.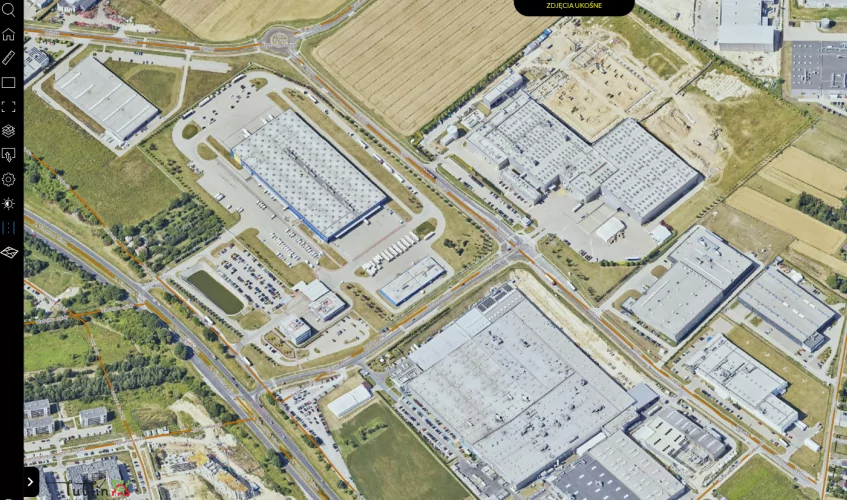 This recently launched map tool is based on ObliView technology and offers a set of completely new types of data: aerial imaginary, oblique images, "true ortho", 3D mesh models, laser scanning and point cloud. The oblique aerial photographs cover the whole area of Lublin and provide sharp and detailed images in four directions – offering unparalleled accuracy. Thanks to the detailed photos and data published in this app, it is possible to make spatial measurements (estimate distance, height, surface area and spatial area), import and export views, and load additional layers including names of streets or plot numbers – all of this directly on photos and models. In addition, the site allows users to view photogrammetric data from previous years, starting from 2003 and see a side-by-side map comparison of how Lublin has changed over that time. Thanks to several tools available within the application you can experience a bird's eye view of Lublin's landscape and its architecture, freely changing view angles, and zooming in for a close-up details capture.
It's a useful visualisation tool for architects and authorities who can use it in city planning, potential investors who want to analyse the surrounding before choosing the right and attractive spot for their new business or for citizens – for example when submitting projects to the civic budget or analysing the surrounding when purchasing a plot.
It is not the only geographic information system map used by our city though. Another important tool that provides spatial data of Lublin and responds to the needs of modern business is the portal Lublin 3D available at https://lublin.eu/lublin/sipl/lublin-3d/
The Lublin's 3D portal is an innovative tool that also presents potential investors with comprehensive spatial and visual materials about the city and its investment sites. Thanks to the website you can take 3D measurements and display draft spatial objects, which are in the design phase, on the map. This allows for much wider use of such materials, whether in activities promoting the investment offer of Lublin among Polish and foreign businesses or in the visualization of investment projects to be cited in our city. The 3D portal's functionalities allow also for various analyses, e.g. environmental studies like a presentation of the solar energy potential of a building or a visualisation of the noise distribution.