Growth through people. Fostering IT talent made by Britenet
Britenet, one of the largest Polish IT companies, for 8 years already has been running its "Force Academy" training programme to provide students and graduates with the opportunity to start their professional careers in IT. Thanks to the programme aimed at preparing young people for the work in Salesforce technology, the firm has one of the top Salesforce teams in Poland. At a joint press conference held at the Town Hall, Mayor of Lublin Krzysztof Żuk together with CEO of Britenet Michał Borny handed over the 200th Salesforce certificate to yet another "Force Academy" graduate.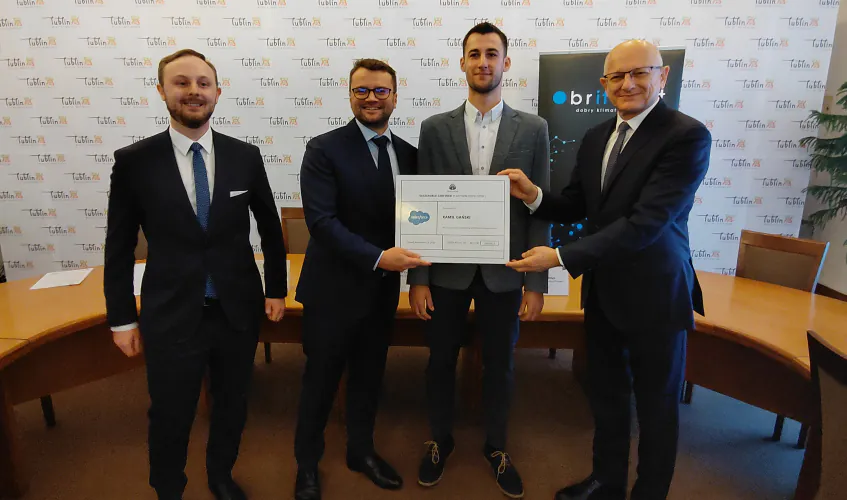 What is important, training within the programme is focused not only on coding skills and the Salesforce technology, but it's also about teaching soft skills which are crucial on the job market these days.
Growth is the outcome of investment and for a company like ours investment means investing in people. We're glad that we can make such investments in Lublin, and it's possible thanks to a good quality of universities and secondary schools, as well as great people who are eager to learn and develop. But it's just one thing. The other thing is that all companies on the market need such investments in human capital to thrive. (…) By giving the opportunities to grow as part of international projects, we also curtail developers' migration. This, in turn, boosts local economy and has a positive impact on the image our Lublin IT community – says Michał Borny, CEO of Britenet.
What is key among the challenges facing cities worldwide is the struggle to attract and keep people, and the rapid growth of the IT sector makes Polish cities and businesses compete for talent more than ever, especially for those graduating with degrees in more high-demand professions. In collaboration with local universities and colleges, Lublin's authorities strive to create the city's image as a place where technology students and professionals want to live and work.
I'm extremely glad to see the growth of local companies, both newcomers and those who decided to locate their businesses in Lublin many years ago. The success of Britenet, which has been in the city for 11 years already, proves that the decision to choose Lublin was right and that we can boldly compete with the biggest Polish locations. To me, "Force Academy" is a perfect example of how to effectively utilize the great potential of Lublin's universities and build the company's staff, at the same time contributing to the development of the local IT ecosystem – says Mayor of Lublin Krzysztof Żuk.
On the one hand, the training within "Force Academy" is about teaching how to code and be part of the software development process, but on the other hand, it's also about presenting effects of one's work. It's held both in Polish and English, and the Sales Department is involved to simulate customers' behaviours. The training lasts between 3 and 6 months, and it costs tens of thousands of Polish zloty. Each participant of "Force Academy" carries out 3 separate projects to get an in-depth knowledge of Salesforce and the possibilities it creates. It's worth mentioning that trainees get full salary when taking part in "Force Academy", and after a few months of learning, the junior gets his first certificate and begins his first commercial project under the watchful eye of a mentor.
As a graduate of "Force Academy" I'm more than happy to see its constant growth. This initiative continues to boost competences of those on the job market, graduates and students since universities provide a good but basic knowledge, and it is the role of businesses to nurture talent to meet specific requirements set by clients – claims Jakub Matyja, Salesforce Technology Manager at Britenet.
---
Salesforce is the world's leading CRM system. As a cloud solution, it provides users with anytime access to the system, from anywhere in the world. Possibilities of this technology seem endless. Adapting the platform to customers' expectations requires a good understanding of their needs. Therefore, it is so important that Salesforce specialists who work with clients have great communication skills and the ability to come up with the best solutions.