High standards of investor service in Lublin
Lublin Municipality is among the 79 local government units that received a certificate confirming the implementation of Investor Service Standards. On June 20th, a prestigious ceremony was held at the Lublin Conference Center to award certificates to local government units participating in the 'Investor Service Standards in the Lublin Voivodeship' project.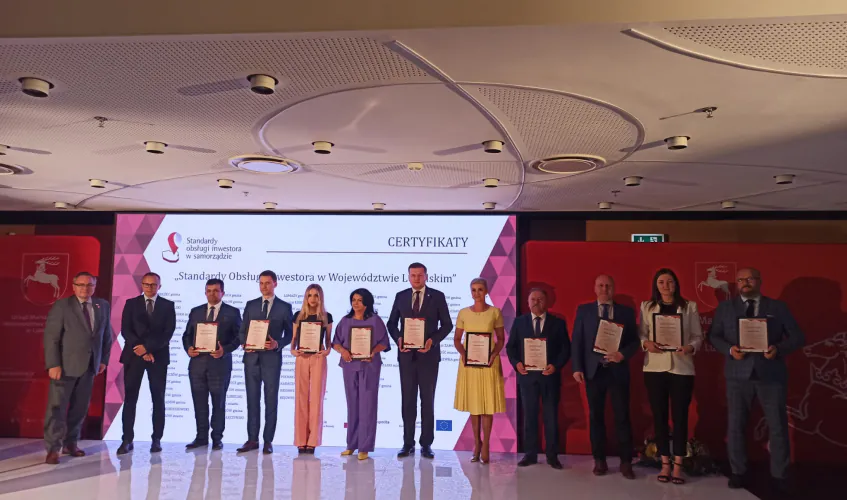 The event provided an opportunity to summarize the project's accomplishments and acknowledge the hard work of local entrepreneurs. Vice-Marshal Zbigniew Wojciechowski and Secretary of State Artur Soboń attended the ceremony.
The implementation of the programme project began on October 1, 2019, and is scheduled to conclude on June 29 of this year. Its primary objective was to enhance the quality of investor services in at least 50 local government units (LGUs) within the Lublin Voivodeship through comprehensive support. A total of 100 LGUs from the Lublin Voivodeship participated in the project, with 79 of them successfully implementing the investor service standards. During the gala, Vice-Marshal Zbigniew Wojciechowski presented certificates to the representatives of the LGUs, expressing gratitude for their involvement in the project.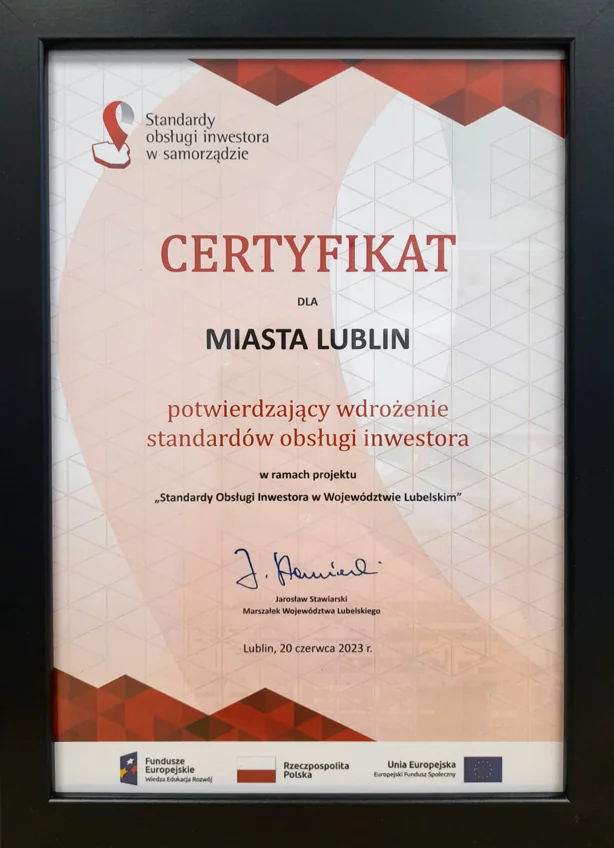 The key goals of the project were:
• Improving the efficiency and professionalism of services provided to entities interested in investing in municipalities, cities, and counties.
• Cultivating a positive regional image.
• Promoting the Lublin Voivodeship as an attractive investment destination, which, in turn, contributes to the economic development of the region and attracts new entrepreneurs.
Undoubtedly, the potential of the Lublin Voivodeship lies in agriculture and agri-food processing, but academic resources are equally crucial. In addition to investment opportunities, the availability of skilled professionals is paramount. The presence of universities gives us an advantage and enables us to deliver professional services to investors. Furthermore, through the Eastern Poland Funds, we are levelling the playing field for the Lublin Voivodeship. I am confident that we will soon catch up with other regions in Poland, said Vice-Marshal  of the Lubelskie Voivodeship Zbigniew Wojciechowski.
Project participants were provided with a comprehensive training and advisory programme. Local government representatives also benefited from study visits, where they had the opportunity to learn about the successful practices of LGUs in other regions. LGUs implemented or upgraded cooperation procedures with investors and solutions aimed at enhancing the investment appeal of municipalities and counties. Notably, information on the investment offerings of each local government was updated, prepared, and widely disseminated. All these initiatives were preceded by an audit of investment attractiveness. One notable outcome for entrepreneurs was the establishment of relationships with LGU employees and leaders. Additionally, the voivodeship experienced tangible benefits, such as the expansion of the investment area database. At the project's inception in 2020, the PAIH database listed approximately 30 investment areas, but today, the number has grown to 106, placing the Lublin Voivodeship in the third position among all voivodeships.