Hydrogen-powered bus hits the streets of Lublin. Sustainable milestone in public transportation.
The city has its first hydrogen-powered bus – a 12-meter vehicle from the Solaris brand, which began operating on Lublin's streets on September 1st. In the coming days, it will be used to serve passengers on lines number 3, 50, and 47.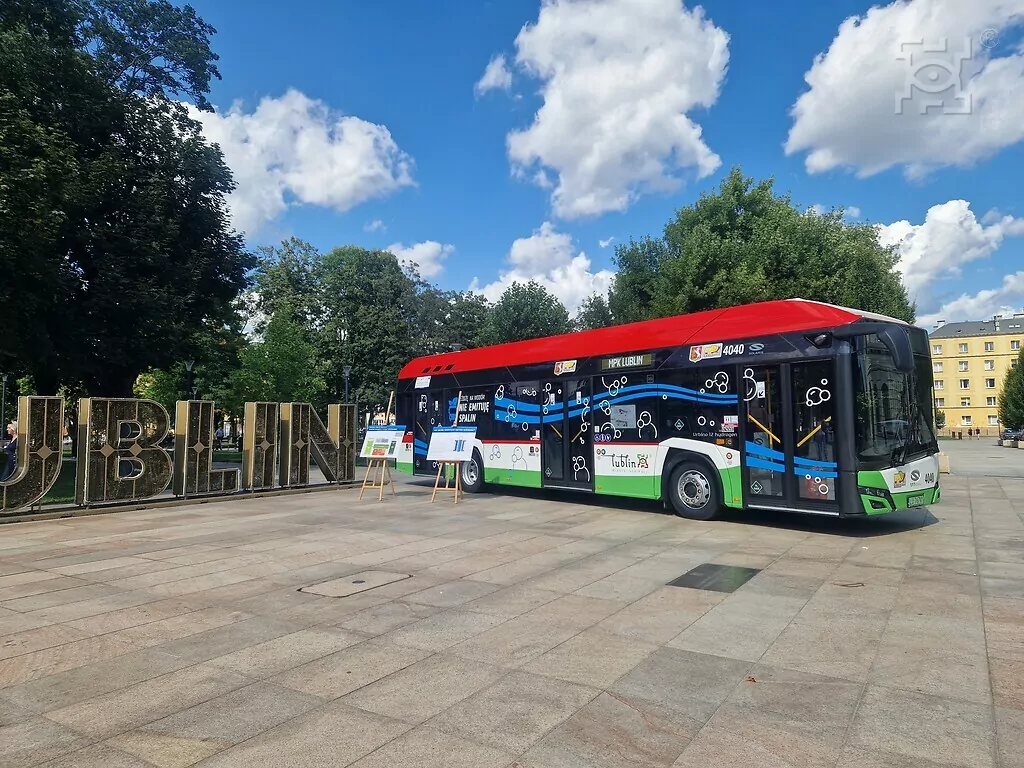 One of the key and essential directions for the city's development is the use of hydrogen-based technologies. Undoubtedly, public transport is an area where they will become increasingly common. For years, we have been developing sustainable and environmentally friendly urban transportation, being a leader in electromobility. Now we are taking a step further – the first hydrogen-powered bus has joined the Lublin vehicle fleet. Its introduction increases the share of emission-free public transport in serving the residents of Lublin. We aim to be at the forefront of Polish cities where hydrogen-powered buses are used for regular service, stated Krzysztof Żuk, the Mayor of Lublin.
The brand-new Solaris Urbino 12 Hydrogen bus is air-conditioned, has a low-floor design, is wheelchair-accessible, and comes equipped with a ticket vending machine and a passenger counting system. The bus can accommodate 85 passengers, including 29 seated. The hydrogen fuel tank has a capacity of 1,560 litres, providing a range of approximately 300 km on a full tank. The vehicle is also equipped with a 20 kW mobile charger for recharging the hydrogen bus's batteries. The value of the vehicle is over 3.7 million PLN gross.
The completion of technical inspections and formalities related to preparation for operation and vehicle registration allows us to deploy it for regular service. The hydrogen bus will operate on various lines and routes to test it under varying road conditions. Its main advantages include fast refuelling, a long-range, zero emissions to the atmosphere, and quiet operation, said Grzegorz Malec, Director of the Public Transport Authority in Lublin.
The hydrogen bus operates as an electric vehicle, generating electricity on-demand from the hydrogen stored in its tank, utilizing a fuel cell as its power source. Essentially, it functions as a miniature power plant, combining hydrogen from the tank with oxygen from the air to produce electric energy that powers its motor. Crucially, this process involves no combustion, resulting in the bus emitting only water vapour from its exhaust pipe. Hydrogen proves exceptionally efficient as an energy carrier, and the combustion of green hydrogen produces only water as a byproduct.
To facilitate the refuelling of hydrogen-powered vehicles, an external hydrogen refuelling station will be constructed adjacent to the depot on Grygowa Street by June 2024. This endeavour is being undertaken by PAK-PCE H2 Stations, following a letter of intent signed in 2021 between MPK Lublin (Municipal Transport Company in Lublin) and the Pątnów-Adamów-Konin Power Plant Group, ensuring a continuous hydrogen supply. This step was a prerequisite before announcing a tender for the purchase of hydrogen buses by the City of Lublin. Until access to the hydrogen refuelling station is established, MPK will provide hydrogen fuel from a mobile delivery point, known as a trailer.
Furthermore, the Lublin municipal bus fleet stands to expand with additional hydrogen-powered vehicles. MPK Lublin has applied for funding from the National Fund for Environmental Protection and Water Management to acquire twenty 12-meter hydrogen-powered vehicles. This initiative enjoys 100% funding support, with the project's total value amounting to 80 million PLN. In the new EU funding perspective, the city also envisages further advancements in electromobility, encompassing the acquisition of approximately 100 zero-emission vehicles.
The debut of the hydrogen bus on the city's streets marks just one facet of Lublin's progressive public transportation system. Starting in September, Lublin's trolleybuses and electric buses will exclusively run on electricity from renewable sources.
Our actions align with Lublin's low-emission transportation policy, firmly oriented towards electromobility. The future of public transit is increasingly reliant on renewable energy sources and the pursuit of sustainable urban development. Notably, Lublin already exceeds the statutory requirements for the incorporation of zero-emission vehicles in its fleet. Currently, more than 34% of Lublin's public transportation fleet consists of such vehicles – encompassing 40 electric buses, 100 trolleybuses, and now, a hydrogen bus. Transitioning to green energy sources represents another pivotal dimension of our eco-friendly transportation approach, said Tomasz Fulara, President of MPK Lublin.
In early August, MPK Lublin concluded a procurement process for the purchase of electrical energy to meet its operational needs. This procurement pertains to the supply of energy from September 1st to December 31st, 2023, amounting to an estimated 6,000 MWh, which encompasses trolleybus traction and electric bus charging. Only one bid was received for this tender, submitted by Elektrownia-Wschód Investment Company S.A. from Lublin, offering a price of nearly 5.8 million PLN gross. Importantly, all the supplied energy will be derived exclusively from renewable energy sources.