Lingaro celebrates 3rd anniversary
Lingaro Group, one of the Polish leaders in Business Intelligence and Big Data, celebrates the 3rd anniversary of the Lublin branch opening. Despite the challenges of the COVID-19 pandemic, the company has grown exceptionally fast, creating a fully functional and versatile branch. Today Lingaro already employs 80 Lublin residents, and the branch continues to grow.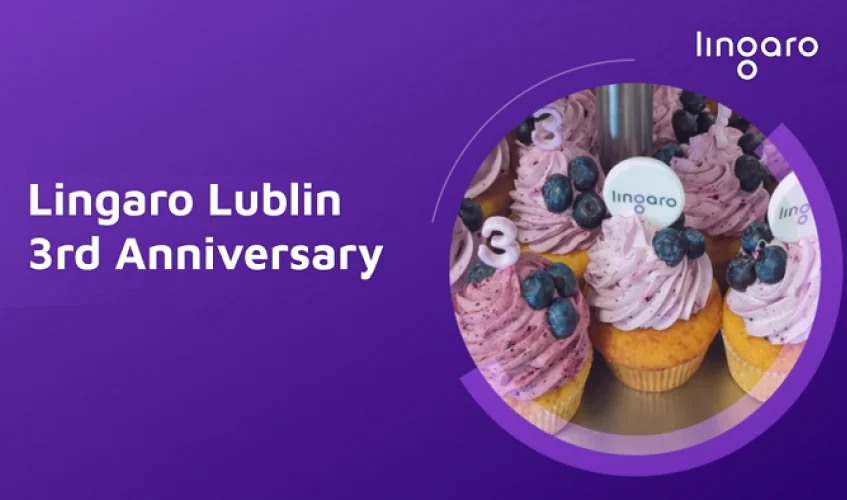 Lingaro, an international IT consulting and services company specializing in advanced data analytics solutions, was founded in 2008 in Warsaw. It cooperates with companies from the Fortune Global 500 list, but also with market leaders from the US, Nordic countries and Poland in various industries, such as FMCG, banking and financial services as well as telecommunications and insurance.
Lingaro employs over 1,400 people in several locations around the world: Warsaw, Manila (Philippines), Cincinnati (USA), Zurich (Switzerland), Hyderabad (India), Singapore and Lublin.
We started with a small team of five. Now the Lublin branch is thriving and there are already 80 of us. We employ programmers, testers, analysts, project managers, HR specialists and lawyers. What is most important for us – we believe that over the last 3 years we have managed to build a strong brand in the local labour market, emphasizes Filip Merklejn, Head of Lublin Site at Lingaro.
Lingaro is all about people
The Group specialises in creating IT solutions in data analytics, visualisation, and automation of business processes using the latest technologies (AI, Machine Learning and Big Data). 3 years ago, the company decided to choose Lublin as the location for the new office, primarily due to the city's great potential – a large educational base for engineering and technology majors. Another important factor was the high quality of teaching and the high percentage of foreigners with the IT skills living in the Lublin region and ready to take up employment in an English-speaking, international work environment.
For the last 3 years, we have been actively cooperating with universities and regularly participating in conferences and industry meetings. We see that Lingaro has become an important part of Lublin's technology community, while also becoming a partner in creating university IT courses. – concluded Filip Merklejn, Head of Lublin Site.
Lingaro focuses on employees' development and quality of service
The anniversary is a great opportunity to congratulate the Lingaro Lublin team. The company declares ambitious development plans, also in terms of employment, which is confirmed by a large number of open job offers and ongoing recruitment processes. The company is open to both graduates of Lublin universities, as well as students of recent years of computer science and economics (noteworthy is the popular training program Lingaro Bootcamp).
The company's plans include strong support for the technological education environment in Lublin, continuous participation in the development process of Lublin's IT hub and co-creation of an employment market based on the values embedded in the organisation's identity: diversity, tolerance and openness.
We believe that we are able to offer new quality to Lublin's employees and set more open, innovative and intercultural standards of work and mutual relations,  says Filip Merklejn, Head of Lublin Site.
Congratulations on your dynamic development. We wish you many successes and we look forward to the further development of our cooperation.