Lublin and Vilnius. Reconnected
The official opening of the portal connecting Lublin with Vilnius has just taken place. An interactive installation that was created using modern technologies is a great opportunity to create a stronger bond between our partnership towns and start a number of initiatives, including business collaboration.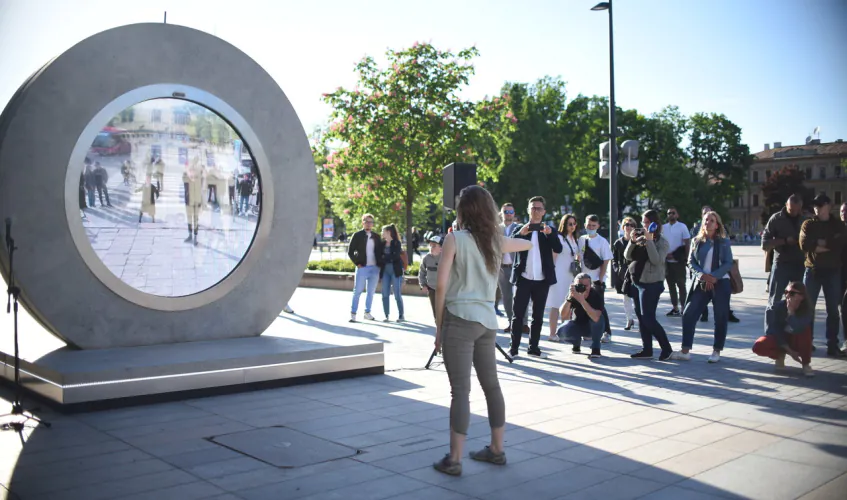 Photograph by Dominika Polonis/ lubelski.pl
The installation in a form of a concrete object with a built-in round screen, equipped with a camera system and an internet connection, is the main element of the international project carried out by the Lublin City Hall in cooperation with the Vilnius City Hall, a Lithuanian foundation 'Benediktas Gylys" and the Center for International Creative Initiatives "Crossroads". The portal enables the transmission of the image between Vilnius and Lublin in real time and it will remain in the public space until the end of August.
The main goal of the installation is to promote both the city of Lublin and Vilnius.
The portal is an installation which aims to integrate and unite people after a year of pandemic, and experienced isolation (…) What we could do was opening a symbolic window for citizens to communicate, says Krzysztof Stanowski, director of the International Cooperation Center of the Lublin City Hall
The portal will work as a sort of a gateway to a journey through time to the city of the future. Thanks to the use of modern technologies, the inhabitants of the capital of Lithuania and Lublin have the opportunity to experience the feeling of "overview effect". This is a sensation that so far only astronauts had the chance to experience when they were observing the Earth from space. Such a unique experience may cause a change in self-awareness and enhance a sense of community. The main objective of the project is to create a communication platform for passers-by and for institutions and organizations. This initiative may become a stimulus to start cooperation between cities on a business basis.
The construction is placed on Plac Litewski (Lithuanian Square). This location was chosen for a reason, it has a symbolic meaning, as it refers to the times of establishing in 1569 the Union of Lublin between the Crown of the Kingdom of Poland and the Grand Duchy of Lithuania. It is often said that the Polish–Lithuanian Commonwealth was a predecessor of the European Union of today. This event reminds us of the strong bond between the two nations and strengthens a sense of belonging and mutual friendship.