Lublin Mayor's Business Awards granted
Bury, Chemnovatic, Codete, DataArt Poland, GIS Support, Grupa Żagiel, Lactex, Modern-Expo, Netrix, Sii, Sollers Consulting and uPaid are winners of the competition for Lublin Mayor's Business Awards. The awards were handed out at a glittering ceremony held on 22 November 2019 during the annual Entrepreneurship Gala which concluded the competition featuring over 120 local businesses.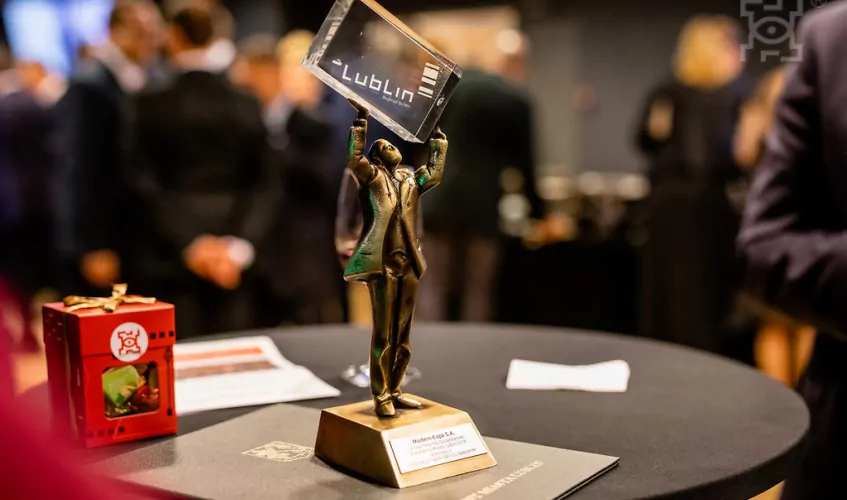 – All the companies which are recognized each year have one thing in common: they contribute to the economic growth of Lublin. The business attractiveness of our city keeps on attracting new investors, both domestic and foreign ones. Together we build strong Lublin that supports entrepreneurs and is citizen-friendly, which is confirmed in recent national and international rankings, where Lublin ranks high. I can boldly say that undoubtedly Lublin belongs to the top league of Polish cities – said Mayor of Lublin Krzysztof Żuk.
The event was opened by Janusz Lewandowski, a native of Lublin, Polish economist and politician, participant of groundbreaking events which shaped the latest history of Poland, former European Commissioner for Financial Programming and Budget, and current MEP focused on the real economy, i.e. industry and energy. In his speech, he presented current EU programmes available for Eastern Poland and underlined that bridging the development gaps is a continuous process which requires long-term strategic goals and the persistence in pursuing them.
I'm extremely proud to see how Lublin transforms. When I observe the changes that happen in the city and the development direction Lublin's authorities have set, I'm sure that the city is on the right path of economic growth. Lublin is my hometown, and although it's located in the east of Poland, it is by no means an "Eastern Wall" understood as Poland B, and this is thanks to the activity of local entrepreneurs, European funds and smart management of the city. I'm particularly glad to see the potential of innovation, which is comparable to Pomerania region, and the Lublin's status of an IT hub. Increasingly better communication accessibility, modern office spaces and responsiveness of education to the dynamic environment allow for retaining university graduates in Lublin. But there's much more to be proud of – said Janusz Lewandowski.
The nominees in respective categories were judged by a Competition Jury composed of representatives of local businesses, universities, media and governments.
---
The winners of the Lublin Mayor's Business Awards 2019:
YOUNG COMPANY
Recognition:
Chemnovatic – for its continuous development of technologies to increase the quality of products, R&D collaboration with the Lublin University of Technology and ambitious investment plans aimed at joining the European market leaders.
Codete – for systematic increase in employment and growth of the company, extensive competence range, flexible customer service and diversified sales markets.
DataArt Poland – for its contribution and commitment to the Lublin's development by initiating a number of activities which inspire the future and shape the identity of the local IT sector.
INNOVATION
Main prize:
Netrix – for its leading position as a tomography centre in Poland, implementation of numerous innovative projects, including R&D, to develop the company's activity, a two-fold increase in employment and multi-faceted cooperation with scientific institutions.
Recognition:
uPaid – for implementing Host Card Emulation which is the result of the work of company's employees from Lublin. Thanks to its technology, the company is one of only four certified providers of NFC solutions for global banks.
GLOBAL PRESENCE
Main prize:
Modern-Expo – for its operational excellence while executing the most complex projects for retailers, diversified sales markets and constant growth of employment.
Recognition:
Lactex – for increasing export sales and winning customers on new promising markets.
Sollers Consulting – for building the brand value on both domestic and foreign markets, collaboration with Lublin's universities and engagement in CSR activities locally.
LARGE ENTERPRISES – GROWTH ENGINES OF LUBLIN'S ECONOMY
Main prize:
Bury – for the execution of modern and innovative investments, positive impact on the local labour market and activities aimed at boosting the economic growth of Lublin.
Recognition:
Sii – for its accelerating pace of growth, increasing employment by 60 people annually and demonstrating great engagement in CSR activities for Lublin's community.
CREATIVE INDUSTRIES
Recognition:
GIS Support – for its positive impact on Lublin's image as a modern and innovative city which is open to the use of new technologies.
SPECIAL AWARD
Grupa Żagiel – for its activity for the growth of Lublin's economy, diversified model of activities, a constant increase in the employment and its charity activity.
The Jury has also acknowledged outstanding managers of local businesses. The main prize and the prestigious title of Top Manager 2019 went to Edward Bajko, who's been the CEO of Spomlek Dairy Cooperative for 11 years, while recognitions were awarded to Alexey Shabalovskiy, CEO of Embiq, an IT company based in Lublin, and Grzegorz Turski, Vice-President of the Management Board of Centrum Zana as one of the most active local developers of office and residential buildings.
---
The Main Partner of this year's edition was SuperDrob group, which offers poultry products and ready-made meals. The company exports mainly to EU countries, but also to China and Japan. The group's turnover in 2018 amounted to around PLN 1.5 billion, while the employment reached 2500 people. SuperDrob created the brand of poultry called Idyllic Chicken. The main processing plants of the company are located in Karczew near Warsaw, Łódź, Goleniów and Lublin at Zimna Street where around 700 employees work every day.
The event partners included BZK Alco, Grupa Ambra, Cisowianka and Grupa Colian, while Kurier Lubelski, Dziennik Wschodni, Lublin Branch of Gazeta Wyborcza, Nowy Tydzień, TVP 3 Lublin and Polskie Radio Lublin were media sponsors.