"Lublin of the 2030? We are going to be as rich as Leipzig."
- In 2030, over forty thousand new jobs will be created in different industry sectors in Lublin. This will result in the standard of life in Lublin being comparable to large cities in eastern Germany, e.g. Leipzig - says Mariusz Sagan, Head of the Strategy and Investor Relations Department in the City of Lublin.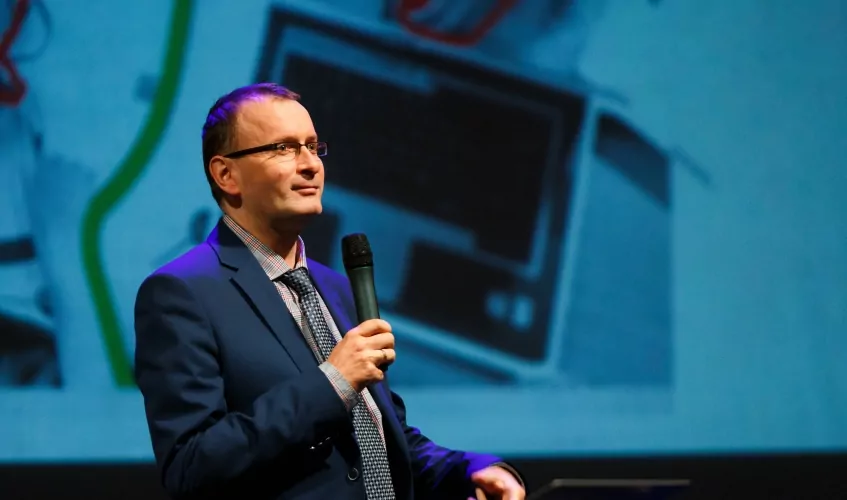 Mr Sagan has a strong reason to believe that in IT and BPO (Business Process Outsourcing) industries alone, twelve thousand vacancies will be created.
Jacek Brzuszkiewicz (Editor-in-chief, Gazeta Wyborcza Lublin): – It has been planned in Lublin Development Strategy that in the years 2018-2020, Lublin will make it into the top Polish cities, such as Wrocław and Poznań. Where is business in Lublin standing now?
Mariusz Sagan: – Given the quality of life, Lublin has already been propelled into the first league and it will soon make it into the top Polish cities. This pertains to the road system, transportation network, and airport. Why is Lublin becoming an increasingly citizen-friendly city? Because it is driven largely by an ambitious, year-round programme of cultural events and festivals. We have got city bikes, new buses and trolleybuses as well as a well-developed bicycle path network, which is constantly expanded – all this contributes to Lublin's attractiveness. 'Civic Budget Programme' allows citizens to decide what they would like the municipal budget to be allocated for.
However, Lublin will fail to become a great place to live unless attractive and well-paid jobs are created, e.g. in BSS (Business Support System) industry, i.e. sector of modern business services, IT, advanced technological solutions, automotive industry, biotechnology, and pharmacy.
How many people are now employed in industrial sectors?
– Approximately 26 thousand. However, it is not the number that matters. It is the quality and dynamic growth. In 2010, there were only twenty thousand jobs in the industrial sector in Lublin. In Lublin Development Strategy, which was developed in 2013, particular emphasis has been placed on the special economic zone and the areas formerly occupied by Daewoo Motor Poland factory, i.e. at Mełgiewska Street. Nowadyas, there are 3.5 thousand jobs offered in the economic zone, compared to only 400 in 2010. Furthermore, there are 4.5 thousand workers employed at Mełgiewska Street, which is far more than in 2001, when the DMP was going bankrupt.
The automotive industry shows great potential. After the next stage of reviving the former factory at Mełgiewska is completed, we assume that the companies seated there will add 12 thousand jobs over eight straight years.
The economic zone will be also broadened. Pol-Skone and Pszczółka have already invested in new production plants in the economic zone and are going to start production pretty soon. In 2020, at least five thousand new jobs will be created in the SEZ and this number is expected to increase by another 2-3 thousand by 2025.
What will the job market in Lublin be like in 2025?
– Let's look ahead. It is assumed in the Development Strategy that by 2030, production companies in Lublin will have offered employment to nearly 40 thousand workers. This, however, pertains not only to the Special Economic Zone and Mełgiewska street. Jobs will be also offered by industrial start-ups.
This is all I can tell you about employment in the industrial sector in Lublin for now. Additionally, well-paid jobs will be also offered in the IT and BPO companies, where nearly 7.7 thousand people work at the moment. By the end of this year, construction works in new office buildings at Kraśnicka Avenue will have been completed. We expect 12 thousand heads to be employed in this sector in the next couple of years.
What does it mean?
– In Lublin, which is inhabited by 340 thousand residents, it will be possible to achieve very good results in terms of the number of heads employed in industrial and advanced services sectors. By 2030, we will have reached the quality of life which can be enjoyed by inhabitants of large cities in eastern Germany, e.g. Leipzig.
Nowadays, there is a decline in the unemployment rate in Lublin, which holds at low of 7%. In the next 12-13 years, it should drop by another few percent. People will not stop emigrating from Lublin unless good, well-paid and challenging jobs are offered in creative and innovative companies. Our city will become even better to work and live in. Isn't it what we all aim at?
---
Full text in Polish: wyborcza.pl Lublin