Lublin raises Entrepreneurial Kids
Almost 350 preschoolers and elementary school pupils from Lublin took part in the fourth edition of the 'Entrepreneurial Kids' project. The youngest residents of Lublin gained knowledge in the field of economics and entrepreneurship, developed their creativity, learned techniques of working in a group, coping with stress, building self-confidence, planning and pursuing a goal, but most of all they got to know the Lublin's economy.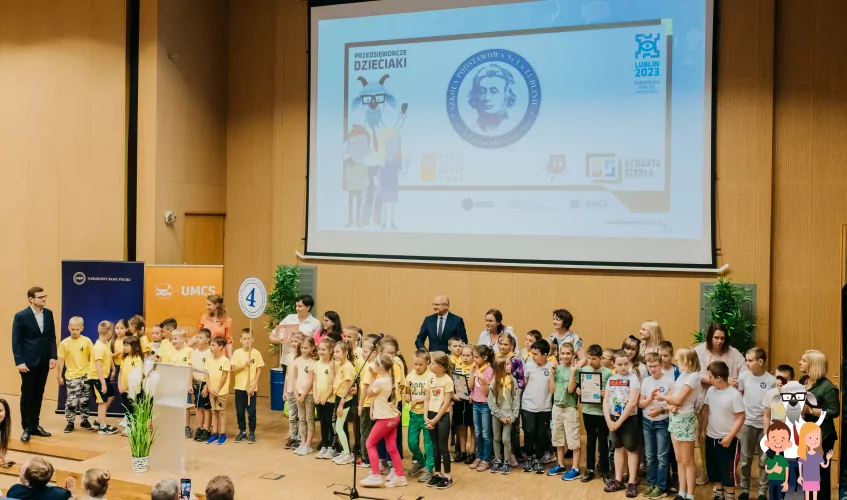 This year's edition was attended by 350 children from 15 educational institutions in Lublin, 16 teachers and 30 students of pedagogy at the Faculty of Pedagogy and Psychology of Maria Curie-Skłodowska University.
As a part of the programme, 60 hours of lessons, 40 study visits to well-known companies based in Lublin and workshops with creative people were conducted. The project is not only about numbers, though – it is primarily about endless business ideas and the development of creativity, which in the future will boost entrepreneurship attitudes among children and adolescents.
The 'Entrepreneurial Kids' project is innovative on a national scale. Project participants – children aged 6-10 – had a chance to learn basic concepts of entrepreneurship and economics while developing so-called soft skills. This year's edition was particularly unique due to two new elements. The first one was the cooperation with partners from Ukraine and the implementation of the project in Lublin's partner city – Lutsk. The second one concerned the creation of a "Creative Space" which is to provide children with a place to develop their passions, interests, and creativity but also offer an opportunity to cooperate and meet their peers in an unconventional way.
Shaping the entrepreneurial attitudes and competences among children is very important but at the same time, not an easy task, requiring consistent actions of the City, schools and parents. We are glad that we can support this process through activities such as the 'Entrepreneurial Kids' project. At the same time, the commitment and mature approach of the children participating in the project fill us with pride and faith that the development of Lublin in the future will rest in good hands, says Krzysztof Żuk, Mayor of the City of Lublin.
An official announcement of a winner of the 'Creative Space" contest along with a presentation of a voucher for its further implementation took place on June 14, during the final gala of the 'Entrepreneurial Kids' project. The competition aroused great interest among Lublin schools, and as a result, we received as many as 7 interesting applications.
The competition jury awarded the main prize to Adam Mickiewicz Elementary School No. 4, while the distinctions were given to Jarosław Dąbrowski Elementary School No. 20 and Janusz Korczak Special Elementary School No. 26.
The 'Entrepreneurial Kids' project is organized by the Lublin City Hall and the Maria Curie-Skłodowska University in Lublin. This year's edition was carried out in cooperation with the National Bank of Poland as part of the economic education programme.
Participants: Szkoła Podstawowa nr 4 im. Adama Mickiewicza, Szkoła Podstawowa nr 16 im. Fryderyka Chopina w Lublinie, Szkoła Podstawowa Specjalna nr 26 im. Janusza Korczaka w Lublinie, Niepubliczna Szkoła Podstawowa SKRZYDŁA w Lublinie, Przedszkole nr 52 w Lublinie , Szkoła Podstawowa nr 19 im. Józefa Czechowicza w Lublinie, Zespół Przedszkolny nr 1 w Lublinie, Szkoła Podstawowa nr 20 im. Jarosława Dąbrowskiego, Szkoła Podstawowa nr 44 im. Orląt Lwowskich w Lublinie, Międzynarodowa Szkoła Podstawowa Paderewski W Lublinie, Przedszkole Niepubliczne "Mali Giganci II" w Lublinie Małgorzata Juda, Przedszkole nr 28 w Lublinie, Szkoła Podstawowa nr 57 im. Jana Kochanowskiego w Lublinie, Szkoła Podstawowa nr 29 im. Adama Mickiewicza W Lublinie, Szkoła Podstawowa nr 21 im. Królowej Jadwigi w Lublinie.
Partners: ABM Greiffenberger Polska, AKPOL RECYCLING, Aliplast, Ball Packaging Europe Lublin, Chocolu – the manufacture of pleasure, C2C – Karolina Nowosielska, Europiek, 'W Chlebaku Bistro' bakery, IKEA Lublin, Intrograf Lublin, Laboratoria Natury,  Lubella Food, Lublin Factory of Passenger Lifts LIFT SERVICE S.A.,  Advertising Agency MAIK,  MODERN-EXPO S.A., Municipal Sport and Recreation Centre "Bystrzyca" – Artur Koperwas  TARASOLA, Polish Center for Photonics and Fiber Optics,
Representatives from the creative sector: FLOW PR Agency, Academy of Creativity- Agnieszka Żółkowska, Shopping Mall in Lublin – Gala, Competiva Anna Nizioł-Waga, e-media.pl, Chamber of Craft and Entrepreneurship in Lublin, Grodzka Gate – NN Theatre" Centre, The House of Words (Dom Słów), Science Popularization Center of Medical Univeristy of Lublin, Polska Press – Kurier Lubelski, 'Słodka Babeczka' artistic bakery – Ilona Kawecka, Karolina Karpińska ART , Prevlly, Pyramid Games,  Studio Design. Interior and garden design, Academic Television TV UMCS, Workshops of Culture in Lublin, University College of Enterprise and Administration in Lublin.
Detailed information on the project: https://gospodarczy.lublin.eu/przedsiebiorcza-mlodziez/ and https://www.facebook.com/przedsiebiorczedzieciakilublin.