Lublin Science Festival awarded top honors for promoting knowledge
Lublin Science Festival won the 'Popularizer of Science 2022' competition in the "Team" category! The festive gala and the award ceremony was held on December 9, 2022 in Warsaw.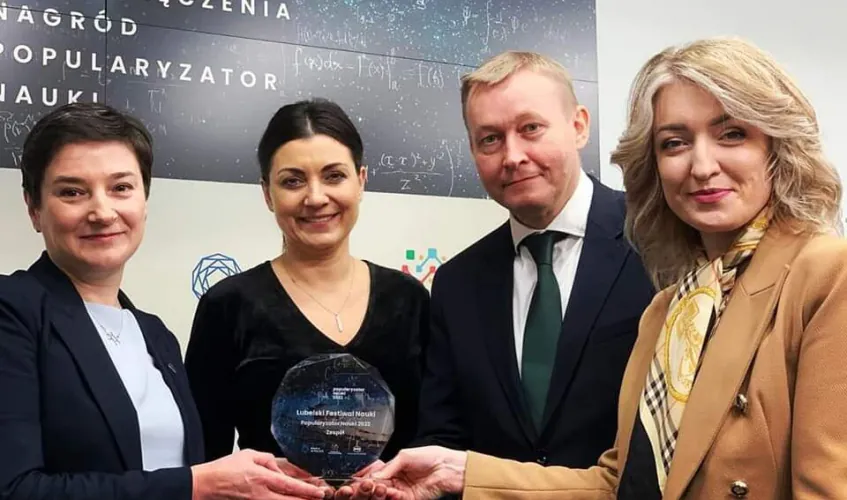 The`Popularizer of Science` has been organised since 2005 by the Polish Press Agency's Science in Poland service in cooperation with the Ministry of Education and Science. This year's edition was entered by 84 candidates. In the first stage of the vote, the jury selected 17 finalists, the best in each of the categories: Animator, Scientist, Team, Institution, Media, and the final award of the grand prize winner. The candidates were evaluated by a jury, whose members included experienced science promoters, laureates and people distinguished in previous editions of the competition.
The jury appreciated the activities of Lublin's public universities, the City of Lublin and the co-organizers for the promotion and elevation of science and scientific research in society. Recall that the Lublin Science Festival is the largest cyclical event for the promotion of science in Lublin and neighbouring regions, and due to the number of participants – one of the largest science festivals in Poland. Other nominees besides Lublin's representatives for the award in the "Team" category were: Summer Encounters with Science – Ewa, Marek, and Waclaw Kulczykowski and the Trio from Cracow – Karol Dudek-Różycki, Michal Plotek, Tomasz Wichur.
This is a great honour for Lublin's public universities and nearly 80 scientific and research institutions and organizations that co-participate in this event, said Prof. dr hab. Dorota  Kołodyńska.
The award, on behalf of the organizers of the Lublin Science Festival, was received by the Vice-Rector for University Development from the University of Life Sciences in Lublin, Prof. dr. hab. Adam Waśko, the Vice-Rector for Students and Quality of Education of UMCS, Prof. dr. hab. Dorota Kołodyńska, PhD. Monika Baczewska-Ciupak, the coordinator of the Lublin Science Festival.
We want to share this award with the 50,000 people who have co-created the Festival for 18 years. More than 600,000 participants have taken part in all editions. Without them, the Lublin Science Festival wouldn't have been possible, noted Adam Waśko.
This award is an incredible motivation for us to continue our popularization activities. To show others that science is beautiful, interesting, gives a great deal of joy, and its role is to serve society and change the world for the better, concluded Monika Baczewska-Ciupak
LSF is organized by five public universities in Lublin: Maria Curie-Sklodowska University, John Paul II Catholic University of Lublin, Medical University, University of Life Sciences, Lublin University of Technology and Lublin City Hall. In addition, every year, various scientific research and public institutions from the entire Lublin region join and support the organization of the event.
Source: https://www.facebook.com/festiwal.nauki.lublin; UMCS