Lublin supports CarSharing
From now on, you can rent 1 of the 100 hybrid cars per minute that appeared in Lublin. To use the service, you need a driving licence, a phone (smartphone) and a payment card. The network operator, PANEK CarSharing, has announced that you can travel by car from Warsaw to Lublin and from Lublin to Warsaw, also in one direction.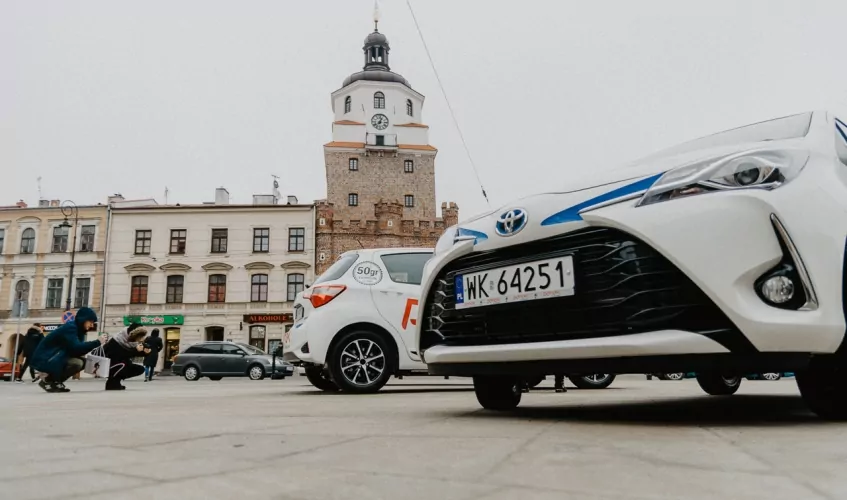 The hybrid cars have nearly 100 horsepower engines and an automatic transmission. All of them are equipped with advanced safety systems, lane control, cruise control, reversing camera, hands-free kit with Bluetooth system and LED lights with a dusk sensor.
– For years Lublin has been developing urban transport focused on electromobility and low-carbon efficiency. Sustainable development is one of the most critical challenges of the modern world. The possibility of renting hybrid cars per minute is another action, after a city bike or electric buses, which confirms our high position in Poland. I believe that with time electric cars will also appear on the streets of Lublin, but it requires the construction of a network of chargers and even more significant changes in the consciousness of the residents – says Krzysztof Żuk, Mayor of Lublin.
Cars are rented for minutes, hours and days using the free PANEK CS mobile app available in the AppStore (iOS) and PlayStore (Android) stores. Just register, select a car located on the map of the application and open it using the button on your phone. The user has three free minutes to prepare for driving, then a fee of PLN 0.50 per minute and PLN 0.65 per kilometre is charged. The car can also be rented for 24 hours at the price of 90 PLN + cost of kilometres driven. Then the rate of 0.65 PLN/km is obligatory. If you decide to transport the car to Warsaw, you will leave it free of charge.
– Lublin is the first city, after Warsaw, where we made our cars available and the first city where local authorities supported this initiative. A well-developed CarSharing will improve air quality and reduce the number of old and used vehicles that emit too much carbon dioxide. The number of parking spaces will also increase and improve street capacity. We came to Lublin with 100 Toyotami Yaris with hybrid drive, which constitute a compromise between a combustion engine and an electric engine – says Maciej Panek, CEO of PANEK S.A.
Along with the new service, the residents have at their disposal a 24-hour hotline and mobile service technicians, who take care of the cleanliness and technical condition of the cars.