Lublin University of Technology with the Gold Medal at the 14th International Warsaw Invention Show
The solution developed by the scientists from the Department of Electrical Drives and Machines of the Lublin University of Technology regarding the power electronic system of the MV/LV transformer with a kinetic energy storage device was awarded with a gold medal. Authors of the invention are Dariusz Zieliński, BEng, PhD, Karol Fatyga, BEng, MSc, Łukasz Kwaśny, BEng, MSc and Bartłomiej Stefańczak, BEng, MSc.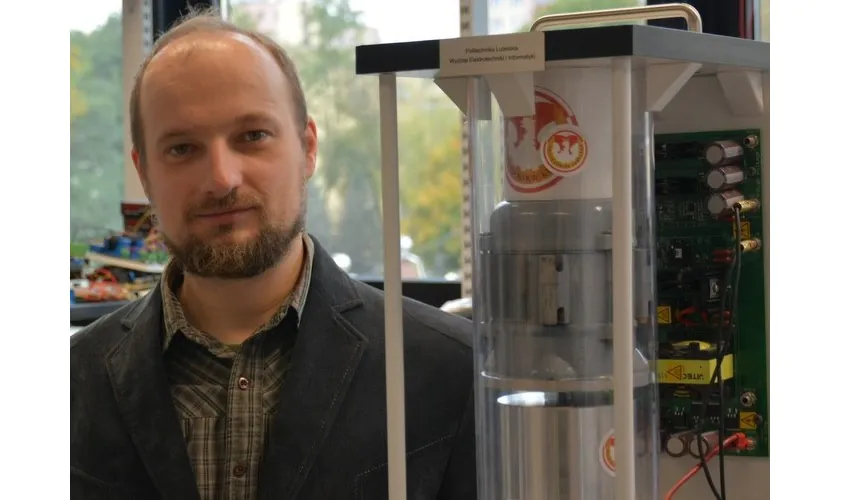 This a breakthrough idea because it can replace classic energy transformers used to power single-family houses or production plants, extending their functionality with active power flow control or local energy storage. On a national scale, it is over 100,000 devices – says Dariusz Zieliński, BEng, Msc from the Department of Electrical Drives and Machines.
Over 250 solutions from various fields of science from 20 countries were presented during the 14th edition of the International Warsaw Invention Show – IWIS 2020 which was held online on October 19-21, 2020. It is the largest international event in Poland promoting inventiveness and innovation.
In the exhibition, research institutes, universities, as well as innovative companies and individual inventors presented their achievements. Representatives of financial institutions interested in investing in modern products and technologies were also invited to participate in the exhibition.
The inventors presenting their achievements had a choice of 12 categories, starting from ecology and environmental protection through mechanics, construction, electronics, textile and chemical industries, to innovative medical solutions.
The event was organized by the Association of Polish Inventors and Rationalizers in cooperation with the Polish Patent Office and the International Federation of Inventors' Association (IFIA).
Participation in such an exhibition resulted not only in the medal we've received, but above all in establishment of business contacts, which are the first step towards commercialisation of our inventions. The exhibition is an important forum for the exchange of experience between inventors, entities developing innovations and companies looking for new solutions for their practical application – believes Karol Fatyga, MSc from the Department of Electrical Drives and Machines.
Congratulations on your success and we keep our fingers crossed for further groundbreaking achievements!
Source: Lublin University of Technology