Lublin welcomes ALTO – new office, new opportunities!
The beginning of December marks the official opening of the new office of ALTO - which is one of the fastest-growing advisory companies. The expansion to Lublin is another step in development for Alto and its clients. The company is committed to providing the highest quality of service and to helping businesses in the region grow and succeed.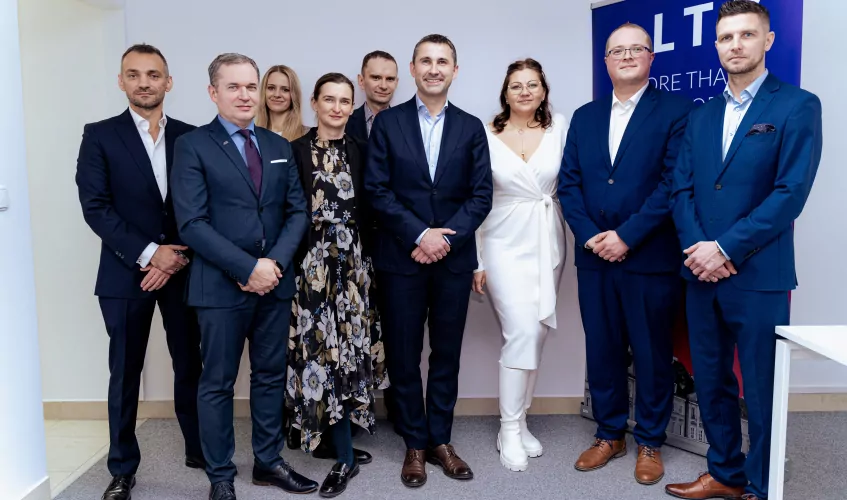 We always had ambition. It has manifested itself as a desire to grow and seek better solutions for us and for our clients. ALTO's success is the success not of one person, but of everyone who works here and contributes to the process of change every day. We believe that within a month, six months, or a year, thanks to these changes, we will become a bigger and stronger organization, says Paweł Fałkowski, Managing Partner of the Accounting business line at ALTO
The Lublin office will support and develop the accounting business. A highly specialized staff of accountants and advisors will provide professional services for companies that want to use external accounting or payroll services.
As a leader in its industry, ALTO offers state-of-the-art accounting services. We understand that each market has its own specific conditions and its participants require profiled and comprehensive services.
Our team is our driving force. We know that as a team we can do more than each of us would be able to achieve individually. That's why we want to create for our employee work-friendly environment, we want them to feel good about our organization, so that those who want to grow, can do this with us, and thus contribute to their own and ALTO's development, added Paweł Fałkowski
The opening ceremony was graced by the presence of Mariusz Kicia dr hab. (Dean of the Faculty of Economics at the UMCS), Anna Tatarczak PhD (Associate Dean for Educational Quality at the Faculty of Economics at the UMCS) and Andrzej Borowski, MSc (Dean of the Faculty of Finance and Accounting at the WSPiA), as well as guests from the Lublin City Hall: Igor Niewiadomski and Krzysztof Buczyński from the Investor Relations Office, together with Marta Sztandarska and Oliwia Wójtowicz representing the Department of Strategy and Entrepreneurship.
Universities are changing and are eager to cooperate with business, as they are an important part of the whole ecosystem and help Lublin implement its development strategy. The city is working actively to attract companies such as ALTO to Lublin and thus give young talents a chance to grow without leaving the city. We listen to business and open up to its needs. We launch fields of studies corresponding to the demands of the labour market. This is beneficial not only for the companies but also for the City and the students themselves: as a result, we have a win-win situation, concludes Mariusz Kicia, dr hab.
ALTO's business profile fits perfectly into Lublin's economic ecosystem and the direction of its development. Undoubtedly, decisions to launch a new branch are never easy, and the process of choosing the right location requires analysis of various factors. Therefore, when building a strategy to attract investors to the city, it is so important to maintain the right balance between hard data and soft factors, where values such as credibility, trust and mutual respect, play a significant role. I think that in Lublin we have taken the right direction when it comes to maintaining all these proportions, as evidenced by today's opening of the local ALTO office. Welcome to Lublin!, said Igor Niewiadomski, coordinator of the Investor Relations Office of the Lublin City Office.
***
ALTO is one of the fastest-growing advisory firms in Poland. We render professional services in the area of Tax, Legal, Accounting and Payroll as well as Technology in Tax Services.
We have extensive experience advising both, private individuals and multinational businesses from a wide variety of industries. We also cooperate with leading European consulting companies, providing the highest quality services in all international aspects relating to the activities of Clients operating in foreign jurisdictions. Dealing with our Clients, we focus on partnership and on maintaining good and long-term relations.
We have been working for our clients since 2011. Since then we have been constantly expanding our team of advisors and the range of services offered. Our key areas of specialisation fall into 8 industry sectors: real estate, financial services, PE/VC, insurance, technology, healthcare/life sciences, energy and logistics.
As of today, our team consists of over 150 tax and legal advisors, certified accountants and other professionals who proactively assist our clients on every step in their business path, to give them the best client experience they can possibly receive.
The strength of our professionals and our undisputed growing market position have been repeatedly confirmed in major regional tax and legal rankings during the last 10 years.
Find out more about ALTO on www.altoadvisory.pl