Mayor of Lublin recognized best businesses for the 14th time
On September 29, 2022, the Mayor of Lublin handed over the Economic Awards to the top businesses from our city that make a significant contribution to its economic development and modernization. Established in 2008, the awards recognize achievements of local businesses, providing them with a perfect opportunity to showcase their success.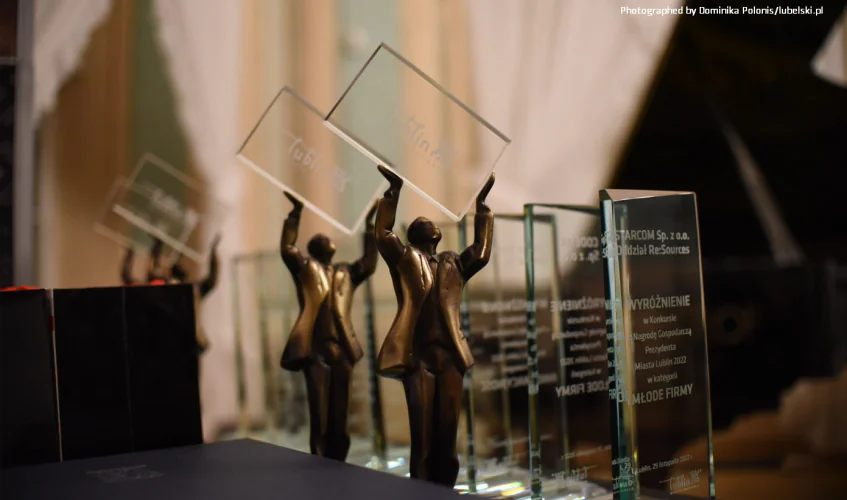 The Economic Award is a special initiative that recognizes Lublin entrepreneurs and their contribution to the development of the local economic potential. Thanks to their commitment, Lublin continues to develop socially and economically. With difficult pandemic and war-related times in Ukraine the social and ethical aspects of business have been particularly important this year, said Krzysztof Żuk, Mayor of Lublin.
Nominees in respective categories were judged by a Competition Jury composed of representatives of local businesses, universities, media and governments. In this year's edition, the awards were given to:
Innovation
Voice Contact Center Sp. z o.o. (honourable mention)
R&D Centre Inventor Sp. z o.o. (honourable mention)
Presence on the Global Market
Modern-Expo S.A. (main award)
Amerpharma Sp. z o.o. (honourable mention )
Laboratoria Natury Sp. z o.o. (honourable mention)
Large Companies – Growth Engines of Lublin's Economy
Billennium S.A. (main award)
Sii Sp. z o.o. (honourable mention)
Vistra Corporate Services Sp. z o.o. (honourable mention)
Young Companies
Starcom Sp. z o.o. (honourable mention)
Codema Sp. z o.o. (honourable mention)
Creative Industries
MOCNO Studio – Michał Ćwiek (honourable mention)
Special Awards
Modern-Expo S.A.
Centrum Medyczne SANITAS Sp. z o.o.
Traditionally, the awards have also been granted to authors of the best diploma papers.
The main prize of PLN 6,000 was awarded to Edyta Seremak for her thesis in the form of a film entitled: "Artificial intelligence: a vision of the future based on cultural works and new technologies."
An honourable mention and cash prize of PLN 3,000 was awarded to Arkadiusz Gąsiorowski, author of the thesis "Transformation of an industrial area in Lublin into a multifunctional, inclusive neighbourhood of mutual relations."
In this year's edition of the competition, two honourable mentions and the prize of PLN 1,500 were also awarded. The first went to Anna Kawęcka for her work "Identity of public spaces in the age of globalization. The design of revitalization of the northern neighbourhood of the Metropolitan Station area in Lublin – the idea of Vauxhall Gardens".
The second honourable mention was awarded to Ewa Dziwura for her thesis "Modeling the migration balance for the city of Lublin using artificial neural networks".
The ceremonial meeting at the Crown Tribunal was also an opportunity to award prizes in the Employer of the Year Competition. In this year's edition, the awards were handed out to:
Medium/large company:
Medical University of Lublin (main award)
Solutions 30 East Sp. z o.o. (honourable mention
Micro/small company:
CRESCA Ewa Tymińska-Jaraszkiewicz (main award)
Sylpo System Sp. z o.o. (honourable mention)